Morning!  I hope you're having a beautiful Sunday.  I took last night off to hang out with the Husband, my brother-in-law Nick, and our friend Harry.  We had a wonderful night!
But first… I needed to set my "recovery plan" in motion.  After yesterday's 15.4 mile trail run (the furthest I've run since the marathon in January!), I knew I was going to be hurtin' today if I didn't take the correct steps.
The key to a fast recovery (for me):
Eat enough calories!  The only time I calorie count is on long and hard workout days because I want to make sure I'd adequately refueling my body.  Because I'm not trying to gain or lose weight, I aim to 'eat back' the calories I burned, although this becomes close to impossible when you're running really, really long distances (like a marathon).  In those circumstances, I try to eat a little bit more the day before and the day after.
But… Choose your calories wisely.  I'm no nutritionist or dietician, so I can't sprout off scientific facts about carb to protein ratios.  I just aim for a mix of complex carbs, vegetarian protein, and nutrient-rich veggies and fruits.  There's no need to refuel with crappy junk food, although I do have some sweets and treats, too!
Take an anti-inflammatory.  You all know I'm not a huge fan of medication, but my doctor cleared me to take 800 mg of ibuprofen a few hours after long runs, provided that I also…
Sleep.  Sleep is super important to recovery, and I aim to get an extra hour or two when I'm training really hard.  Helen S. Driver, Ph.D., of the Department of Psychiatry at the Toronto Hospital, cites studies showing that long-term sleep loss saps vigilance and mental ability. "A number of researchers," she says, "have demonstrated deterioration in physical performance, shorter time to exhaustion, lower max VO2, higher lactate accumulation and increased heart rate and ventilation at submaximal speeds" in sleep-deprived athletes. (source)
Keep moving!  Rest and recover are important, but I've found it works for me to do something active, like go for a walk or a swim.  Keeping my legs moving helps prevent my legs from locking up.
Know it gets better.  The longer you're active, the quicker your body will bounce back!  I promise.
So yesterday afternoon, I spent my day eating, stretching, and icing!  It was glorious.  🙂
For lunch #1, I had a Cherry Chocolate Bomb (1 cup almond milk, 1/2 banana, 2 cups spinach, 1 scoop Nesquik, 15 frozen cherries) and a large baked sweet potato with baked beans.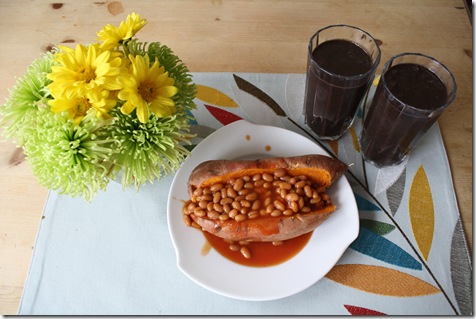 For lunch #2, I had an egg and cheese sandwich with a plate of steamed Brussel sprouts.
As mentioned, Harry, Nick, the Husband, and I went out last night.  We went to a lovely lake-side spot in downtown Orlando called the Relax Grill.  Before we sat down, we did a loop around the 1.0-mile walking path near the lake.  It felt good to move my legs!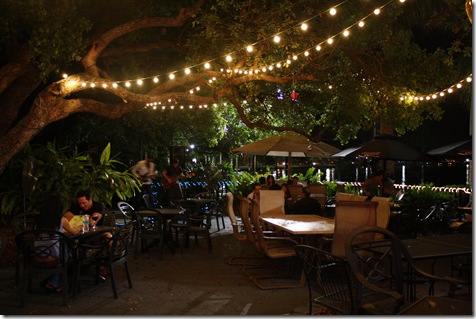 I had some hummus and pita: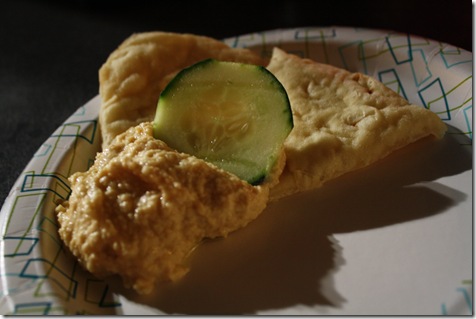 And wine: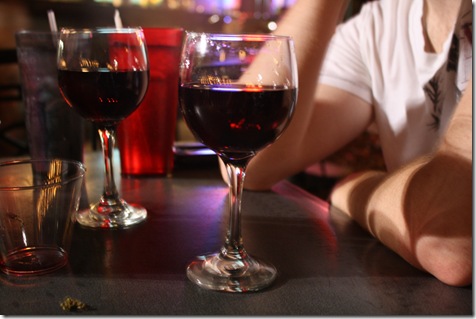 And a vegetarian stir-fry with yellow rice.  I asked for the sauce on the side so I could limit my sodium.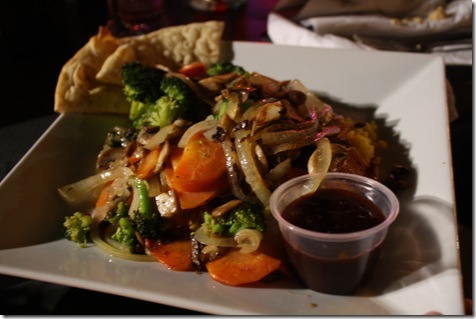 When we got home, I polished off this ice cream.  There was probably a 1/2 serving left.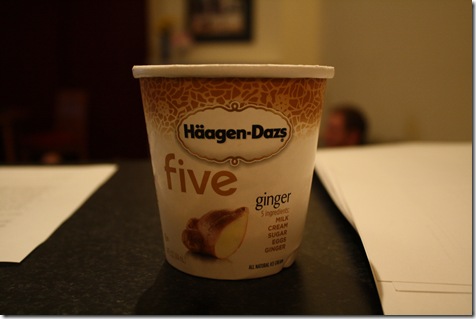 Although it's a Sunday, I have a LOT of work to do!  Meh.  I better get cracking!
What are your tips for a fast recovery?