I am totally out of groceries.  I am plans to make waffles this morning, but I'm out of waffle mix (and flour).  One thing I had all the ingredients for was Overnight Oats – but it was too late to make them… right?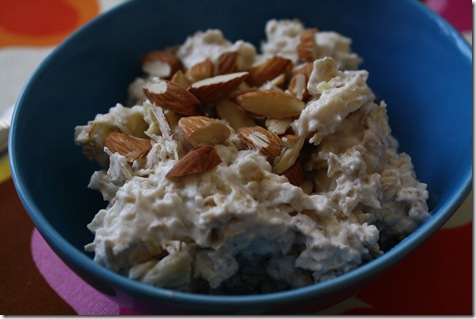 Discovery:  Overnight oats do not, in fact, have to be prepped the night before breakfast.  I mixed together the oatmeal and yogurt, let it stand for 10 minutes, and it was fine!  A little more chewier than normal, but I kind of liked the texture change.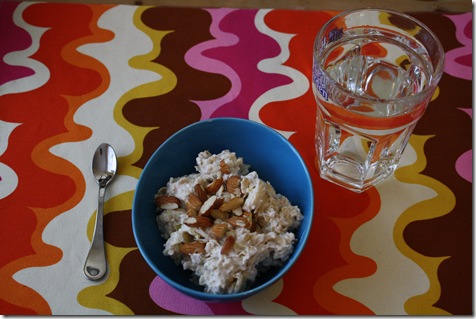 These Un-Overnight Oats were tropical flavored, thanks to a serving of Chobani Pineapple.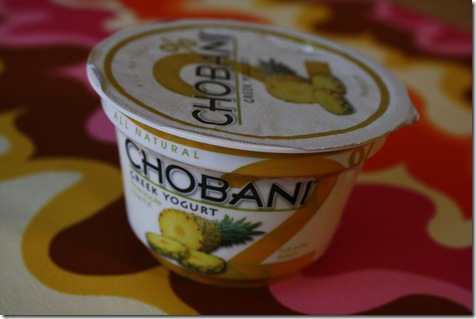 My Un-Overnight Oats contained:
1/2 cup oatmeal
1 serving Chobani Pineapple
Chopped almonds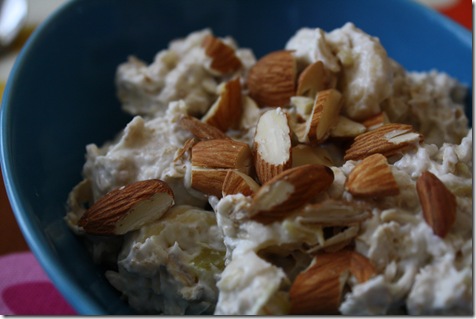 Things Going On
Here's what's going on in Caitlinland:
WEDNESDAY:  I'm doing a presentation for Operation Beautiful at University of Florida.  If you're a Gator, I hope you attend!  The event will be held at 7 PM in the Reitz Union.  I'll be driving to and from UF all in one day (it's a 2 hour trip each way) so I won't be getting home until late, which is a big deal because…
THURSDAY:  I'm waking up, getting on a plane, and going to Washington DC!  I'm spending the night with my BFF Stef and her boyfriend Jack.   You've met them before!  Stef was a bridesmaid in our wedding and they came to visit us this summer.  Jack is an accomplished marathoner and both Stef and Jack's hobby is rock climbing! 
FRIDAY:  I'm hitching a ride with Anne P and Katy and together, we're all driving to Baltimore for the Fit Bloggin conference.   Fit Bloggin is a three-day conference for food and fitness bloggies to meet each other, learn about blogging, and have FUN!  I'm also speaking on the "Blog to Book" panel.
Guess what? There's are 10 spots left for the conference, so if you're interested in attending, check out this site.
Whew!  It's going to be a crazy next few days!
I was so engrossed with my Olympic Triathlon (recap and video) that I've kind of been ignoring all the other awesome things going on this week.  Do you do that?  I can only focus on one exciting thing at a time.