I am training for the Echelon Gran Fondo Century bike race, which raises money for the Livestrong Lance Armstrong Foundation, as well as local cancer research programs and hospitals.  I'm running a series of awesome raffles on the blog in hopes of raising more than $3,000 for these charities.   This raffle is for twenty of Angela's Glo Bars!  These bars are organic, vegan, homemade, and delicious!
This variety pack contains TEN delicious Glo Bar flavors, including Adore, Empower, Present, Refresh, Classic, Chi, Crave, Endure, Awake , and Heaven.  You get two bars of each flavor.
Here's how the raffle works:
$5 gets you ONE raffle ticket.
$10 gets you TWO raffle tickets.
$15 gets you FOUR raffle tickets!  What a deal!
The contest will run until Wednesday, March 17 and I'll contact the winner at lunchtime.
I will list everyone's name on an Excel spreadsheet (one entry per $5, two entries per $10, and FOUR entries per $15), and the Husband will draw a winner using the Random Number Generator.
Angela will then ship out the bars to the winner.
This raffle is one day only – which means your chances of winning are pretty good! 
Moving on…
I have some epic battle wounds from Sunday's Olympic Triathlon (recap and video).  My legs feel great, but my neck is sore from the bike crash, my elbow is banged up, and I have chafe marks ALL over my body.
Road rash on my elbow (yes, I bled all over my poor bike!):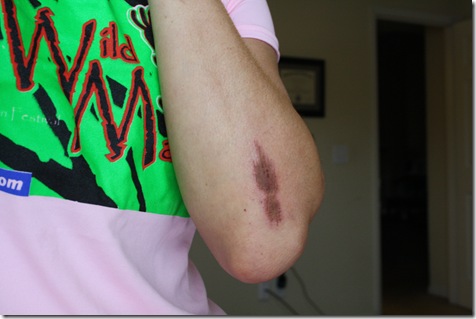 Wetsuit chafe on my neck (this tiny little mark KILLS):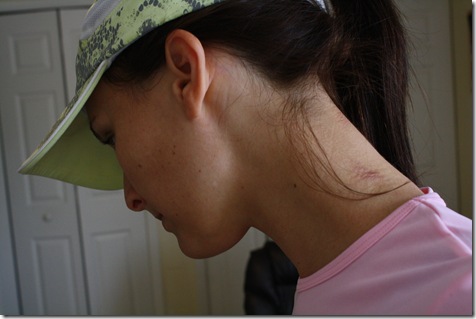 Major, major sports bra chafing on my ribcage: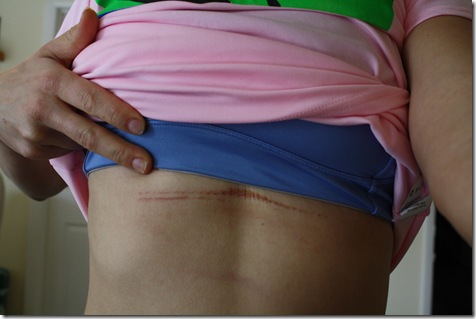 I have never been able to find a sports bra that does not chafe my ribcage when I get sweaty (or wet from being in a lake).  I've bought specialized sports bra for smaller ribcages (I'm short!) and they still aren't tight enough to prevent chafing – or maybe I just have freakishly sensitive skin under my breasts.   Who knows?!  All I care about is that it hurts like a SOB when I get in the shower.
I've tried all the tricks to prevent chafing (including Body Glide, baby powder, and Vaseline), but the only thing that's ever worked for me is taping my skin with athletic tape.  Unfortunately, I forgot to tape my ribcage on Sunday, and now I'm paying the price!
I taped over the burn mark for my 5.0 mile run this morning, and it worked quite well.  I managed to keep a pretty decent pace the entire time, and only started to feel my chafe marks hurting towards the very end.
Duration: 45:17
Distance: 5.0 miles
Mile 1: 9:35
Mile 2: 9:13
Mile 3: 9:08
Mile 4: 8:59
Mile 5: 8:21
I heart negative splits!  I was working SO hard until the end.  You gotta PUSH IT a little to get faster, right?
Before my run, I had sports beans (told you we are low on groceries!: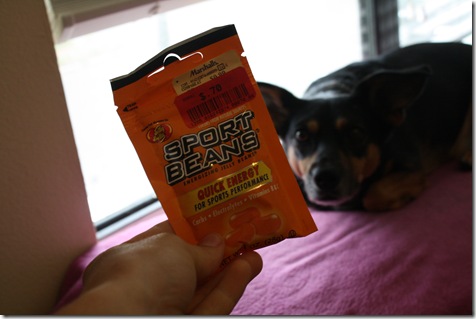 And after, a quick lunch: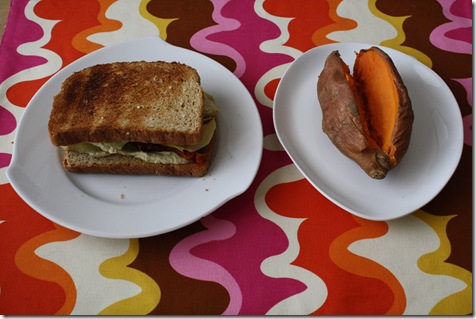 I had a hummus, sundried tomato, and artichoke sammie: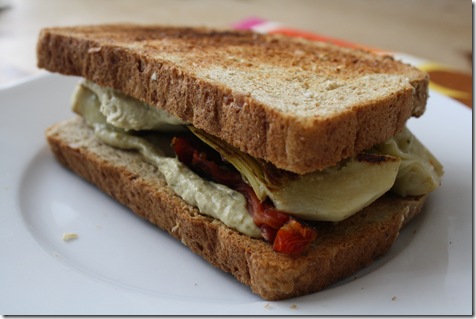 And a simple microwaved sweet potato.  My favorite part of sweet potatoes in the skin!  Mmm.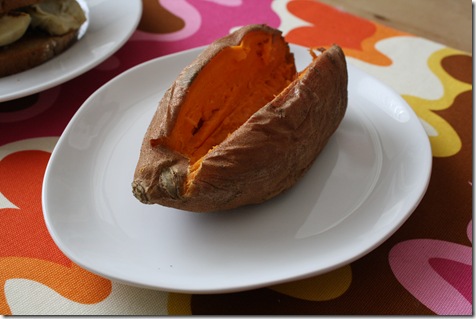 Back to work I go!
Do you chafe, too?  Found any creative solutions?  What "battle scars" do you have from athletic activities?