WHEW!  That 40 miler was WAY harder than I expected it to be!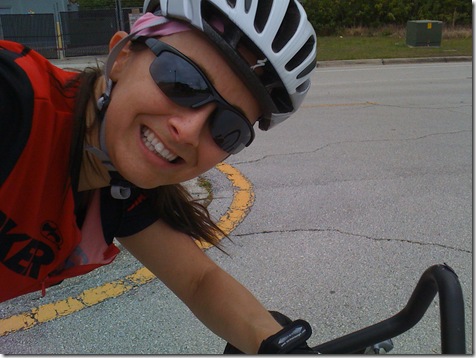 It was very, very windy out (gusts of 20 mph!) and the first 9 miles of my ride were entirely into the wind.  I had to pull over a tweet a 'help me!' for extra motivation (thanks to everyone who responded!).  I decided to turn a negative into a positive by reminding myself that wind is the Florida version of hill training.  Since my race is in Napa Valley, it's very important I get used to resistance!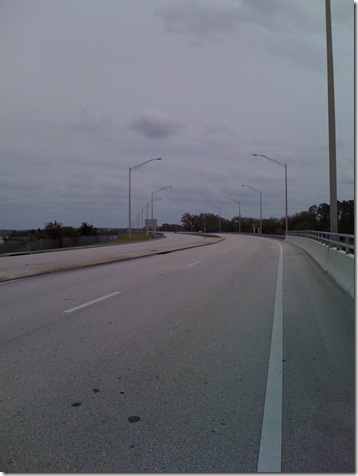 Still, I struggled to stay positive.  40 miles isn't easy, especially when 1/2 of it is into the grueling wind.  I know sometimes people read my workout or race recaps and think I don't struggle, but trust me – I DO!  I actually almost cried at one point.  It was a huge mental and physical challenge.
I was working really hard to get into a more positive state of mind when a middle-aged man in an orange shirt rolled up next to me on his bike.  We started to talk and once we turned back into the wind, he offered to let me draft him for about 7 miles! 
Drafting makes a HUGE different in cycling.  It really cuts down on wind resistance.  I was so excited to have someone to draft, even if that meant I had to work a little harder to keep up with orange shirt.  It was worth it!  And he was nice (side note: he had absolutely no idea what a blog was).
Around mile 20, I ate 1/2 of this Glo bar, and I finished it up around mile 30 (I stopped to eat the first half and ate the other half while riding).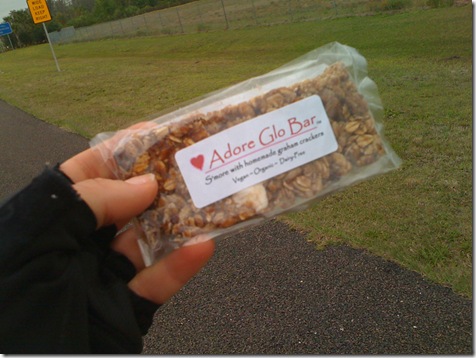 Glo bars make excellent fuel!  🙂
I ended up finishing up the ride in just over 3 hours.  I was thrilled it was over, to be honest!  My legs and butt are pretty sore, but I'm happy to get my first long ride in for Century training. 
Came home and attacked the fridge: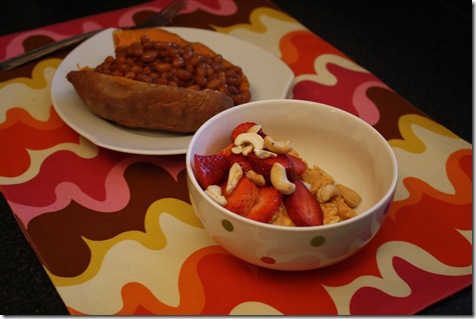 I had a sweet potato with baked beans: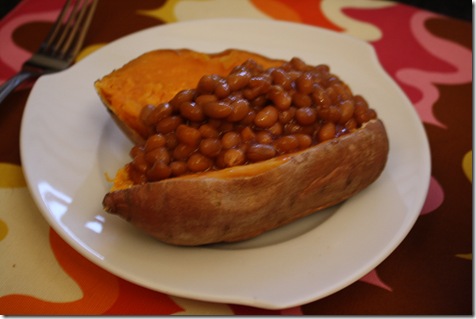 And Pumpkin Yogurt with 1/2 cup oatmeal, strawberries, and cashews:
The Husband and I are going to hang out with our friend Harry.  I don't know what's the plan for dinner tonight, but I know my hunger is about to kick in very, very soon.  Maybe we'll get take-out?!
Oh and PS – iPhones are amazing.  I've had mine for three days and cannot imagine going back.  If you're on the fence about getting on, do it!  You won't regret it.