It's my first LONG DAY for Century Training (a century is 100 miles, so I have a lot of work to do!).  Today, I am riding 40 miles, which I expect to take  me a little less than 3 hours.
Long days (whether it's running, biking, or something else) serve two purposes in my mind:
Get your body and your mind ready for the ultimate distance.
Help you figure out what works and what doesn't, especially in terms of clothing, food, and bathroom habits, as well as pacing.
A Century bike ride is a LOT different than a marathon.  My heart rate isn't as intense as it would be if I were running a marathon… but it's still a slow burn.   The ride takes a LOT longer than a (running) marathon to finish.  I'm anticipating it will take me about 7 hours to wrap it up.
When I did the Metric Century, which is 60 miles, it took me 4:30 hours to finish (race recap).
I ate some solid food during the Metric Century, but I also relied on Goo.  I know that I'm going to have to get used to eating real food while riding because there's no way I can make it 7 hours without taking in SERIOUS calories.  During the Century race, I'll burn at least 4,000 extra calories, which is more than DOUBLE than what I burned during a marathon.
So, the purpose of my long rides will be to figure out what works best for me in terms of pre-ride and mid-ride fuel.  (I also need to get a new pack for my bike so I can carry more stuff.)
Today I'm experimenting with eating a more protein-rich breakfast: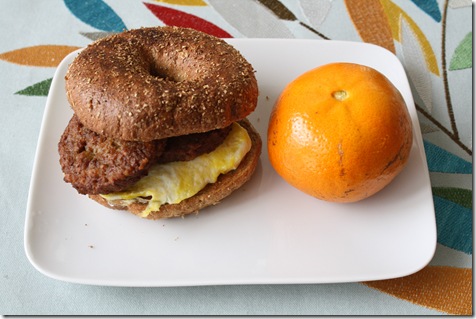 Normally I have peanut butter on two slices of toast with fruit, but I'm curious to see how I handle a bagel, vegetarian sausage, and egg sandwich.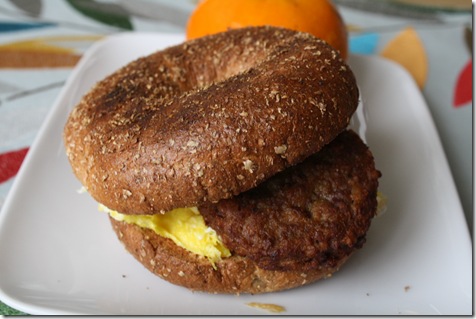 Plus, an orange: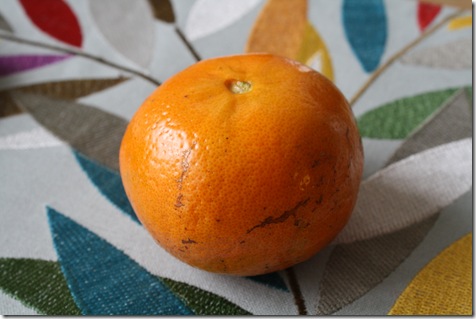 I can eat something a little 'heavier' on my tummy because cycling doesn't create the same sort of jostling motion!
Well, I better get out there – according to weather.com, it looks like it's going to rain soon.  It's now or never!