Getting out of bed is totally worth a breakfast like this: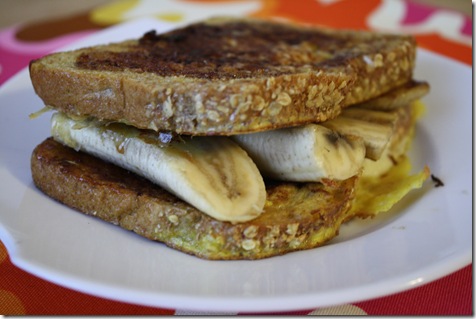 I had a Grilled Banana Sandwich – the recipe is here.  If you haven't made this lovely guy (or a Grilled Strawberry Sandwich version), you aren't truly living.  Maybe a vegan could try it with Angela's French Toast recipe and tell me if it works?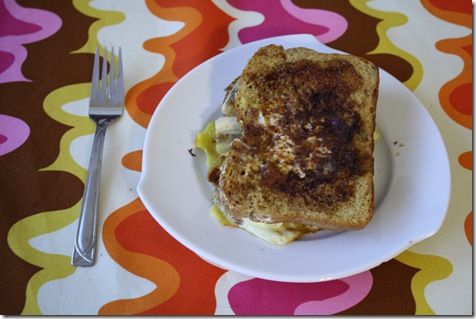 By the way, for accountability's sake, I'm not counting eggs as part of my 1 serving of dairy a day goal.  I'm also not counting my Half and Half in my coffee because it's such a small amount.
Transitions, Transitions
Prepping for an Olympic Triathlon is SO much more intense than prepping for a road race.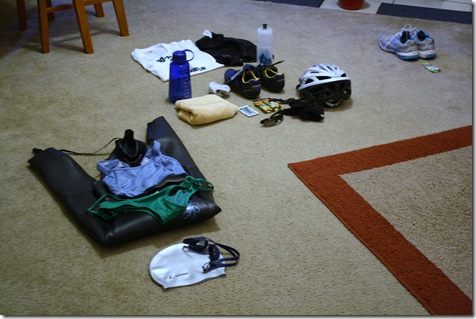 Out of the 20 races I've done, this tri definitely involves the most gear.
I'm starting to lay out everything I need for Sunday's big race.  And I'm just floored at how much stuff I have to bring!  I did a Sprint Tri two years ago (but I disqualified from the swim), and I really don't remember lugging all this stuff to the race.
Leg 1:  The 1.5 KM/0.9 MILE SWIM! (I am so freaking nervous!)
I'm bringing:
Goggles
A swim cap (the race provides you with a cap, but I'm bringing mine as back-up)
A wetsuit from WetsuitRental.com.  The water is going to be 55 degrees!
My sports bra and a string bikini bottom (explained below).
Transition 1 (T1) and Leg 2:  THE 40 KM/24.8 MILE BIKE! (Yayyy! Probably the leg I'm looking forward to the most)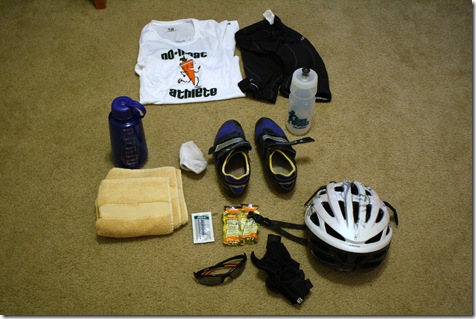 The most important part of T1 is rinsing off my feet because they will be covered in sand and dirt.  I have to run about 0.25 mile from the beach to T1.  I'm bringing a large water bottle and a towel; this method worked well at my sprint triathlon.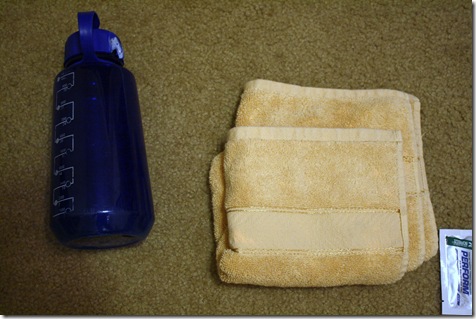 The second most important part of T1 is refueling.  I'm going to take at least one shot of Goo (about 100 calories each) before getting on the bike.  I am also bringing BioFreeze to rub on my arm in case it's sore.  I'll have a water bottle on the bike already.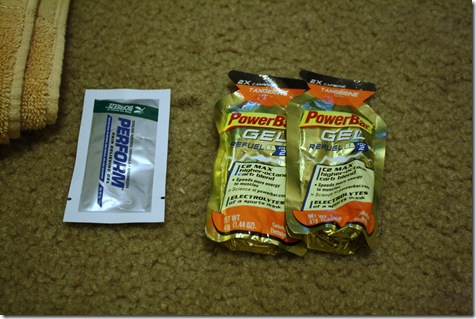 After stripping off my wetsuit, I'll be in a sports bra and a string bikini bottom.  I'm going to pull on my bike shorts, untie the bikini bottoms, and pull them off underneath.  That way, I'm not riding my bike in wet shorts (I don't have a trisuit… if I get into triathlons, I will probably invest in one).  And then I'll put on my No Meat Athlete tech shirt!  The back says, "Runs on Plants." Hehe.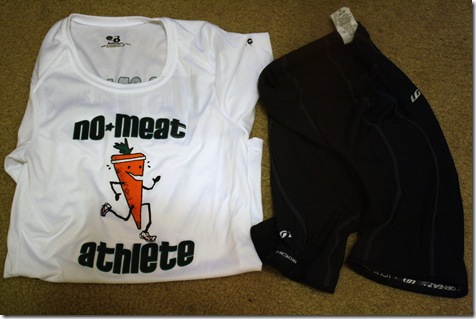 AND THEN (T1 is definitely going to take the longest), I'm going to gear up and get on my bike.  Oh, I need to remember socks!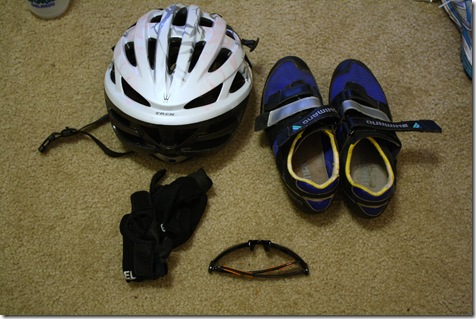 T2 and Leg 3: THE 5.6 MILE RUN (which I hope to finish very, very fast.  I am always fast when I do a brick – a bike and then a run.)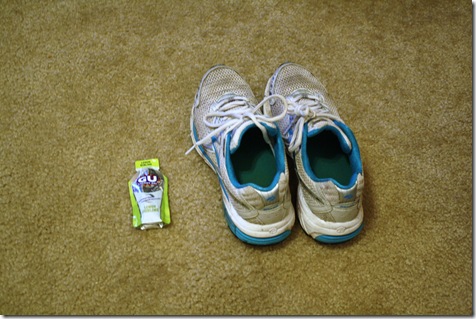 During T2, all I need to do is take off my bike gear, rack my bike, put on my knee sleeves (I need to go buy new ones tomorrow), put on my sneakers, and take another shot of Goo.
WHEW!  Am I forgetting anything? ANYTHING at all? Does this seem super intense to you (because it does to me!)?  Should I bring my Garmin?  I would love to know my run splits.  Maybe I can give it to the Husband to hold and grab it on the way to T1 so I don't have to worry about it being stolen from my bike bag.