Maggie is home from the vet (she had her teeth cleaned).  She seems a little drunk on anesthesia.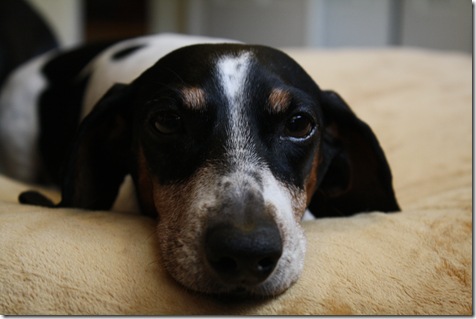 As in, she couldn't make it all the way onto her big, fluffy bed.  I laughed so hard when I walked into the office and saw her.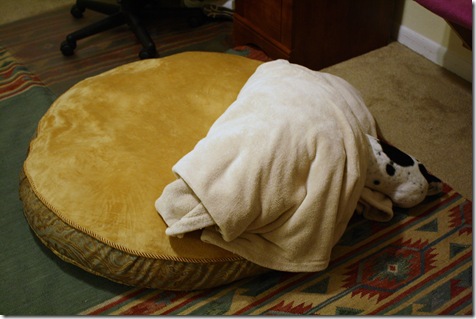 Whoops!
Otherwise, today was pretty uneventful.  I wrote a lot, and then the Husband and I did a crazy amount of Charlotte research (we're moving in May or June).  We're trying to figure out what neighborhood to live in (Kath is helping!).
Afternoon snacks included an orange and a Glo Bakery bar: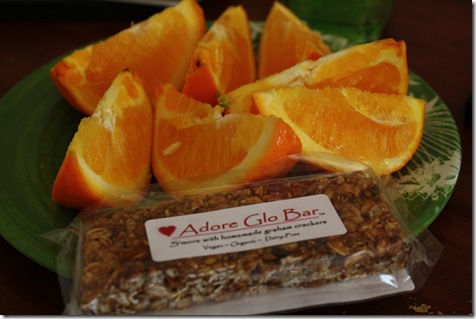 And some almonds and raisins: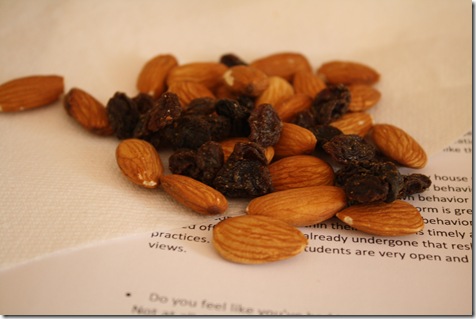 Dinner was DELICIOUS.  Got two thumbs up from the Husband.  I made roasted yellow potatoes, steamed asparagus, and a veggie burger.  The veggie burger was a Morningstar Black Bean burger with cheddar cheese, mustard, and spinach.  Classic.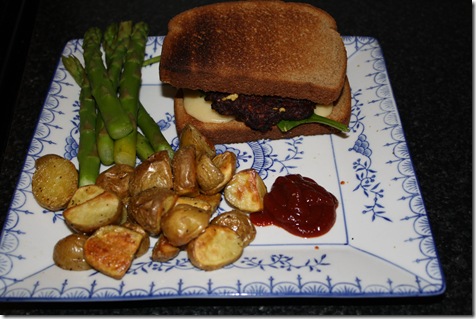 Speaking of Costco, the asparagus was actually from the wholesaler.  It was big and juicy, too!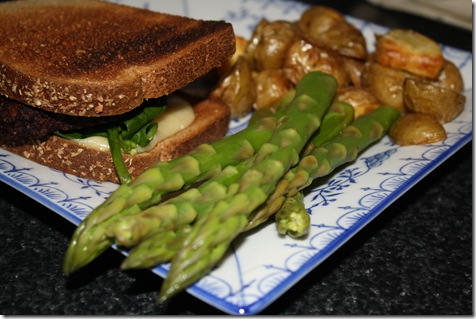 Today was suppose to be a cardio day, but I decided to call it a rest day instead.  Sometimes, you need to rest your body, and sometimes – you need to rest your mind!  I needed a mental break from working out, and I needed it BAD.
If you struggle with exercise guilt (I used to feel so bad when I didn't stick to my plan – I'm a bit of a perfectionist), try taking a macro view of your workouts.  Instead of analyzing your workouts day-by-day, look at the entire week or month.  It's true that small efforts make a big difference, but long-term consistency is important, too.  Try to look back on the last week or month and say, "I don't want to workout today, but last week, I made it to the gym 3 times," "…but last week, I made an effort to walk after dinner twice,"  or "but in the past month, I've made small steps to being healthier and more active in general."  It's easy to let go of exercise guilt when you put it into context.
The macro view also helps me keep up with my healthy eating habits.  Eat well 80% of the time, and don't stress about the rest. 🙂
Letting go of guilt is so important for achieving a healthy lifestyle.  Guilt doesn't do anything good – in fact, it tears you down!  I wrote more about guilt on my Fat Talk page.
The Husband and I are curling up and re-watching Season 1 of Grey's Anatomy.  Popcorn is in my future!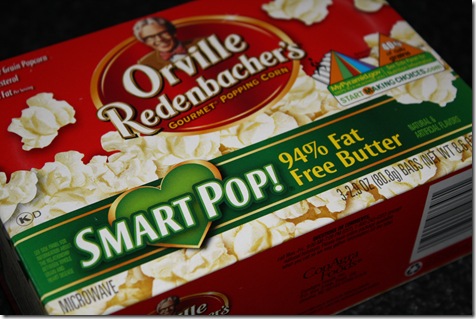 STAY TUNED FOR A SUPER EXCITING RAFFLE for the Livestrong Foundation!