Update:  I am raffling off this AMAZING Breville Juicer for the Livestrong Foundation tomorrow.  Tickets are just $5; check back tomorrow for details. Just a heads up! 🙂
Afternoon!  :)  The Husband took off work today, so we're hanging out in the office together.  He's studying for board exam #3 now.    Husband says hello!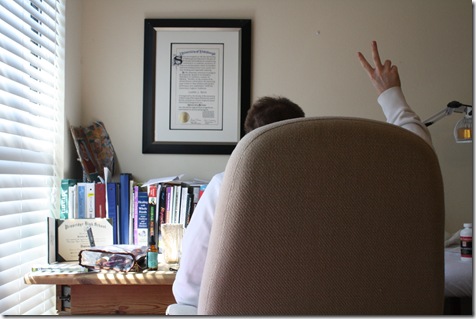 🙂
I made use an egg-tastic lunch:
I love egg pizza!  It reminded me of a breakfast burrito, but it's even better because the egg becomes a little crunchy in the oven.
Plus, I load it up with vegetables!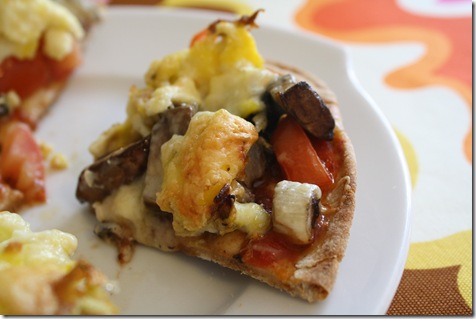 To make the pizza, I cooked mushrooms and onions in a wok, put them aside, and then cooked the eggs (I used 3 and split between the Husband and I).  I smothered a whole wheat pita with pasta sauce, and then I added the veggies, eggs, diced tomatoes, and Cheddar cheese to the top.
After baking at 350 for 17 minutes… Yum!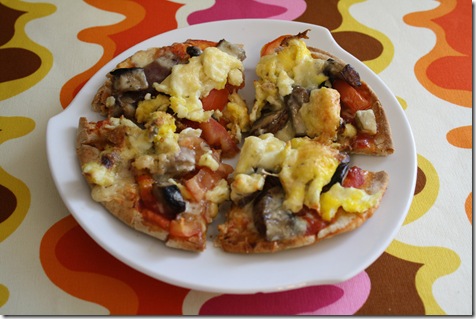 Plus, a Green Monster.  I'm slowly working my way through a 2.5 bag of spinach!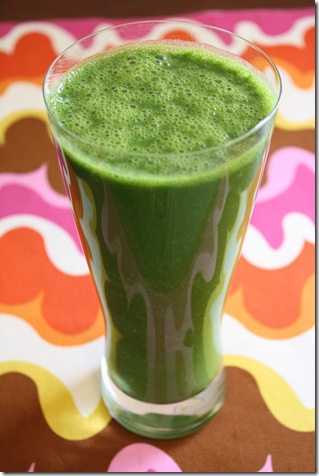 My GM contained: 1 banana, 2 cups raw spinach, and 1 cup vanilla almond milk.
Two things:  You have until 1 PM EST to enter the MBT.com 'anti-shoe' raffle!  Will contact the winners later.  Good luck.  :)   And for an interesting discussion about Exercise Compulsion, check out Heather's most recent post.  My thoughts are in comment #26!
Wanna play a fun game?  If you're a food blogger, complete the following sentence:  You know you're a food blogger when…
Mine: