This evening, I had an appointment at the Husband's college, the Florida College of Integrative Medicine, where he is studying to be an acupuncturist/herbalist.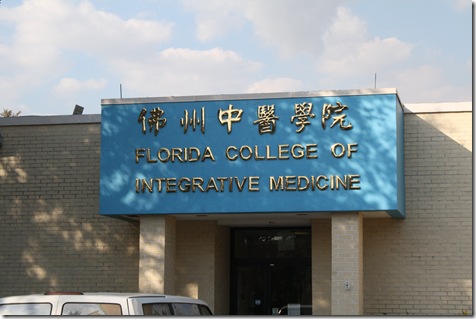 Because it is a teaching clinic, prices are very reasonable, and I had the Husband + a professor + two other students attending to me.  I felt like a Queen!
My Husband looks so cute professional in his lab coat.  It was fun to see him in action!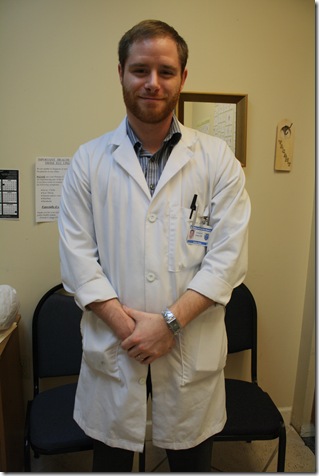 I went into the clinic to get two shots.  The first shot was Vitamin B12, which the Husband injected into my stomach meridian (which happens to partially run along the front of your leg!).  B12 was just for general wellness. :)  He also gave me a shot of Traumeel directing into my strained bicep.   Traumeel is "an effective medication for acute injuries and inflammation of the musculoskeletal system, avoiding at the same time the notoriously serious side-effects of common anti-inflammatory therapies."
I also got a massage and acupuncture.  🙂
I'm happy to report that my bicep feels almost totally normal now, and I'm not concerned at all about my triathlon on Sunday.  Rest is SO important.  When something hurts, STOP the activity that hurts it!  And you'll heal up ASAP.
After my treatment, I toured his school.  I spotted this countdown on the board in his classroom: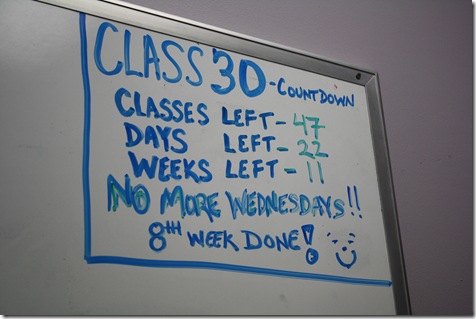 I can't believe he's going to be done with school in 11 weeks.  I might be more excited than he is to finish! 🙂
Then, we went to Pizza Fusion for dinner with his schoolmate and his wife.  I love Pizza Fusion – after all, all the ingredients are organic!
We started off with a basic salad and some pita chips + dips.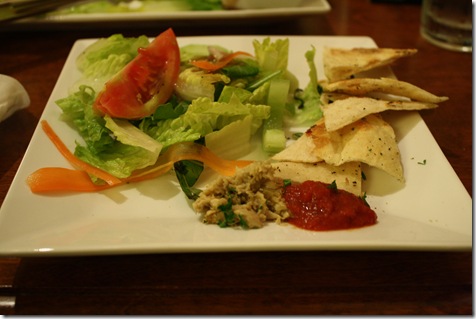 And dinner was three slices of the Farmer's Market pizza on whole grain crust.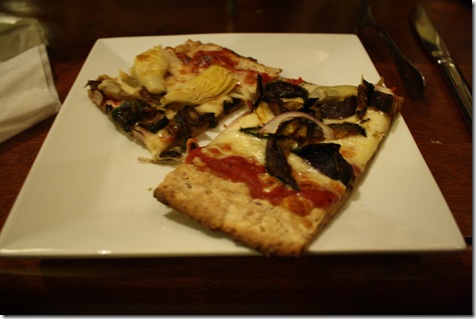 Earlier today, I had a HUGE fruit smoothie that contained rice milk, a banana, peaches, and cherries: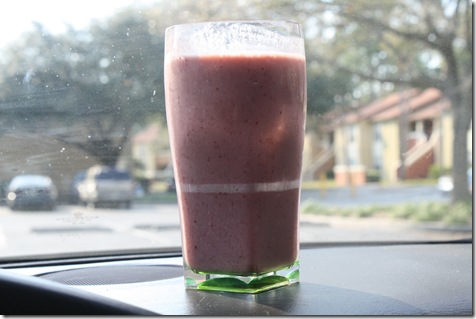 And I also snacked on some corn chips.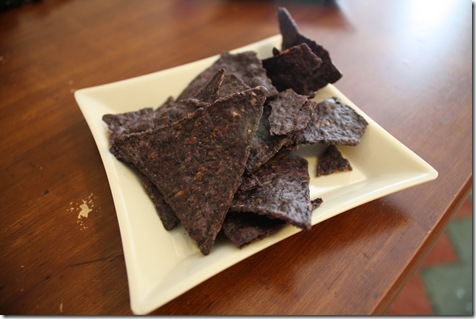 Side note:  The Husband's professor and another student doctor kind of gave me a talking-to about some of my dietary habits.  It's stuff the Husband has been saying FOREVER, but I think it kind of sunk in tonight.  I'm a pretty clean and healthy eater, but I know I could mix it up to make my diet even better.  So… come back tomorrow to see the two small changes I plan on making, and the one big change I'm going to try to slowly integrate into my life!
Have a good night!  🙂
PS – Check out the cutest picture of James and Maggie EVER on this post.