Afternoon!  My plans for today involved being an awesome writer and banging out a draft of my article, but the reality has been so-so.  As a result, I'm canceling my afternoon bike ride.  :(  Boo.  It's a taper week anyway, so it's all good.
Around 11, I made a Green Monster: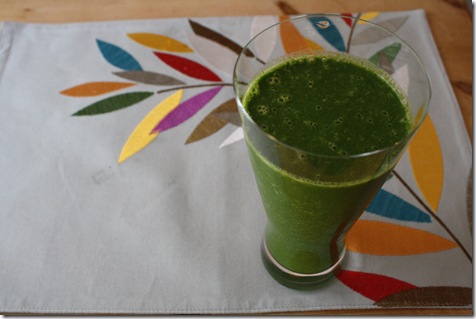 You know that giant 2.5 pound bag of spinach I bought from Costco two Sundays ago?  Well, about one week after I bought it, it started to go off, so I tossed it into the freezer.  I made this GM with the frozen raw spinach and it tasted great!   My GM contained the usual mix of 1 cup rice milk, 1/2 banana, and 2 cups raw spinach. 
Lunch was stolen.  🙂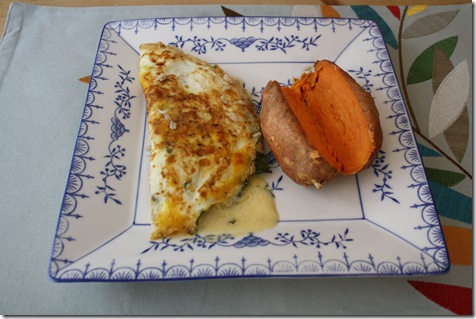 I made this (plus other sides) for the Husband for his dinner last night, but he ate something else.  I stole it out of the fridge for lunch – you snooze, you lose!
The main attraction was a 3-egg omelet with cheese and spinach.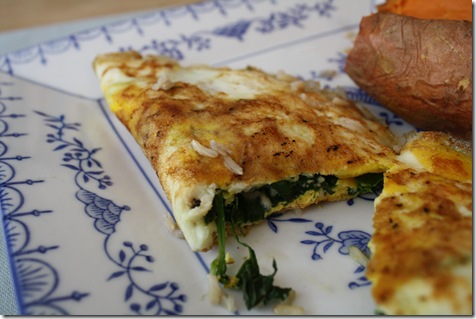 Plus, a small sweet potato: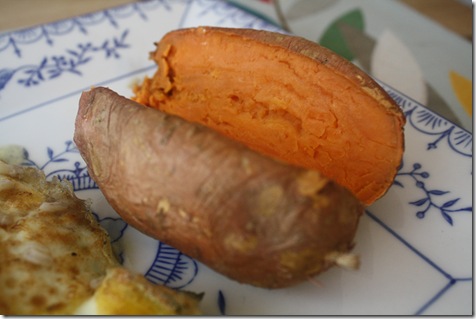 For dessert, I had 1/2 a Cadbury Cream Egg.  I only ate half because I'm saving the other half for the Husband (to make up for his stolen lunch!):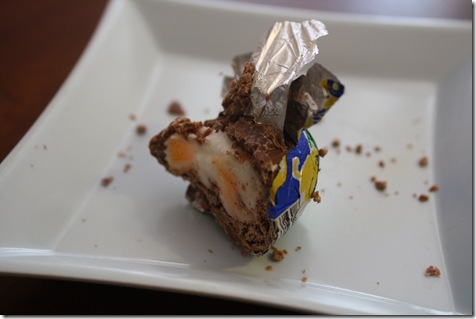 One FUN thing I'm doing this afternoon is going to the Husband's college to get acupuncture on my bicep.  The turning point for my arm was yesterday, and I feel great today!  I'm glad I don't have to worry about my arm giving out on the swim any longer, and I'm excited to go to the clinic to get acupuncture (and more?!) done.
The Starting Lineup Giveaway
Dick's Sporting Goods is running a cool Twitter-based contest called The Starting Lineup.   The Starting Lineup consists of 10 people who will test out products for Dick's, and they are chosen based on the total number of votes on Twitter. 
How does someone try for a chance to be on The Starting Lineup?
Follow http://twitter.com/dickssportcmo, if you're not doing so already.
Tweet the following message, with the blanks filled in:  "@dickssportcmo, @XXXX should be in the #startinglineup because XXX."  For example, if you feel so inclined to vote for me, you can tweet, "@dickssportcmo, @CaitlinHTP should be in the #startinglineup because she eats triathlons for breakfast."
You can vote for anyone, including yourself! You can only vote for the same person once per day, but you can vote for multiple people in the same day. 
In honor of the Starting Lineup contest, Healthy Tipping Point is hosting a giveaway for a $50 gift card to Dick's Sporting Goods! 
To enter the giveaway, simply comment below and tell me five interesting facts about yourself!  I'll pick the winner (must be a US resident) next Wednesday at lunch. 
My 5 things:
I lived in Miami, Florida until I was 18, but I can't speak Spanish.
I have two Bachelor degrees in English Writing and Political Science.
The "something borrowed" on my wedding day was a piece of my grandmother's veil, which was tucked into my bra.
I have my middle name (Joy) tattooed on my hip.  I really want another tattoo but can't decide what to get.
I almost bungee-jumped in Prague, Czech Republic when I was 16 and on a school trip.  I backed out at the last minute.