I've been struggling with sleep lately – waking up in the middle of the night, waking up early, experiencing trouble falling asleep in the first place.  It's been going on for two straight weeks, and today, it finally all hit me.
I ended up sleeping for twelve hours!  I woke up at 7:00 AM, checked e-mail, and then went back to sleep on the couch (I like sleeping on the couch; it's weird).  At 10:00 AM, the Husband woke up and asked me if I wanted to go sleep in bed… I ended up sleeping until noon!
At noon, a light knock on the door woke me up – the Husband had made me breakfast in bed!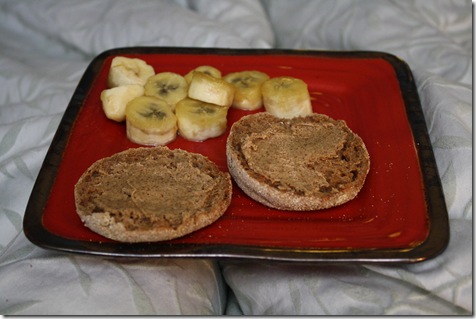 Cue: Awww.  I think he was concerned about me since I slept for SO long.
He made me a whole wheat English muffin with Justin's Maple Almond Butter and grilled bananas.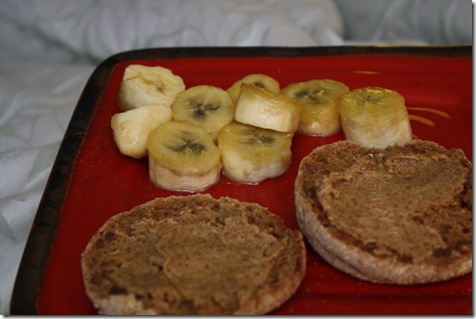 Barney Butter might have some intense competition for my favorite brand of almond butter!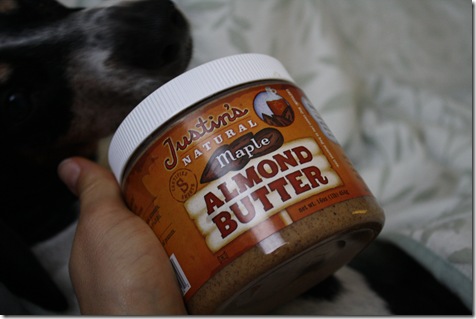 Maggie likes snuggling in, too.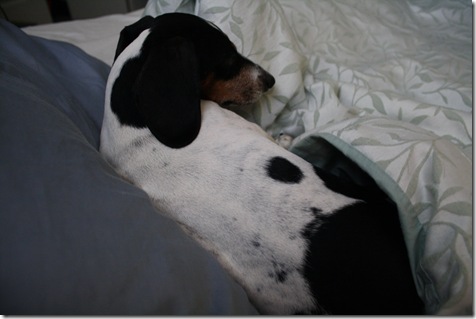 The Husband also made me English breakfast tea in the "love mug."  Nice touch, Hus!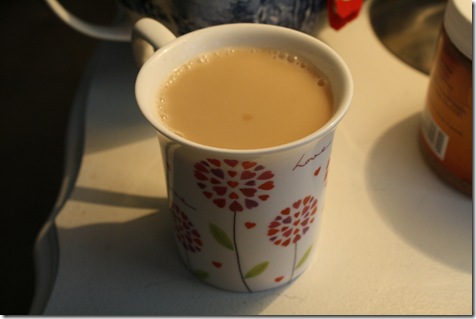 Breakfast was kind of light (and my stomach was growling for 12 hours without food!), so I had a small portion of Pumpkin Yogurt and Blueberry Pomegranate Granola.  The flavors actually mixed pretty well.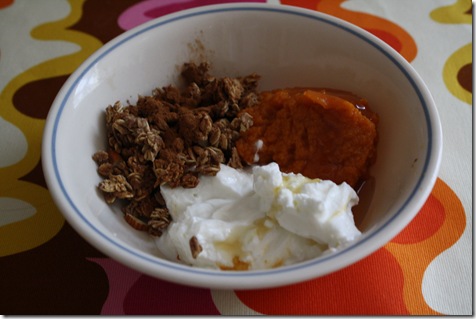 Always one to listen to my body, I am going to take today off from intense cardio.  My arm is still sore so swimming is out of the question anyway.  I feel like needing to sleep for 12 hours probably means I should relax and rest my body today.
This week was definitely the beginning of my triathlon taper.   Week 5 of triathlon training in summary:
Run: 11.5 miles (5.5 miles less than last week)
Swim: 750 meters (3,850 meters less than last week – blah! I hate injuries.)
Bike: 37.0 miles: (11.0 miles less than last week)
I wish I had been able to swim more, but I've got the skills down and what's done is done.  Only 6 more days to go until my first Olympic Triathlon!  I'm nervous and excited!