MANY thanks to everyone who entered or tweeted/blogged about the Garmin 305 Raffle for the Livestrong Foundation.  I really appreciate it!  You have until Thursday to enter the raffle.
I had a VERY busy work day, which worked out well because it's also a rest day.  I had an absolutely insane training schedule last week.  In fact, it was probably the hardest workout week of my life:
Ran 18.5 miles
Swam 3,750 meters
Biked 43.0 miles
Lifted twice
The Olympic triathlon is in 19 days, and to be honest – I do NOT feel ready at all for the swim.  I've got the bike and run in the bag, though.  That makes me feel better!  To help prepare for the swim, I am going to do an open water swim as soon as I get my wetsuit.  I also need to continue to put time in the pool.  I'm back in the water tomorrow!  Basically.. it's do-or-die CRUNCH time.
But, as mentioned, today was just a rest day, and it was nice.  :)  I got a lot of work done and took James and Maggie on two long walks.
Lunch was extra-special: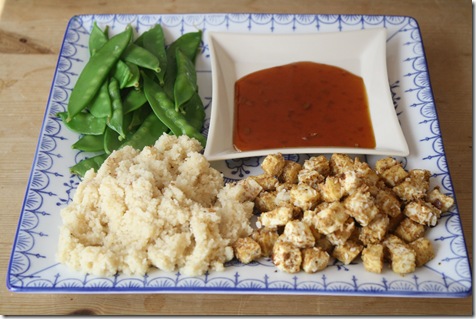 I tried my hand at coconut-encrusted tofu.  To make the tofu, I drained Nasoya's pre-cubed extra firm tofu and coated it in ground flax, cinnamon, and unsweetened coconut.  Then, I baked it at 400 for 20 minutes.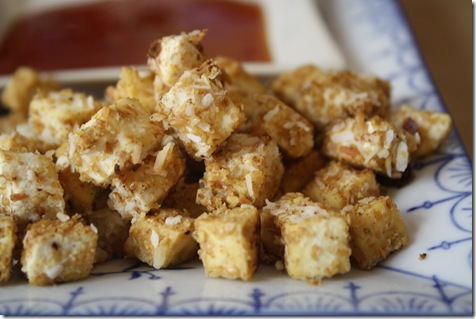 It was pretty good, but I think sweetened coconut would've tasted better, and the tofu needed to be marinated in SOMETHING – but I'm not sure what.  I dipped the tofu in some teriyaki ginger sauce and had whole wheat cous cous and sugar snap peas on the side.
Afternoon snacks included an orange and fake organic Cheerios: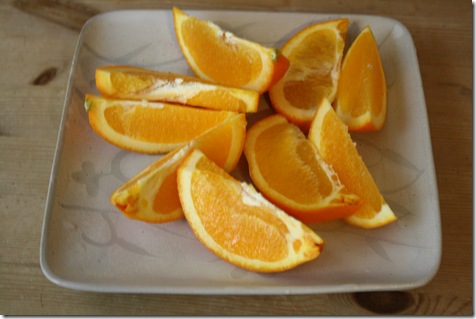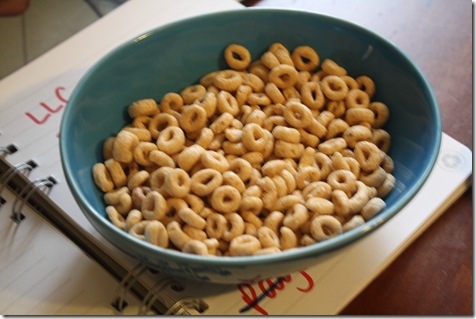 And dinner was pretty much the dinner of champions… Yes, I had a PB&J sandwich with a glass of wine.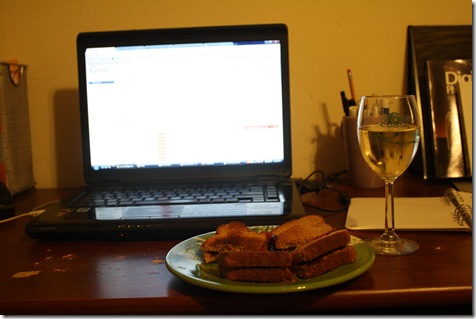 Sometimes you just don't want to cook!
I feel like I should've eaten vegetables with dinner, so I'm going to blend some rice milk, raw spinach, and ice for a mini Green Monster and have it for "dessert."
Time to drag the Husband away from his studies (he is cramming for his second of four board exams) to watch Season 1 of Grey's Anatomy.  :)