Here we go!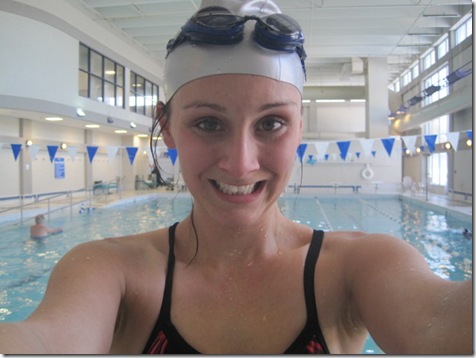 Today was my first official day of triathlon training.  I ran the Disney Marathon three weeks ago and am ready for a new challenge.
You might be surprised to here today is my official "start" for tri training because I literally began swimming and biking 4 days after the marathon.  But, I spent the last three weeks learning good form in the pool, fixing up my bike, and mentally preparing myself for a new race…. not really "training training."  So much of training is the mental attitude behind it!
The race is March 14 and consists of a 1.5 km swim, 40 km bike, 5.6 mile run.
You can see my complete training plan on this spreadsheet (the weeks are broken up into different sheets – see the bottom left).  The spreadsheet is also available on the left-hand column on the blog under "Training Plan."
I created the run and bike portions of the plan myself, and Ryan created the swim portion.  My plan for an Olympic Triathlon in 6 weeks includes:
Some thoughts:
I would reduce my running mileage (the run portion of the triathlon is 5.6 miles), but I hope to run a half marathon at the end of February.  If I decide not to do it, I will cut my mileage in half.
I've done one other triathlon and was disqualified because I panicked during the swim.  Ryan created a plan that has me doing tons of drills, sprints, intervals, and long swims (way past my 1,500 meter race distance) to ensure that I'm ready.
Yes, my plan is pretty intense.  🙂  I'm not really feeling comfortable with the idea of a triathlon right now, and I'm gearing up for the Century bike ride (100 miles) in May.  Basically, I need to whoop myself into really, really good shape for these events.  Would I recommend this plan to everyone? Well, no.  But I know what my body can handle and can't handle, as well as what I need to do to succeed (and feel emotionally comfortable).  This plan will work for me, although it might not work for you, your goals, or your schedule.  I'm just sharing it for general knowledge purposes.
I am 100% sure I will not follow this schedule perfectly.  I will be swapping workouts to create rest days as needed, probably on a weekly basis.
Since it is still very snowy here, I trooped it to a gym near my mother's house and plunked down a ridiculous amount of money for a week-long pass.  It's a nice gym, but I almost gagged when they ran my credit card.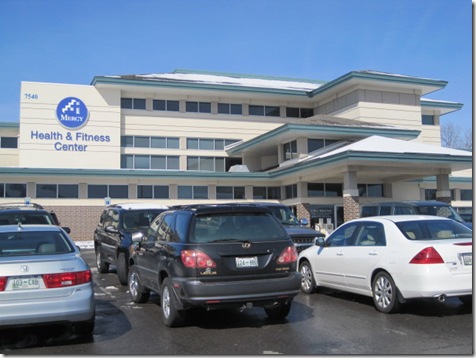 First up:  a run!  I did 3.0 miles on the treadmill in 27:00 minutes. 
Then, I headed to the locker room to change (and posted an Operation Beautiful note along the way):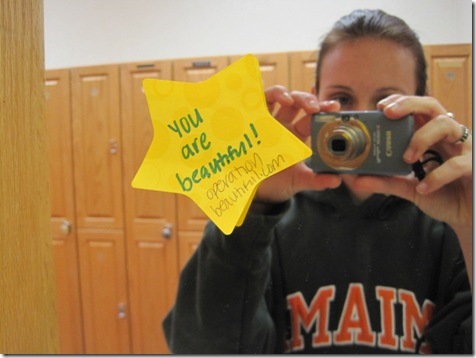 And jumped in the pool!
I did a total of 1,150 meters.  As usual, I brought my "cheat sheet" in a Ziploc bag so I could remember what to do (the % is for exerted effort – i.e. 400 meters at 50% effort):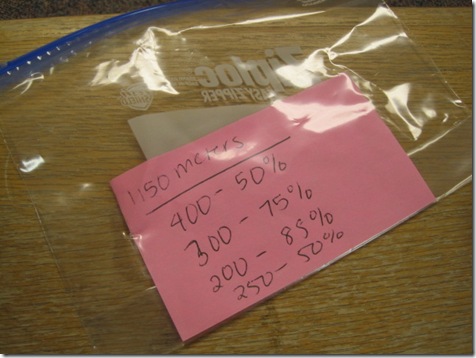 Whew!  'Twas an excellent workout.
Before the gym, I had a bag of pretzels (I took my uncle to a doctor's appointment):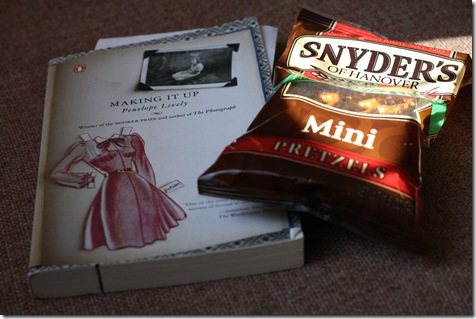 And afterwards, I snacked on crackers + 1 slice of deli cheese + hummus: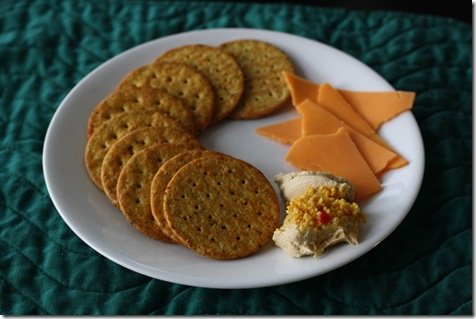 And 1 serving of whole wheat tortellini with pesto sauce and veggie soup.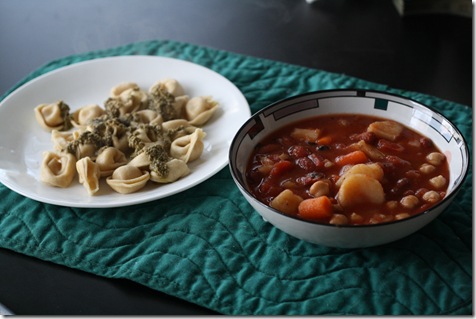 I found the pesto sauce in my mom's pantry and I must get some for myself!  Such a delicious change from red or cream sauce.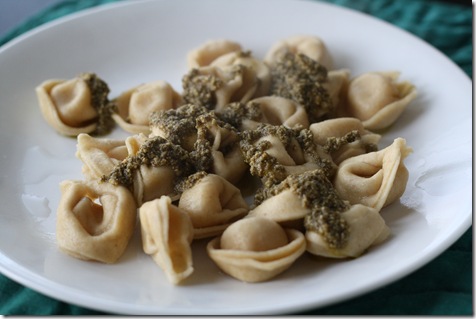 I better get some writing done – the day is slipping away!
If you've done a race before, did you follow a training plan?  Make one up?  Just wing it?  Do you keep your plan on the computer or use a paper calendar?  I'm always curious to see how people train!