If the blog is giving you difficulties (i.e. you can't see any of my current posts), try this link: http://www.healthytippingpoint.com/2010/02
Boy oh boy – do I have a delicious recipe to share!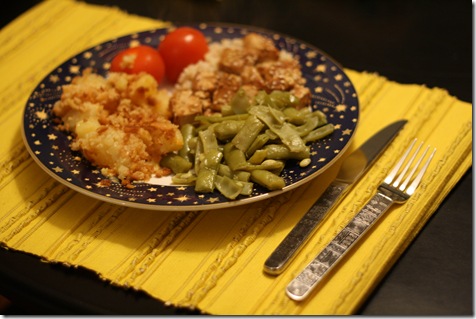 The star of dinner was Pineapple Casserole.  Although it's not the healthiest dish, it would be a great meal to bring to a potluck!  You could probably make it a little healthier by halving the butter and reducing the sugar.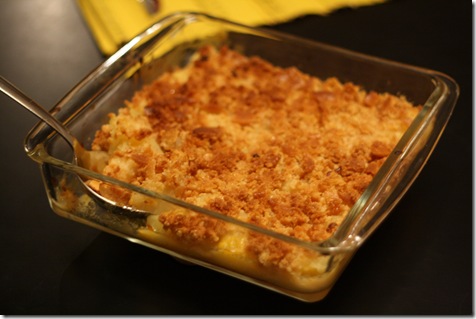 My mom got the recipe from a friend.  Here it is!
Pineapple Casserole
Ingredients:
1/2 20 oz. can of crushed pineapple (drained; save the juice)
1 20 oz. can of chunky pineapple (drained; save the juice)
3 tablespoons flour
1/4 cup sugar
1 cup shredded cheddar cheese
2 cups crumbled Ritz crackers (1 whole sleeve)
1/2 cup melted butter (1 stick)
Directions:
Drain pineapples, reserving 6 tablespoons of juice.
Combine juice, flour and sugar to make a paste.
Stir in pineapples and cheese.
Pour mixture in a shallow casserole dish (this recipe makes a 9 X 9 dish)
Toss cracker crumbs with the melted butter and spoon over the pineapple.
Bake in oven at 350 degrees for 25 minutes.
I had a side of the Pineapple Casserole with the rest of dinner.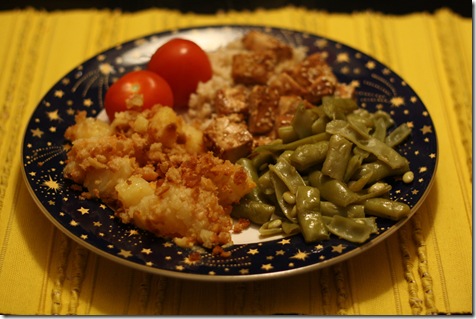 I had a serving of baked tofu (marinated in mustard, honey, soy sauce, and sesame seeds), green beans, two tomatoes, and 1/2 cup brown rice.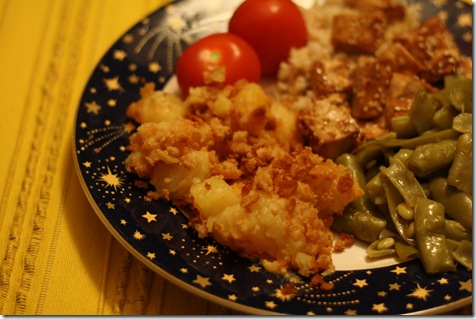 Dessert was a little piece of chocolate: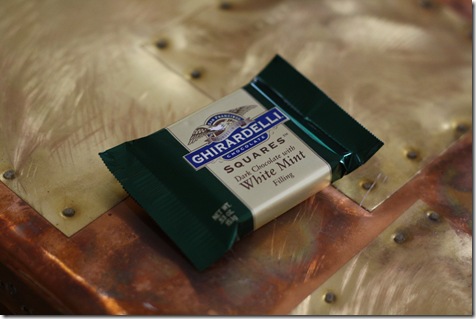 And earlier this afternoon, I had a Oh She Glows bar.  Angela is really onto something with these granola bars… you will see them in every grocery store in North America someday soon, I think!  This flavor is particularly awesome.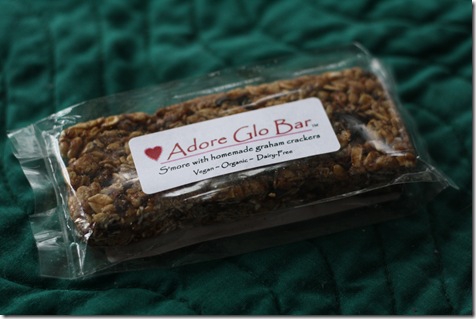 My mom and I are going to snuggle together on the couch and watch a movie!  I'm setting my alarm extremely early in hopes that I'll be able to get some writing down…. I keep getting bogged down with other (important) tasks – like the Healthy Living Summit!  We hope to be able to reveal the date + location soon!  🙂
What's your favorite potluck dish?