The other day, Tina went to Mike and Patty's, a cute breakfast cafe in Boston.  I went to the cafe in August when I was there for the Healthy Living Summit.
Seeing the Grilled Banana Sandwich on her blog made me REALLY crave the delicious breakfast treat.  So, I decided to make my own!
I'm not sure how they make the Grilled Banana Sandwich at Mike and Patty's, but mine was less caramelized and a little healthier.  Still – delicious!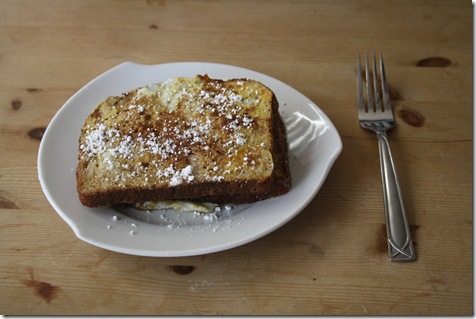 It's basically two pieces of French bread with a grilled banana stuffed inside!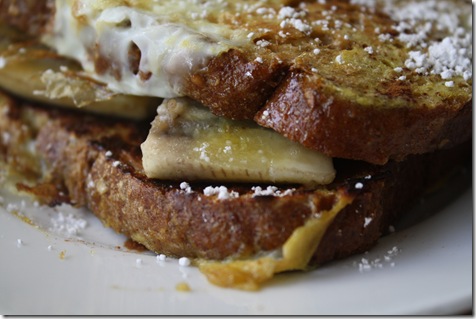 Ingredients:
2 pieces of whole wheat bread
2 eggs, beaten
1 tablespoon brown sugar
Cinnamon
1 sliced banana
Powdered sugar
Directions:
Grease and heat frying pan.
Make basic French bread by dredging the toast in eggs and placing on grilled.
On eggy side of toast, sprinkle the brown sugar.
Meanwhile, slice the banana and place on griddle to cook.
When first side of toast is down cooking, flip the brown sugar side down.
On the cooked side of the toast, sprinkle cinnamon.
Once toast has finished cooking, remove from heat and put bananas in between slices (on the cinnamon side).
Sprinkle with powdered sugar and enjoy!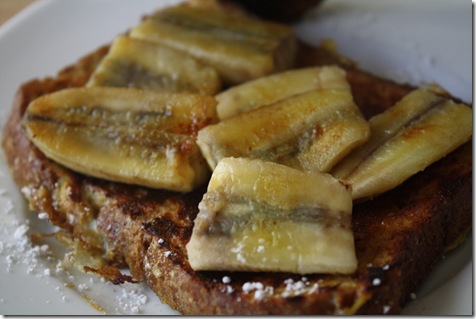 The Last of the Q&A
Here are the last of the Questions and Answers!  I hope you enjoyed reading all the Questions and Answers (Vegetarian Q&A, Part I of General Q&A, and Part II of General Q&A).  Of course, you can always continue to ask me questions in the comments section or email, if you want!
Erica asked, "I hope the book is coming along well! Any updates?  Where in Pittsburgh did you get your dogs?"
As I mentioned last night, my book is in production stages.  Because there are over 125 Operation Beautiful notes included in the book, there is a LOT of design work to be done (I'm not doing it, of course!).  The book will come out in August 2010!  I am actually working with Zesty Cook on redesigning the Operation Beautiful website to match the colors and font of the book cover.  Here's a sneak peek of the new site: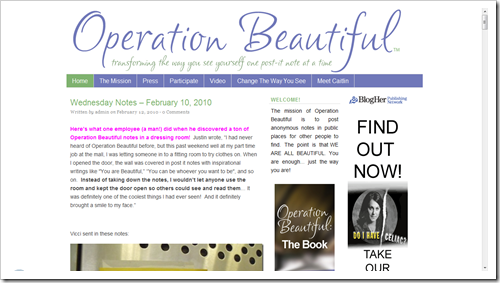 And we got James from the Animal Friends Shelter in Pittsburgh, and Maggie was from a private rescue group.
Joanne asked, "Do you think you could have trained and run the marathon if you didn't have a running partner?  If you had to train and motivate yourself?"
Definitely! I did most of my races before I found a group of running friends.  It's hard to do long runs alone, but I did a few of them alone for training.  I really recommend joining a running group if you don't know people to run with – they are fun and for all levels!
Kayla asked, "Have you ever dealt with disordered eating?  How did you become healthier (I know about your friend talking to you), but like how did you realize what you should/should not be eating? Did you google it, reading health magazine etc..?"
I never had an eating disorder.  I did, however, suffer from Fat Talk and negative self-talk in relation to food and my body, and I finally decided to stop beating myself up, focusing on calories over nutritional content, and generally making myself miserable.  I think all women deal with this on some level, which is part of the reason I started Operation Beautiful.
In Defense of Food by Michael Pollan was an extremely "formative" book for my eating habits.  As Michael says, "Eat food.  Not too much.  Mostly plants."  I think this pretty much sums it up – I just try to eat whole, natural foods, and I stay away as much as possible from things I can't pronounce. 
Jenn asked, "How do you balance working from home with maintaining connections with people during your work day? For instance, I just started working from home in November and am developing a new career to do wellness coaching. I'm home a lot now and I must say…I truly miss being around people throughout my day. I do go to cafes/coffee shops and meet friends but in terms of your work hours…what keeps you focused and prevents you from feeling "alone?"
GET A DOG!  If you don't want a dog on a permanent basis but like animals, reach out to a local shelter about fostering a dog until they find him a home.  I have worked from home in some form or another for almost 3 years, and Maggie and James have been a lifesaver because they seem like little office mates!  Or you could get a cat, but they aren't as interactive in general.
Also, blogging helped me not feel so alone.  :)  I have G-Chat conversations with other stay-at-home bloggers or blogger mommies or people who work odd shifts.  G-Chat is the new watercooler.
Katie asked, "Do you eat at just about the same time everyday or do you eat according to your hunger level? Sometimes I can only go 2-3 hours after breakfast and decide to have my lunch really early, but other days I seem to be able to wait until 3pm to eat lunch. I don't really like to throw off my "schedule" so much but I'd rather eat according to my hunger cues.
I guess I eat according to my cues… but to a point.  I eat lunch anywhere from 11 AM to 1 PM, but usually earlier.  I won't put it off much later though.  Basically, I think it's important to put yourself on an eating schedule, but within reason.  If I'm truly not hungry, I won't eat a second afternoon snack just because I typically do.
Allison asked, "How fast were you when you first started running?  What are your long term fitness goals? Do you get competitive with other runners at races or do you focus on your own race?"
I did a walk/run method when I first started to run, but I remember being around 10:30 to 11:00 miles.  Now, I average 9:20 to 10:30 (which really picked up after the first year of running and continues to drop). 
My long term fitness goals include… hmmm.  I guess I'd just like to continue to race and have fun.  I'd love to do an adventure-style race.  I'd also really like to do a Half Ironman, just because I think it would be pretty badass! 
I have had races in which I was competitive with friends or strangers, and honesty – it's not very fun, in my opinion…. I would rather be supportive other people and just focus on my own goals. That's all that really matters, anyways.
Allison also asked, "What is the Husband's workout schedule like?"
The Husband works out four times a week, 2 hours a pop.  He goes to the gym after work twice a week and then on the weekends.  He mostly lifts weighs and limits the amount of cardio he does because he gets skinny too easily.  He's actually trying to put on 15 pounds of muscle right now!  He's already put on 5!
Cheryl asked, "You said you don't count calories but did when you were losing weight. How many calories did you eat when you were losing weight?"
I was never overweight, but I was not in shape for my body size and frame.  A few years ago, I lost 10 pounds over the course of one year (less than a pound a month!) by eating 1,600 to 1,900 calories a day and working out 4 times a week for 30 – 45 minutes or so at a time.  I also stopped drinking so much, which was a major factor in losing weight.  I did NOT work out with the intensity I do now, and if I ate that little with my current workout schedule, I would drop an unhealthy amount of weight.  Calorie intake needs to consider your activity level.
Lizzy asked, "What is your advice on kick starting my training process, especially from going from half to full? Also what are some good pre and post workout meals and such. I'm always wondering what people eat before and after to fuel and refuel."
I would say… sign up for the marathon!  I think the best way to commit yourself and motivate yourself is to pay that entry fee!  :)  I always have PB toast or oatmeal before long runs, and I try to refuel with some sort of protein/carb snack, like Greek yogurt and granola.
Cheryl H. asked, "My question ~~ you say you are moving to Charlotte for family and business reasons, but I am wondering how you feel about leaving your friendships in Florida? Are you going to be living closer to your families (I do realize that you will be closer to your mom, but was wondering why Charlotte)? Also, what about your husband's career plans, how does that fit into your move? I am just really curious, because I have never moved further than 15 miles from where I grew up ~ staying close to family and friends."
I am sad to leave Orlando, but we never thought we would permanently live here – we just moved here for the Husband's graduate program.  So, although I am sad, this was always coming.   My friends will still be my friends when I move, and I know there are new friends out there just waiting to be made!  :)  The Husband's family (his mother, father, and sister) are moving to Charlotte, too, and my mom has plans to move out there as well in the next few years.
The Husband is launching is own practice (with his father) once we move, and I might moonlight as his office manager for a few months to help him get started.  It should be an interesting adventure for the blog!  Truthfully,  I can't wait to move and start another chapter of our lives.
Cassie asked, "How did you first start telling people (friends, family, hubby) about your blog? It almost seems easier for me to let strangers read it than my own family and friends! I'm afraid of them thinking I'm crazy/nerdy/boring or also a failure if I stop blogging at all."
I remember being really nervous to tell the Husband and our friend Harry about the blog!  I had been blogging for about a week and we were out to dinner so I had to photograph my food.  :)  I just explained the concept, and Harry thought it was a little weird (the Husband knew what food blogging was), but they didn't care too much.  I usually tell people that I have a food and fitness blog, and I post about my meals because other people find it interesting.  Lots of bloggers don't tell all of their friends or families about their blogs – you don't have to disclose it if you don't want to!
Tracy asked, "I'm training for a marathon right now and missed my first long run this past weekend…(I'm about 8 or 9 weeks into an 18 week training plan). Did you miss any long runs and if so do you feel that it hindered your training? (I missed a 13 miler)."
I did not miss any long runs (I don't think…) but I can tell you it won't significantly hurt your training to miss one (or even two).  Marathon training is a culmination of many, many weeks of hard work – you will be fine if you put the effort in the rest of the time!  And plans "build in" miles for missed runs; don't worry!
Jessica asked, "I have no problem giving up meat because of many of the same reasons that you list – mainly factory farming. However, this debate doesn't stand true when I apply it to wild caught fish. I only eat wild caught fish and to me catching a fish in its natural habitat in the wild is the most "ethical" way for something to enter the food chain. So I am wondering what your thoughts are here or anyone else that is vegetarian? For now I consider myself a pescatarian so I am interested in some other thoughts on the matter."
It's not just the system that I have a problem with, it's also just the moral question of whether we should be eating animals.  Honestly, I'm not sure if it's moral or not to kill and eat an animal, period.  I'm not saying it's immoral or making personal judgements; I'm just saying that I'm not sure.  So I choose to not eat any meat (or fish).  That's one of the reasons I struggle with eating dairy – in fact, one of my most commented-on posts was "Are Vegetarians Hypocrites for Not Being Vegan?"