Exciting news!  I am officially registered for the Aflac Iron Girl 15K and 5K Run and Walk.  The race takes place in Clearwater, Florida, and I'm going to race the 15K distance – my fifth 15K!  Hopefully, I'll set a new personal record (my PR is 1:23:30, which I set last February).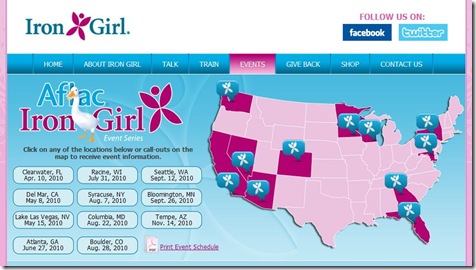 This race kicks off this season of the Iron Girl event series, which takes place in 12 cities and including a variety of run/walks, duathlons, and triathlons.  The Iron Girl event series is just for women and raises money for the Aflac Cancer Center and Blood Disorders Service of Children's Healthcare of Atlanta.
Is there a race near YOU?
Clearwater, FL: April 10, 2010
Del Mar, CA: May 8, 2010
Lake Las Vegas, NC: May 15, 2010
Atlanta, GA: June 27, 2010
Racine, WI: July 31, 2010
Syracuse, NY: August 7, 2010
Columbia, MD: August 22, 2010
Boulder, CO: August 28, 2010
Seattle, WA: September 12, 2010
Bloomington, MN: September 26, 2010
Tempe, AZ: November 14, 2010
If you decide to register for any Iron Girl event, use coupon code CCIGCLHTP2 (case sensitive) for $10 off online event entry!  It will expire on April 7. 
I actually interviewed Judy Molnar, the vice president of Iron Girl, last April.  You can read the full interview on this post.  Judy is SO amazing – she used to weigh 330 pounds, but after a scary doctor's appointment, decided to turn her life around… she has even raced in the Kona Ironman Championship!
According to Judy, "Iron Girl offers the opportunity to enter a race, for, and about women. As a participant, you are less nervous and fearful knowing you will be part of an amazing, supportive community of like-minded women. Iron Girl fosters camaraderie and a passion for healthy living, not just competition."
If you're interested in doing a women's only event, I really suggest you check out the Iron Girl events page – I think it's going to be really special and fun!  And I want to say "thank you!" to Iron Girl for sponsoring my participation in the race.  🙂
In light of my exciting Iron Girl news, I decided to go on a short, but fast run this morning:
Distance: 4.0 miles
Duration: 37:51
Mile 1: 9:42
Mile 2: 9:46
Mile 3: 9:49
Mile 4: 8:35 (Weeee!)
That last mile KILLED me – in a good way!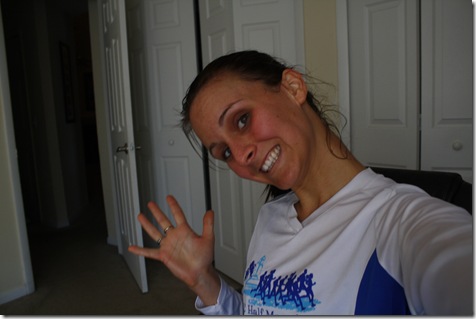 Since I am currently triathlon training, I have to squeeze in a swim later today…. I hate two-a-days, but sometimes they are the only way to get all my workouts done!
Post-run lunch was a yummy sweet potato, black bean, and spinach wrap: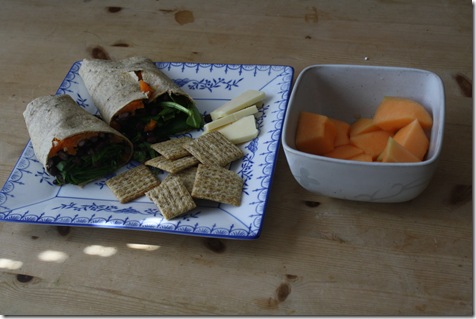 Don't be afraid of this wrap combo – it is SO good!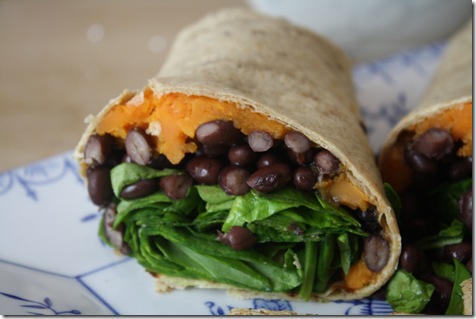 Plus, 1/4 cantaloupe on the side: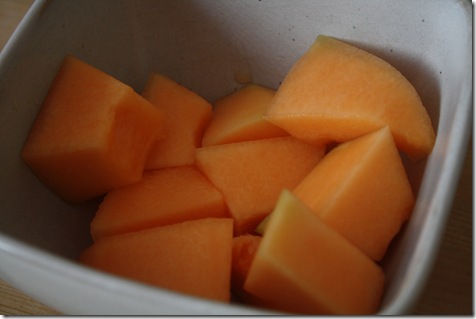 And some crackers and cheese: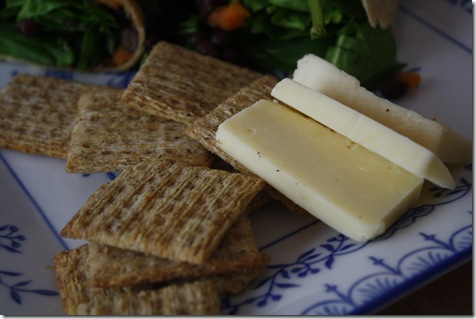 If you're a women, have you ever done a women's-specific event?  What was your experience like?  If you haven't done one, would you like to do a women's event?  Why or why not?