Lazy (but good) lunch: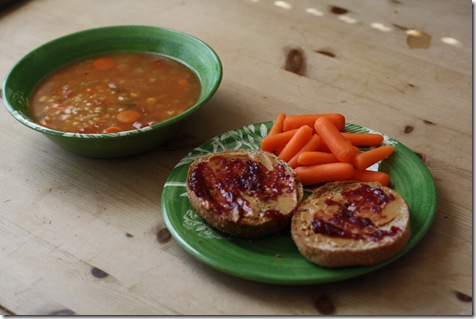 I had 2 cups of Wolfgang Puck vegetable barley soup: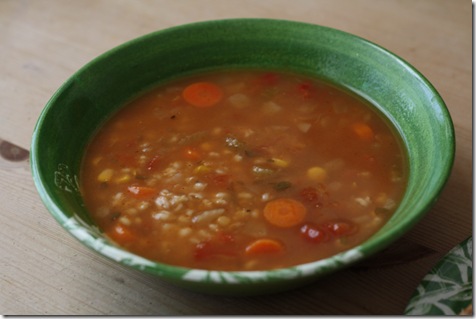 And a whole wheat bagel with Barney Butter and raspberry jam.  Plus, carrots!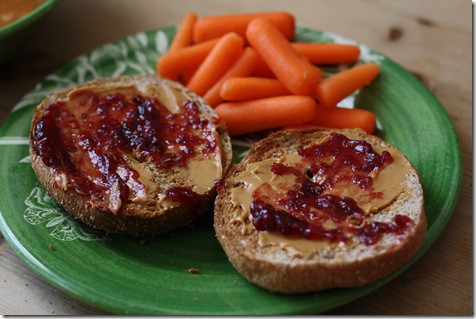 Vegetarian Questions
This morning, I opened up the floor for questions on being a vegetarian/my diet in general.  I went vegetarian on April 26, 2009, but I didn't announce it on the blog for a few weeks – here's my announcement post.
I went vegetarian for a number of reasons, but the major catalyst was when I read the book "Skinny Bitch."  My review of the book is here.  Although I don't agree with everything the books says, it really opened my eyes up to the realities of factory farming.  Watching the movie "Food Inc" (review) also solidified my decision.  By the way, I really recommend Food Inc for all types of people because it's not a 'pro vegetarian' movie, but a 'pro knowledge movie.'
Here are my answers to your vegetarian questions!  (Some questions were repeats so I just listed one question for each topic.)
Lizzy asked, "I've always thought about going vegetarian because i already don't eat a lot of meat to begin with, but because i still live at home i eat whatever is made (which most of the time is chicken and turkey). Anyways, when you became a vegetarian what were some of the things that you found difficult to cut out because they didn't fit with the lifestyle, and what are some of your go to meals to eat out at restaurants?
I really miss the convenience of pre-cut, individually fresh meat and fish filets.  Pieces of salmon were SO good for dinner and were super easy to make!  Making vegetarian protein – such as tofu – takes some pre-planning because you have to press it, cut it, and the bake it.  That's why I really like Nasoya pre-cubed extra firm tofu.  Because it's pre-cubed, you don't have to press it!
My go-to meals at restaurants are usually some sort of pasta dish or an egg-based dish if it's a breakfast joint, too.  I try to go to vegetarian-specific restaurants whenever I can – it makes eating out so much more pleasurable.
Greta asked, "I'm not sure if you've posted about this before, but I'm wondering if you take any supplements – I'm specifically thinking about b12 and iron, since those are harder to get when eating vegetarian. What's your opinion about recommended doses of vitamins and minerals?"
If you've read any books such as In Defense of Food by Michael Pollan, you'd know that even non-vegetarians need to be taking whole food supplements because our food is much less nutritious than it was years ago! Scary!  The only real supplements that I take are a calcium supplement and a Vitamin B supplement, both of which were recommended by my holistic doctor father-in-law.
Kristen wrote, "Do you miss meat? Do you think you will stay vegetarian forever? What about your husband?!"
Yes, sometimes I really miss meat.  I especially miss scallops and filet mignon.  I do think I will live a mostly vegetarian lifestyle forever now – I'm pretty committed and haven't had meat once in 10 months!  However, I am pretty sure that I will "slip up" and eat meat at least a few times in the next few years.  :)  The Husband eats a vegetarian died 99% of the time (he has been vegetarian since May 2009), but he sometimes prefers to order meat when we're dining out.  He says he enjoys being be vegetarian because it's in line with his spiritual beliefs.
Maggie wrote, "I've been listening to lots of Podcasts and reading lots of articles about the potentially negative outcomes of too much soy consumption. You may have addressed this issue earlier, but I couldn't remember so I thought I'd ask again. I love tofu and I love those Morningstar breakfast patties and Odwalla bars, which are made with soy. Are you concerned about eating too much soy? I try to be conscious of how much I eat. I'm just frustrated because first they tell us too much meat causes cancer, now too much soy causes cancer. SHEESH!"
Yes, I am concerned about eating too much soy.  For a while, research suggested that eating too much soy can cause hormonal issues, which in turn can increase a women's risk for breast cancer.  There is now conflicting evidence (see this article).  However, I am concerned about eating too much soy because I am concerned about eating too much of anything, especially something as processed as soy.  I try not to eat too much fake meat or tofu, for example.  I don't think it's something to get TOO worked up over, but it's good to be aware.
EmpowerHealth asked, "Is there a secret to cooking dry beans?! I always get an upset stomach after eating them and they come out so bland. I've been getting canned beans lately but I'd really like to get the hang of cooking dry beans as they are cheaper."
I am a bad person to ask because I always buy canned beans!  I just rinse the canned beans before eating them to remove some of the sodium.  Anyone out there know how to make good dry beans?
Sarah asked, "I recently made the switch to vegetarianism and I was wondering what kinds of meals you order out at restaurants that aren't vegetarian/vegan restaurants? Also, what are some of your favorite vegetarian meals?"
I answered the eating-out question in the first question, but for your second question, I have some of my favorite vegetarian meals on my recipes page.
Freya wrote, "How do you get enough protein?/Do you think you do? I heard we're meant to have like 1-2g a day per kg of bodyweight, and more if we're training (for marathons etc), so yeah! I would like to go proper veggie, but that concerns me."
Once I tallied up how much how much I got on an average day of vegetarian eating (see "The Protein Question") and the result was that I ate about 77.5 grams of protein a day.  Personally, I believe this is more than enough protein for a woman my size, as I have good muscle tone, rarely get sick, and do a lot of endurance sports without feeling tired.  In general, I think the protein issue is very overblown (just my opinion) and although protein plays an important role in weight maintenance and muscle recovery, I do not believe our bodies were made to eat and process large amounts of animal protein.  I get my protein from sources such as Greek yogurt, dairy, nuts and nut butter, tofu, beans, soy products, and whole grains.
Megan asked, "I was wondering if you ever counted your calories and approx how many you aim for in a day?"
I no longer calorie count (I did when I was losing weight), but I probably eat about 1,700 to 2,300 calories on an average day.  I weigh 120 pounds and exercise 5 – 6 days a week.  When I was marathon training, I easily ate 3,000 calories on long-run days.  I go by my hunger cues and try to eat more on hard workout days.
Tiffany asked, "My question would be whether you have a trigger food that just throws you off of your healthy eating or not. i struggle with cereal and granola, and can't keep my hand out of the box!"
I am triggered into unhealthy eating by the typical suspects:  chips, cookies, candies, granola, and cereal.  I actually have really poor self-control around unhealthy food and try not to keep chips, cookies, or candy in the house at all.  We don't have any junk food in our pantries – if I want ice cream, I will go to the ice cream shop and get 1 serving.  I keep a measuring cup in my granola to help me portion it out reasonably.  I realized last month I was eating double portions on accident!  🙂
Alyssa asked, "How do you keep your energy levels and iron levels up?"
I already talked about supplement, but I think a big thing for my energy levels is eating lots of small meals/mini-meals (like two or three afternoon snacks).  I also am a firm believer in SLEEP!  Sleep is so important.
Meredith asked, "I'm making the transition to vegetarian and have no problem coming up with great dinner recipes but I find it challenging to come up with creative lunches to bring to work. Any suggestions?"
Although I wasn't a vegetarian when I worked in an office, I did pack a lot of vegetarian meals.  My favorite to-go vegetarian meals include:  sweet potato and black beans, rice with beans and salsa, hummus wraps, and casseroles.
Amanda asked, "How do you handle situations where people don't support or understand your views/decision to be a vegetarian? Do you debate with them? Just leave it alone and let them think they "win"?"
When people ask me why I am a vegetarian, I usually say that I do not support factory farming and find it easy and fun to be a vegetarian.  Sometimes, people have said to me 'A factory farm is not that bad' or 'The animals are happy!' I usually respond by asking if they've seen Food Inc. because I think it's a really good, unbiased look at our food system.  I will explain things if they ask about it (like the fact that 80% of our meat is prepared by four companies!), but I try not to get into a debate about it.  After all, pretty much nothing they can say is going to make me believe it's acceptable to eat factory farm meat.  I will usually say that I "might" eat meat if I knew where it came from and how it was slaughtered.  I also try to point out that I'm not judging them because of their food choices; I'm just making a judgment about the SYSTEM.
Amanda also asked, "Oh and I wanted to share a question my grandmother actually asked me yesterday …"I know you don't eat meat, but if I cook vegetables with meat in it as seasoning, will you eat it?""
Oh man!  I will not eat vegetables prepared with meat broth or anything similar.  I don't eat baked beans made with pork.  However, I will eat marshmallows that contain gelatin.  I think everyone needs to decide what is acceptable for themselves and what is not acceptable.  Vegetarians don't eat meat, but that can be a blurry line for some people, and I'm OK with some gray area… but only some!
Tracy wrote, "I'd like to know what you do if there are absolutely no options on a restaurant menu? Also – a lot of vegan blogs talk about how much better they "feel" – the glow and what not. Do you feel better since you've gone veggie?"
Not really.  I think the biggest part of giving you a "glow" is to stop eating processed foods, which I wasn't eating much of when I ate meat anyway. 
If there are no vegetarian options on the menu, I'll ask the waiter what the chef can do!  There is always something they can whip up.  Or I'll get soup.  🙂
Jessica asked, "What is the worst faux meat product that you have tried?"

In hindsight, the Toforky sausages were really gross. I thought they were OK at the time, but looking back, they were too salty and weird to be enjoyable.  I also really hate fake grilled chicken strips, but only because they look too much like the real thing.
Ashley wrote, "I really want to become a vegetarian for the sake of animals – but I find it very hard to do! I love chicken and steak so much. Any tips on how to get started? Did you just stop eating meat all at one time or was it a process?"
I've actually gone vegetarian a few times before and then reverted to meat eating.  This is the longest I've been a "true vegetarian" and it feels different. I feel totally committed and although I occasionally crave meat, I haven't broken down and eaten a hamburger or anything.  This time was "cold turkey" (hehe) because I was so scared after reading Skinny Bitch.
Becoming a vegetarian is a huge shift for most people, so I would recommend becoming a flexitarian first – eat mostly vegetarian and eat meat on special occasions or every other day only.    Also, educate yourself on the benefits of becoming vegetarian – whether you're doing it for the environment, the animals, or your health – because knowledge is power!
Heather wrote, "I'm thinking about giving up meat for Lent…do you have any tips for fighting off meat cravings? Or recipes for something that has a substantial texture like meat (but not tofu?)"
To fight meat cravings, simply watch some scary PETA undercover videos.  Haha, just kidding… kinda of.  One non-vegetarian but meaty recipe I really like is to make Spaghetti Bolognese with Morningstar faux-meat crumbles.  It tastes just like hamburger when it's mixed into the pasta sauce!  Also, I've been enjoying canned artichokes lately because they have such a meaty texture.
Kayla wrote, "How do you deal with social situations and your vegetarianism? For example, going to dinner at someone's house, and you're the only vegetarian?"
Most of my family and friends know I'm a vegetarian and try to accommodate me.  I'll often offer to bring a vegetarian casserole that can function as a side dish for meat eaters or a main dish for myself.  There was actually a really interesting discussion on being vegetarian for Thanksgiving on the blog a few months back – check it out.
A bunch of you also asked about my training plans.
I create my own training plans based on what I know works for me as well as what other plans suggest I do.  I like to create my own because I often have multiple goals at once (like training for a triathlon and weight lifting).  Some of my favorite pre-made training plans include Hal Hidgon (he has plans for every race distance) and Couch to 5K (for newbies).
Next up:  Got any questions about my workouts, running, blogging, or the rest of my life?  Feel free to ask them in the comments section, and I'll answer tomorrow morning (don't be shy if you've got a burning curiosity – I'm a pretty open book!).