Well, last week was a decent workout week, but it was NOT a good triathlon training week.  Week 2 of my "6 weeks to an Olympic Triathlon" training plan should've gone like this (but actually went like this):
Monday:  Lift, Run, and Swim (Actual: Short Run)
Tuesday: Run (Actual: Sick Day)
Wednesday:  Lift and Swim (Actual: Short Run)
Thursday: Rest (Actual: Sick Day)
Friday: Recover Bike (Actual: Run)
Saturday:  Lift, Swim, Bike (Actual: Bike)
Sunday: Rest (Actual: Run)
Although I got my miles and bike ride in, I missed out on all my swims and all my weightlifting per the Intro to Iron Pumping Challenge.
I refused during marathon training to freak out over one bad week of training, and I refuse to do it now!  Especially because I'm a month away from the race, there is penalty of time to recover from a not-so-great (or none existent!) week.
Today was a triathlon training reboot kind of day!
I did the "Legs" day of the Intro to Iron Pumping Challenge, ran 3.0 miles in 27:30 minutes on the treadmill, and swam 750 meters in 15 minutes.  The whole thing took about 1:15 (including changing time!), and I felt great afterwards!  So accomplished.   I was suppose to do 1,500 meters, but I didn't have the energy to squeeze it out (it was a rough day). 
Can't wait to wear my Swim, Bike, Run, Blog t-shirt in just 4 weeks!  So exciting. (That's Megan, Ryan, and I during our triathlon relay this summer.)
Anyway…
On to food!
Afternoon snacks were a Glo bar: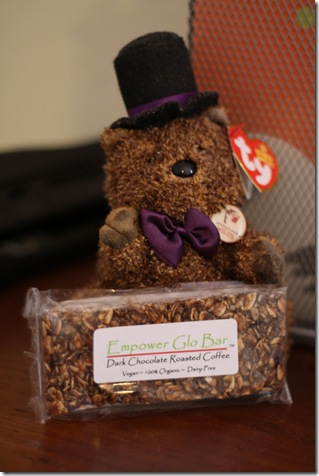 And a taco shell dipped in salsa (weird, but it's what I was craving and we didn't have chips!):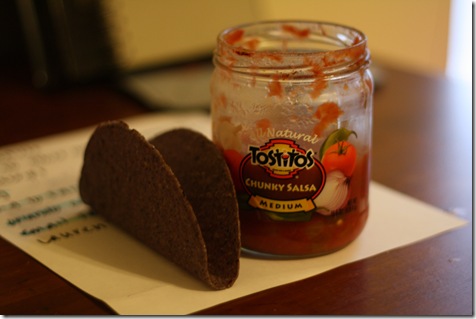 And dinner was made by the Husband!  Thank you, Husband! 🙂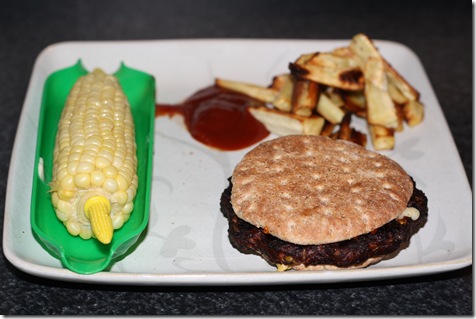 I had a veggie burger on a Arnold Sandwich Thin with roasted tomatoes, cheese, and mustard.  As well as parsnip fries, corn on the cob, and a pickle!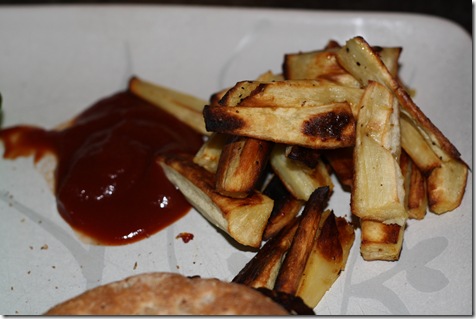 I night also have a small pour of cereal… I'm still feeling munchy. 
And now I am OFF to watch TV – so beat!  :)  Have a nice night.