**PayPal shut down the Garmin 305 Raffle because raffling violates their terms of use, even if it's for a charity.  If you entered, your raffle ticket was counted, but there are no more tickets being sold.  The raffle raised $1,000 for the Livestrong Foundation, which is AMAZING!  I'll announce the winner at lunch TODAY**
Morning!  I had every intention of waking up early and getting a short, fast run in, but when my alarm went off, I hit the snooze button. Sooooo tired. It looks like today is going to be another rest day because I've got a BUSY work day!
More on that in a second.
First, breakfast: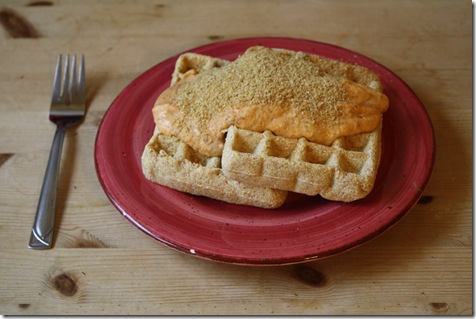 I had two whole wheat waffles with a serving of Pumpkin Yogurt and ground flax on top.  I love waffles for busy mornings because you just mix it, pour it in, and walk away.  A few minutes later, ta-da!  Waffles!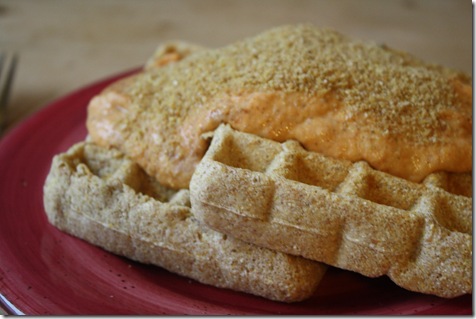 Today is a BIG day for me because I'm doing an Operation Beautiful presentation at the University of Central Florida.  Practice for the book tour, I guess!  More and more schools and colleges are becoming interested in Operation Beautiful workshops, so I hope this goes well. 
The idea of speaking in front of 100+ people is kind of making me nervous, but I've done a lot of public presentations before (I used to be a sexual assault advocate in college)… I might be mistaking nerves for EXCITEMENT!
I made a new Operation Beautiful video for the event – check it out!
Second exciting thing is today kicks off the Chevy Traverse Girlfriend Getaway promotion.  A few weeks ago, an awesome reader e-mailed me to tell me about the contest, which I promptly entered. Chevy was looking for female bloggers in Orlando to test drive the Traverse for one month and blog about it on their special website.  I was selected, as was Meghann.  Full disclosure (as always!):  Chevy is giving me the car + gas + other goodies for one month for free.  They aren't paying me to say anything nice; they want my real opinion.  Healthy Tipping Point won't be taken over by Chevy ads, I promise!  :)  But I'll link back to my Chevy posts so you can read about it if you want.  
And…. I'm off!
Are you scared of public speaking or are you a master orator?