What a morning!  :)  I am sittin' pretty in 'my' new car.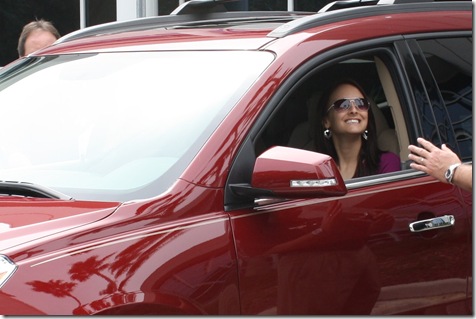 As explained this morning, I am participating in Chevy's Girlfriend Getaway, a promotion for local bloggers.  I get to drive the Chevy Traverse for a month, and I'll be blogging about it on the Girlfriend Getaway website.
Meghann also is participating, so Ryan drove both us of to the local television station to pick up our vechiles.
After meeting with the Chevy reps, we got a tour of our cars.  These crossover SUVs are INTENSE – so many awesome gadgets (like OnStar navigation, which is probably the neatest thing I've ever seen) and seven seats!  SEVEN SEATS!  That's enough for a whole brood of imaginary children.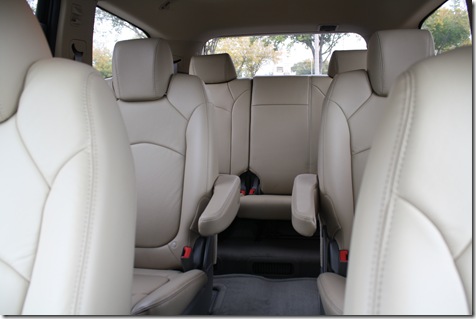 Suffice to say, the Chevy Traverse is already 100X more amazing than my 2002 Civic.  I can't wait to put down those seats, slip my bike in the back, and go!
If you're a female blogger and live in the Dallas/Fort Worth or Houston area, you can enter the same contest!  Check it out!
Although the Traverse is great, it's not quite as cool as this car (go Hurricanes!):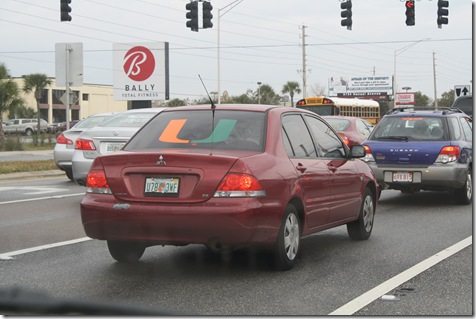 🙂
Post-Chevy, I raced safety drove the speed limit back to my house and put together a really fast lunch: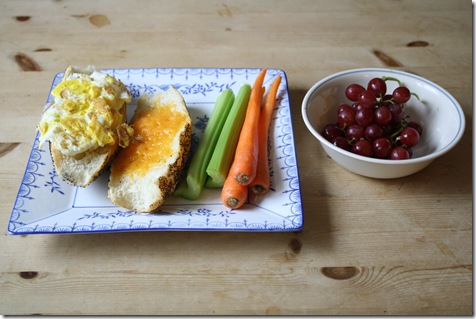 I made an egg (which had 1 egg and 1 egg white) and cheese sandwich using a wonderfully soft and squishy hoagie bun.  I prefer whole grains, but sometimes you just want fluffy white bread!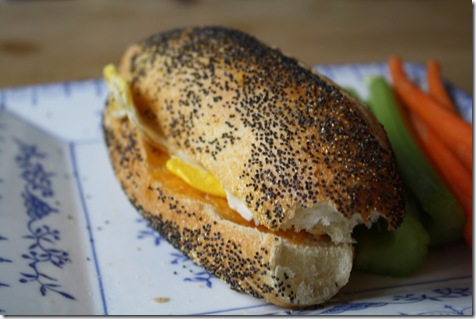 Plus, veggies and fruit!
The Garmin 305 Raffle
I had to end the Garmin 305 Raffle early due to technical issues with PayPal; however, the raffle raised an amazing $1,035 for Echelon Gran Fondo and the Livestrong Foundation.  Thanks to everyone who entered!
The winner is… Kristin M.!  I hope you enjoy your Garmin, Kristin!  🙂
Question of the day:  What was your first car and how did you get it?   I consider the Civic my first car because I just borrowed my parents' cars when I was in high school and didn't have my own.  My mom actually gave it to me as a college graduation present.  I earned enough scholarship money and didn't need to use all the money she had saved for my college education.  How awesome is my mom?  I'll never forget that great gift!