Morning!  Although it's a Sunday, it's technically a work day for me.  I'm taking tomorrow off to spend time with my sister-in-law, and I have a major deadline looming for one of my freelance articles.  Eck!  Time to buckle down.
A wonderful Sunday breakfast: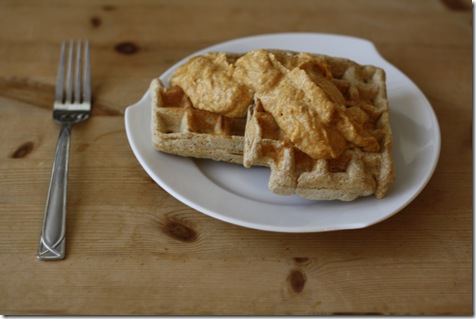 I made Hodgson's Mills whole wheat waffles, but I mixed in some yummy pumpkin pie spices to the batter, like cinnamon, cloves, and nutmeg.
The waffles were topped with my wonderful Pumpkin Yogurt!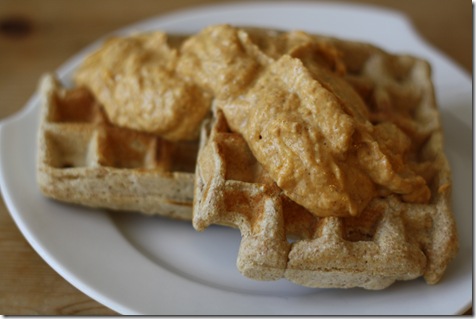 Instead of using agave nectar to sweeten the Pumpkin Yogurt, I mixed in maple syrup.  It was the perfect waffle topping!
Triathlon Training
Although I haven't officially begun to train for the triathlon, I'm trying to prepare my body for lovely two-a-days by getting back into cycling and swimming.  Once my foot feels better, I'll be integrating running into my schedule.
I'm tracking my post-marathon workouts on this spreadsheet, which I'll eventually be updating with my triathlon training plan.  A link to the spreadsheet is located on the left of the blog under "Training Plan."
I must admit that I'm surprised how quickly my body bounced back from Sunday's marathon (I can't believe it was only a week ago!).  With the exception of the irritated tendon in my foot,  I felt great within 72 hours.  There's all sorts of rules about when you're 'suppose' to begin exercising again post-marathon, but I just listened to my body (and didn't run… I think running, regardless of the foot, would've felt rough).   Slow and steady wins the proverbial race, if not the literal one!  🙂
Things To Do
Write
Clean
Workout
Happy Hour with Meghann
Hang out with sister-in-law
Have a good day!