My Husband is slowly morphing into my personal chef.  Wahoo!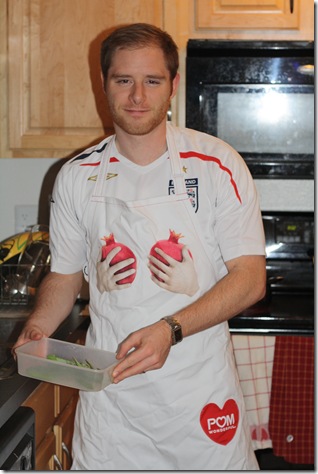 Doesn't he look cute in his POM Wonderful apron?  🙂
Before the Huz prepared dinner, I met up with Megan for a walk.  I haven't seen her since December, and we had a lot to catch up on.  Normally, we would've gossiped over a run, but since the marathon is on Sunday, we stuck to a 2.5 mile walk.
I brought my walking buddy: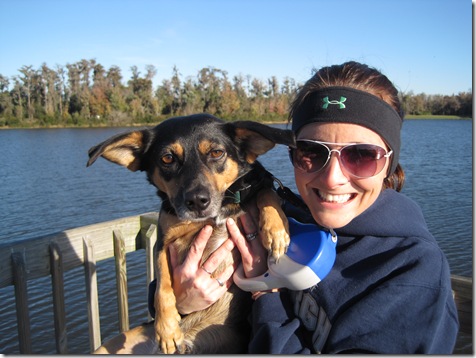 James has a blast, and so did Megan and I.  :)  Sometimes, a walk is exactly what I need.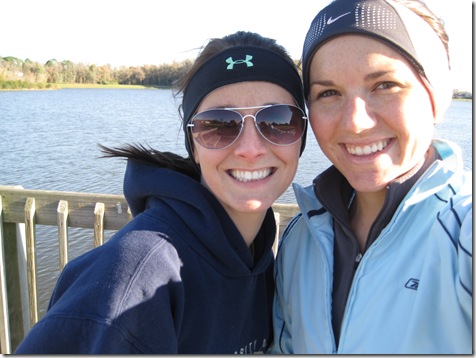 After our stroll, I came home and did tons of writing + marketing stuff for the Operation Beautiful book.  Chugging along!  I should be done next week.  I need to sit on a few sections for a little bit.  I find it helps to walk away from your writing for a day or two to really edit yourself wisely.
And I snacked on Greek yogurt, dried blueberries, and granola.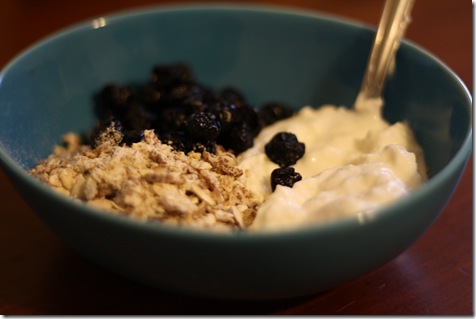 And dinner was made by the Husband!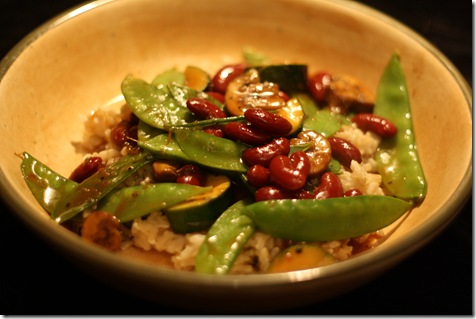 He did a stir-fry of brown rice, zucchini, peas, kidney beans, and a ginger sauce (a bottled kind).  It was really delicious.  Meals that I don't prepare always taste better.  🙂
Dessert was a chocolate: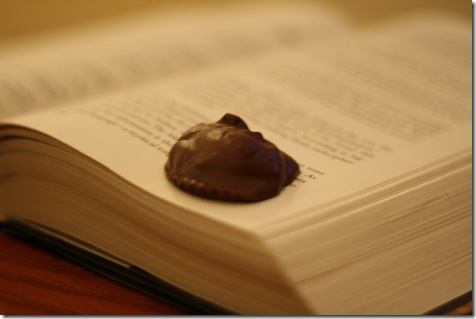 And two Clementines.  Yes, these little babies are back.  Except to see them multiple times each day!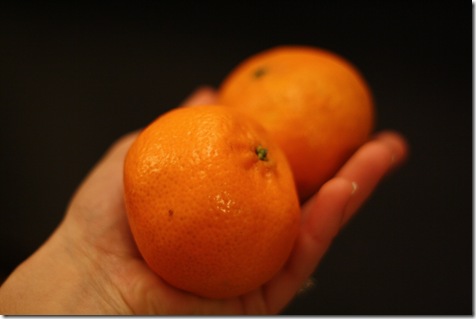 Coming Tomorrow…
I've been all about the marathon this week, haven't I?  I'm quite excited because it's not just a big race weekend, but it's also a big personal weekend for me.  My best friend Lauren is coming from NYC to run with me.  My mom, dad, Lauren's mom and sister, my husband, and my sister-in-law are also going to come watch us run!
I've been rolling two topics around in my head this week that I'll be discussing at breakfast and lunch tomorrow.
Racing for Time vs. Racing for Fun – the pro's and con's of each!
Trusting the Taper.  Marathons have a LONG taper – two or three weeks, and now I've got the Taper Twitch in my legs!
Stay tuned!