Two things:
A reader named Michele sent me the following e-mail: "I'm moving from Ohio to Little Rock, AR next week for my new job.  I'd love to form a relay team for the Little Rock Marathon on Sunday, March 7, 2010.  Runners or walkers welcome.  I'll be walking.  The legs are between 5.3 and 7.2 mile." If you're in Little Rock and would like to meet with Michele and do the marathon, e-mail me (seebriderun@gmail.com) and I'll put you in touch with her!
On to lunch…
The Husband said today that unless we start coming up with "new and exciting" vegetarian meals, he's going to crack under the pressure and start eating meat again (or go crazy).  To get us out of a rut, we hit up Costco for some new yummy ingredients.
A to-die for cheesy melt: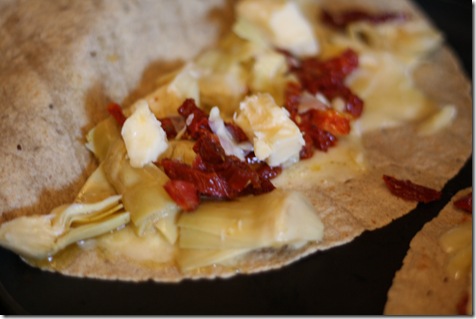 Instead the burrito was canned artichoke hearts, sun-dried tomatoes, and cheddar cheese.  With strawberries and blueberries on the side.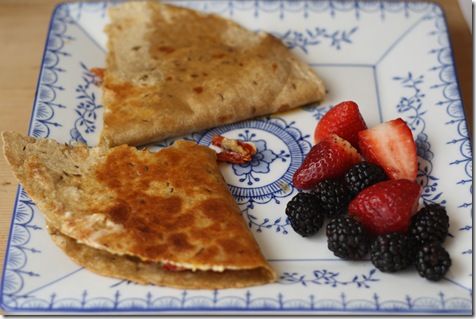 I think this counts as "new and exciting"!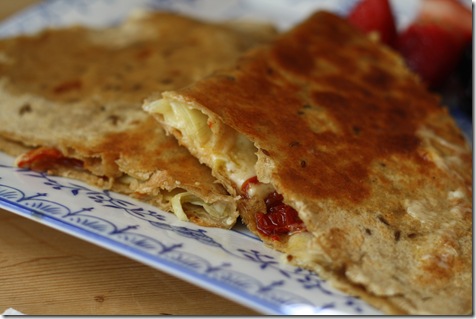 The only problem with this melt was that it was very greasy – I need to press the olive oil out of the artichoke hearts next time. 
I've got to get some writing done, and then I'm meeting Megan for a walk.  All this tapering is driving me crazy – I want to do a LONG RUN.  Guess I'll get my wish on Sunday!  🙂