Welcome to the start of MARATHON WEEKEND!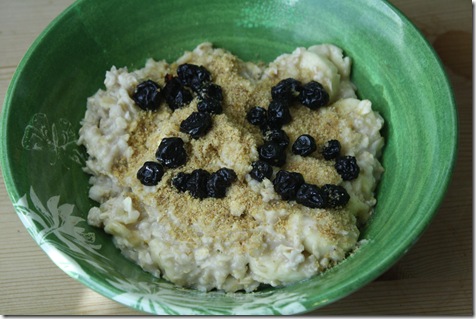 (add 0.2 – it wouldn't fit in blueberries!)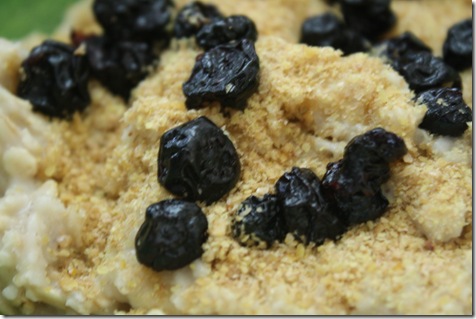 My banana oatmeal contained:
1/2 cup oatmeal
1/2 cup rice milk
1/2 cup water
1 sliced banana
Toppings:  flax and dried blueberries
My best friend Lauren, who is actually the person who inspired me to start running way back in 2006, is coming down from NYC to run the marathon with me!  Ironically, when I started to run with Lauren (and I could only do 1/4 a mile at a time!), she was training for a marathon.  Lauren blew out her knees (sound familiar?) and couldn't do that marathon…. so DISNEY is her first, too!
I did a blog interview with Lauren if you want to check it out to learn more about her – she's a pretty amazing woman!  She's a triathlete in addition to being a runner.
The Taper Twitch
One of the things I wanted to discuss today is the dreaded TAPER.  A taper is when you take a certain amount of time off from running immediately before a race, which gives you "fresh legs" and allows you to run faster and with more energy during the actual race.
You taper for almost any race distance.  For a 5K or 10K, I usually only taper a one or two days because my body is so adjusted to running longer distances.  For a Half Marathon, I try to taper for at least three days.
But a marathon taper is TOTALLY different.  Any good plan will have you tapering for at least 21 days prior to the race!
The week before my taper began, I ran 36.5 miles.  This is how I tapered for the marathon:
Week 19 – Ran 16.1 miles, walked dozens more on vacation in London.  Longest run was 5.0 miles.
Week 20 – Ran 16.0 miles, walked dozens more on vacation in London.  Longest run was 7.0 miles.
Week 21 (race week) – So far, I've only ran 3.0 miles, and I'm going to do 3.0 this afternoon.  And that's it (besides 26.2 miles on Sunday)!
Although I would've liked to do at least one longer run during my taper, it just didn't happen because I was on vacation, but I hope the walking made up for it.  In Week 18, my longest run was 22.0 miles!
Why is it important to taper?  The evidence speaks for itself!  (source):
A review of 50 studies on tapering published in the journal Medicine & Science in Sports & Exercise shows that levels of muscle glycogen, enzymes, antioxidants, and hormones–all depleted by high mileage–return to optimal ranges during a taper.
The muscle damage that occurs during sustained training is also repaired.  Muscle strength increases.
Tapering improves your immune function.  This minimizes the risk of getting sick or injured prior to the race.
Finally, the average performance improvement by the subjects who tapered was 3 percent. That works out to 5 to 10 minutes in a marathon!
But tapering is HARD mentally! To drop back down to 16.0 miles a week felt… wrong!  I was getting pumped and excited to run the race, but my mileage was dropping, dropping, dropping.  However, I know how important it is to TRUST YOUR TRAINING.  I also know there is nothing I can do one week before the marathon that will make or break the race for me.
I get so many e-mails from people who are upset that they need to take time off and I always remind them that it's OK to rest!  If I can taper for 3 weeks and still run a marathon, you'll be fine taking a few days off for injury, illness, or vacation!  I've found it helps to focus on other things (like push-ups!) when you have to cut back on other aspects of my fitness (like when I couldn't run because of a knee injury).
How does taking rest days – for a taper, an injury, or a vacation – make you feel?  How do you balance these emotions?