Another Husband-prepared meal – I'm not sure what has come over him, but he's been cooking up a storm in the kitchen today (he's working from home, too).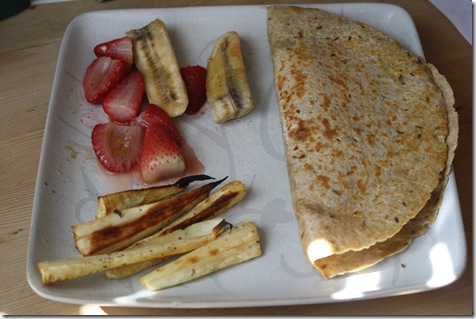 What is in today's mystery wrap?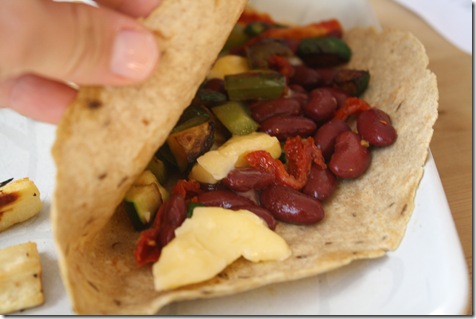 This whole wheat wrap was stuffed with warmed kidney beans, zucchini, green pepper, cheese, and sun dried tomatoes.  It was GOOD!
He also stir-fried a 1/2 a banana and a few strawberries in a little agave nectar: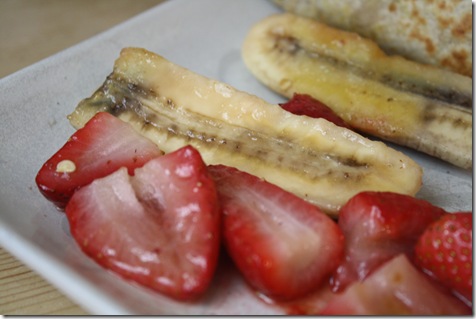 I contributed to the meal by making Parsnip Fries.  So simple, but a very nice change from Sweet Potato Fries.  I just roasted a few quartered parsnips in olive oil, salt, and pepper.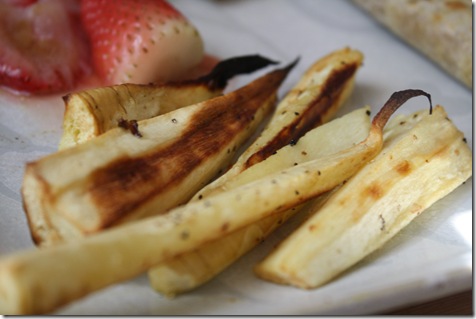 Earlier, I snacked on Clementines: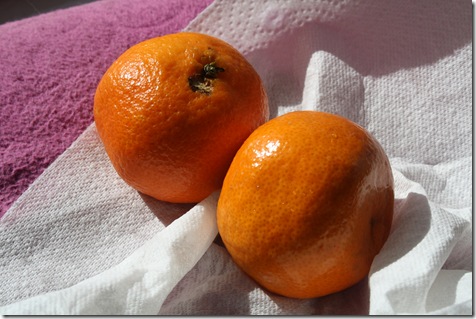 Running for Fun vs. Running for Time
The second "marathon related " topic is about my mental attitude behind this race.  With 19 races under my belt, I've run many race distances for many different reasons. 
To be honest, most of the time, I've run for MILEAGE and TIME.  I've run as hard as possible, my heart thumping wildly, my breath catching in my lungs, sweating all over the place.  I usually cross the finish line feeling completely spent.
In the quest for longer mileage and better time, I've run a new distance to see how far I could go…
Sometimes, I repeat distances to set a new Personal Record, succeed, and end up very, very happy!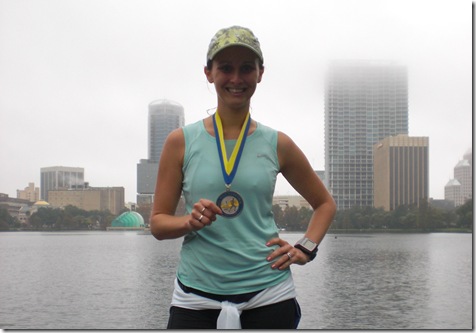 But a few times, I've run a race for a PR and failed.  It was not pretty.  Tears have been involved after a handful of races. 
Truthfully, I have only raced "for fun" three out of nineteen races.  What can I say – I'm a competitive person!
Why I race for time:
To push myself in my training
To see what I can achieve
For bragging rights to a new PR
Why I race for fun:
To celebrate the fact that I CAN run!
To experience a new distance or course with a newer runner
The most common question I've received about the marathon is whether I'm racing for time or for fun.  Guess what?  I'm racing the Disney Marathon for FUN!  That means that Lauren and I are going to stick together (we're the same pace, so that works out well) and hopefully, we'll cross the finish line holding hands.  :)  I want to pause to take pictures with Mickey Mouse!  I want to marvel at Cinderella's Castle! I want to stop and thank volunteers!
Does this mean I'm not going to really "try"? Of course not!  :)  Lauren and I are going to push each other hard, and I know she is not fond of walking! We're going to try our absolute hardest – as a team. 
Does this mean I don't have a time goal?  Well, truthfully, I have a secret time goal in my heart, but I'm not telling other people what it is, and I won't be disappointed if we don't make it. 
This marathon is about racing 26.2 miles for the first time, having fun, being with my best friend, and raising money for the fight against cancer.  Racing 26.2 miles for time can come later!
If you compete in races, do you usually go for time or to have fun?  What have been your experiences with running with a friend?