Thanks to your support, Jess raised more than $700 for cancer research through her Win a Garmin 305 raffle!  The winner was Jennifer.  🙂 Jess says thank you so much for supporting her.  🙂
I have figured out why I am so obsessed with canned pumpkin.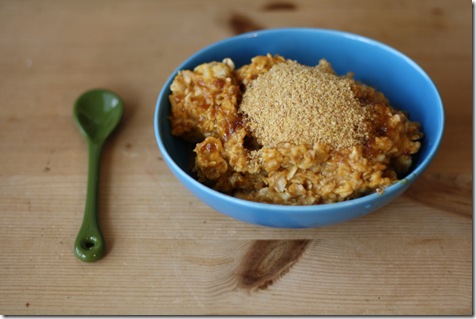 Canned pumpkin pumps the volume up for my granola/yogurt and oatmeal without adding a lot of calories!  Plus, I get this extra dose of vitamins, beta carotenes, and FLAVOR.  Mmm, mmm, mmm.  If canned pumpkin all the time is wrong, I don't want to be right.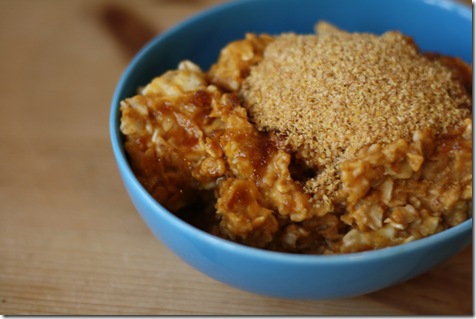 My oatmeal contained:
1/2 cup oatmeal
1/2 cup water
1/2 cup rice milk
1 sliced banana
1/4 cup canned pumpkin
Cinnamon, nutmeg, cloves
Toppings:  Brown sugar and flax
In other news….
I have the hugest pimple on my cheek.  I had to write about this because I can actually SEE the pimple in my line of sight if I look down.  I kid you not.  
Getting pimples as an adults always reminds me of my very awkward teenage years.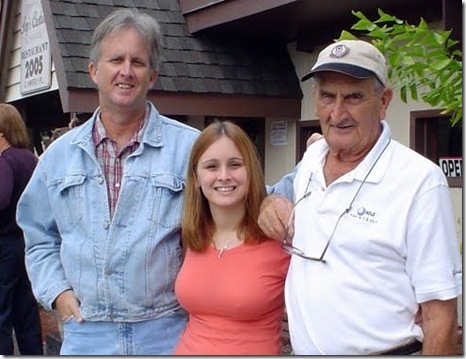 For example, I had unnaturally orange hair (and roots, apparently) from 1997 – 1999.  Really.  I tried to dye it blonde (at home) and it turned orange.  I just couldn't get the color out.  I was also out of shape and about 10 pounds heavier.
Combined with my social uncoolness, middle school was a disaster.  I get a lot of Operation Beautiful emails from middle school girls, telling me that the "popular girls" have been mean to them or a boy called them ugly.  I always say, "Middle school will be over before you know it, and then high school is better, and college is amazing.  You're cooler than you think you are."  🙂 But I know 3 years sounds like a long time when you're 11.
The Husband had bright red hair, which apparently makes you a target for teasing in England.  I think red hair is hot!  Anyway, then he moved to America when he was 16, and instantaneously became the coolest kid in his small Pennsylvania school (he's British!). 
Were you an awkward teenager, too?  Come to think of it, I'm still pretty awkward.  If you ran with the cool kids, I would love to hear about your experience! I'm curious.