Don't forget to enter the Spice Inc giveaway!
Yesterday's discussion on PETA sure got interesting, huh?  I'd venture to say it's the best comments discussion ever on Healthy Tipping Point!  I really love it when people can have differing opinions without getting all nasty.  If I didn't hear other people's opinions, I would never learn anything new!  So thanks. :) 
By the way, the pie-thrower was charged with the lowest degree of assault.  Told you it was assault!
Breakfast: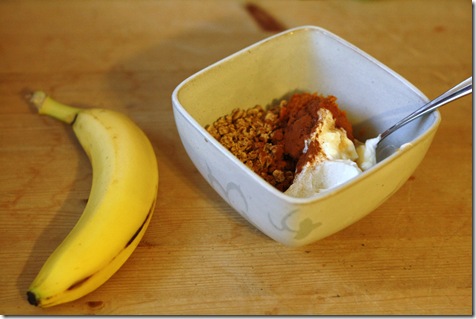 I had a banana and a serving of Pumpkin Yogurt with 1/2 cup of Harvest granola.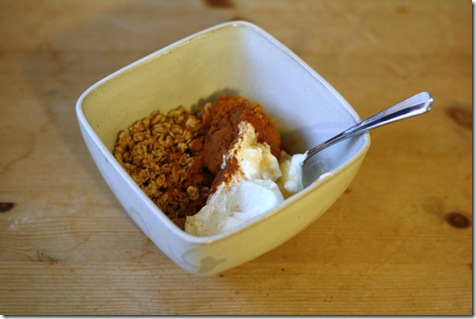 I say "1/2 cup of Harvest granola" because I think I'm going to get more specific about serving sizes.  After years of calorie-counting, I now eat intuitively (i.e. I do not measure portions, I just eye ball it, and I do not calorie-count, I just stop eating when I'm full).  But here's why I'm going to be more upfront about serving sizes on the blog from here on out:
Like a lot of food/fitness bloggers, I hesitate to discuss weight and gains/losses on the blog because I know a variety of people read, and some of these people are suffering from an eating disorder.   My very limited understanding of treatment programs is that focusing on numbers is generally frowned upon.  But, I don't like to totally ignore the issue because I also know some of you are just into health and fitness and might be looking for ways to  healthily maintain/lose/gain weight.  I try really, really hard to be sensitive to both groups of people.  
You might have missed it, but I said on Saturday morning that I've put on a few pounds post-marathon.  Meaning, my pants don't fit anymore.  Check out this post for the details.  One of the ways I was going to get back down to my normal weight was to pay closer attention to portions (I suspected I was eating 'marathon-sized portions').  I was SO surprised to read a few comments from people who thought my portions were too SMALL! 
That's when I realized that it's really hard to tell portion sizes in pictures.  My serving of pasta that night looked like one serving, but it was really more like 1.5 to 2.  So, I'm going to make an effort to specify serving sizes because the last thing I want is anyone – whether in recovery or just trying to maintain a healthy weight – to think I undereat (this definitely not the case – as I said, I don't calorie count, but if you're curious, I was eating anywhere from 1,800 to 3,000 calories a day during training. I am an athlete, and I eat like one!). 
This morning, I poured what I thought was a "normal" portion of granola into a bowl.  1/2 cup = 240 calories.
After pouring into the bowl, I poured it BACK into a measuring cup and discovered I had actually poured 2 servings (or 480 calories).  I normally eat pumpkin yogurt for a mid-afternoon snack.  I was eating a 600-calorie mid-afternoon snack everyday during marathon training; but I clearly needed it as I maintained my weight throughout training.  But right now… not so much.  :)  Once I get into Century training, things will change again!  Your eating has to change with your activity level!
Anyway, that is my long-winded way of saying you might see more serving sizes on the blog.  This is more for general information purposes than anything else.  I hope it doesn't bother anyone.  I will never calorie count again, but I also think serving sizes are a good way to help me get back to intuitively eating (instead of frantically stuffing my face throughout marathon training to eat back 1,000s of calories!!).
Whew! 
Off to yoga class.  I'm taking the morning off from work in favor of pulling a later night writing sesh.