Another awesome pool workout!  🙂  Does anyone else get really excited about changing and showering at the gym?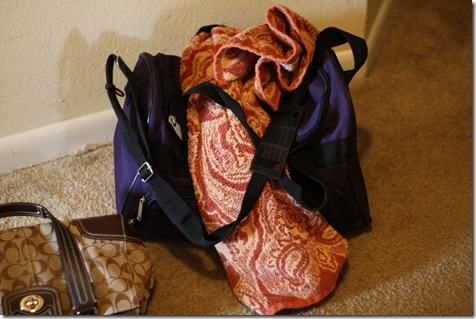 I'm lame.
First up was the Intro to Iron Pumping Challenge workout!  That's 3 days this week – goal met!
Day 7: Shoulders, Chest and Triceps
Warm Up: 5 minutes of cardio
Overhead press: 3 x 12 with 10 lb dumbbells
Dips: 2 x 10 with body weight
Stability Ball Push Ups: 10 push ups
Planks:2 X 30 seconds
Lateral Raise: 3 x 12 with 5 lb dumbbells
Cable Tricep Extension: 3 x 12 with 30 lbs
And then I met up with Ryan and Ashley for a swim.  I did an INTENSE interval workout:
Swim: 1,300 meters total.
Warm up: 300 meters, 50% effort
Interval Set 1: 4 X 100 meters, 75% effort, 30 seconds rest in between intervals
Interval Set 2: 4 X 50 kick, 75% effort, 20 seconds rest in between intervals
Interval Set 3: 4 X 25 drill, 50% effort, 10 seconds rest in between intervals
Warm down: 300, 50% effort
It took me about 35 minutes.  I swam the entire time, except during the 300 meter warm-up.  It took me a while to get "into it" and I wanted to talk to the girls! 🙂
I'll be unveiling my triathlon training plan on Monday!
Pre-workout snack was PB toast: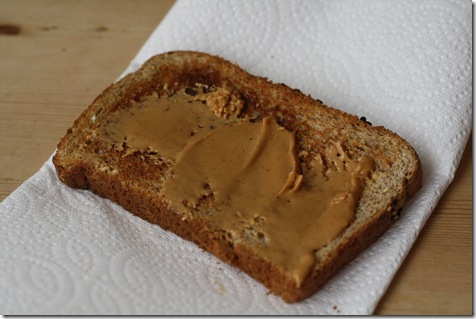 And post-workout lunch was a veggie sandwich: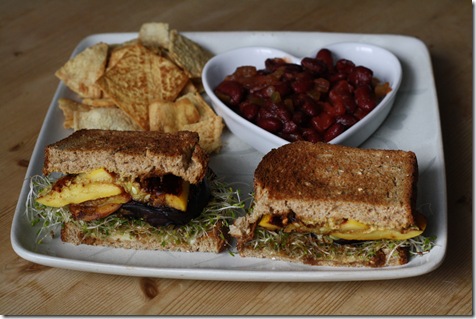 This is definitely my favorite vegetarian sandwich (well, I guess all my sandwiches are vegetarian sandwiches, but you know what I mean).  I grilled squash and eggplant with soy sauce on the George Foreman, and combined sprouts, mustard, and melted Cheddar cheese.  Nom, nom, nom.
With Stacy's Pita Chips and a kidney bean/salsa combo:
The Power of Positive Thought
So many cool and eerie comments on the Voodoo Magic post.  :)  A lot of you mentioned the book The Secret, which I haven't read but I know the basic premise.  Basically, the book is about the power of positive thought – how you can "attract" positive things (love, money, health) by thinking of them and banning all negative thoughts.
I know it sounds hokey, but I 100% believe in the power of positive thought!  I've written before about how I used to be a VERY negative person.  You know what?  When you think things will go wrong, they will.  If you think you can't run a mile without stopping, you won't.  If you think you'll drown during your triathlon, you'll panic and quit. 
I started to think more positivity after I met the Husband.  He's really into positive visualizations.  Once I started to put a little more faith into things working out, more and more things began to turn up ROSES!  Even when bad things happen, I try to look on the bright side and end up feeling better faster  an I would if I wallowed in my misery.  Not saying that my life is perfect (it's not… not everything goes on the blog), but it's SO much easier now that I'm more positive.