Isn't this jogging stroller cute?!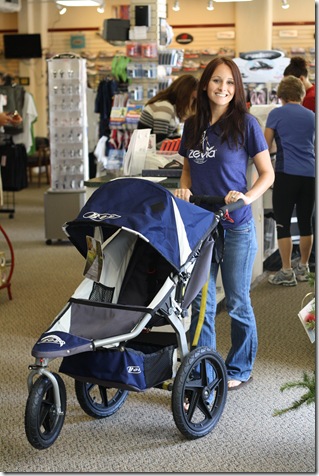 Maybe Maggie could sit inside it?
Megan and I went to Track Shack to pick up our Half Marathon packets this afternoon.  I used to never pick up my packet ahead of time, but I must admit it's been so much easier to have everything ready instead of running around the day of the race like a crazy woman.
I am really excited for this Half Marathon (it's on Saturday).  I haven't run a Half Mary since last March! 
I still look under my maiden name sometimes.  :)  I finally found my race number, under my "new" name.  You think after a year I would be used to it…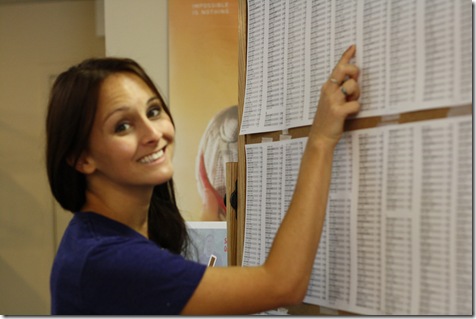 And then I bought a few packs of Goo.  In honor of the Responsible Spending Challenge, I only brought $10 cash into the store and left my credit cards in the car.  I can – and have – spend hundreds of dollars in Track Shack.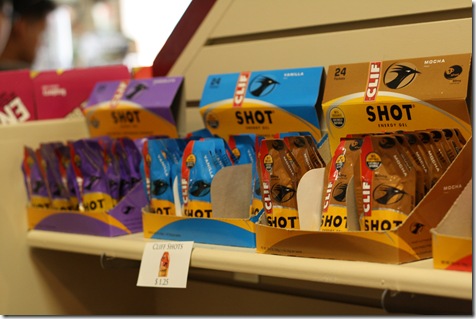 After saying bye to Megan, I made lunch: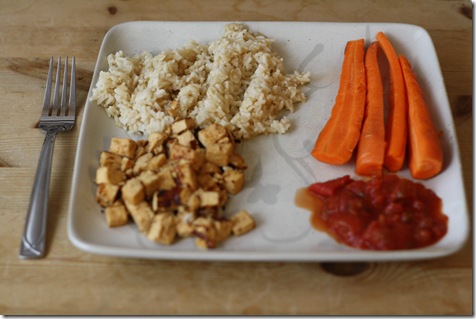 It was a simple lunch.  I had stir fry Teriyaki tofu with brown rice.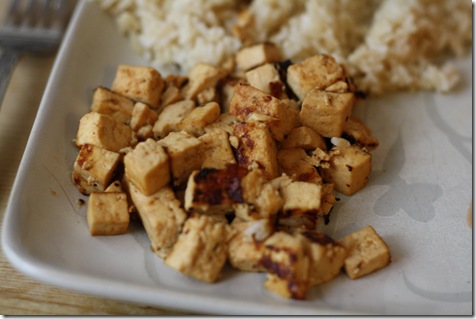 And I tried the carrots + salsa combo! It was so good (and healthier than chips… although, not quite as tasty!).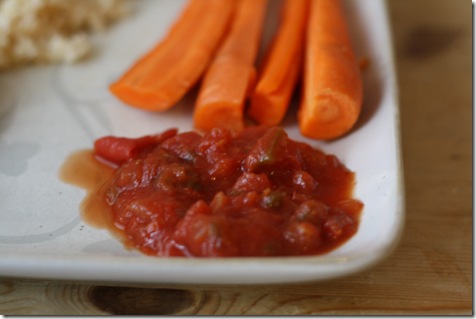 Safety Day!
On my 11.25-mile run yesterday, I wore a ShoeWallet on my sneaker.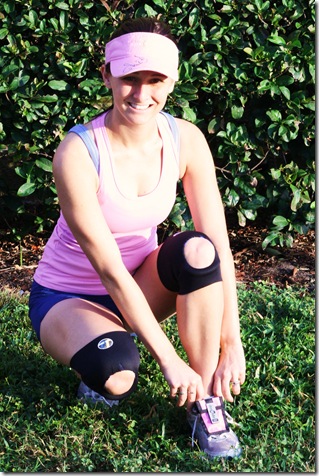 ShoeWallet velcros onto your sneaker, and you can carry ID, credit cards, and car keys inside.  I figured if ShoeWallet could withstand 2 hours of running, it was a quality product!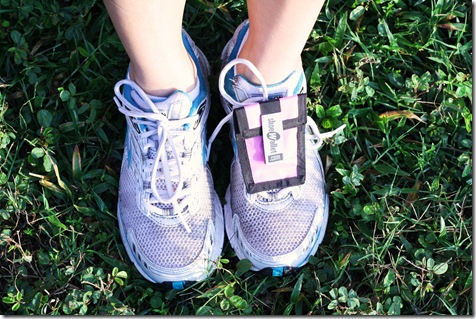 If you put the ShoeWallet on correctly (i.e. under as many laces as possible), you cannot even FEEL it on your shoe.  I had my ID and key inside and didn't notice it at all!
Why carry ID while exercising, you may ask?
The CDC's National Center for Health Statistics reports that in the United States, over 1,000,000 people a year enter the ER unconscious or are otherwise unable to provide any information, such as: 
Who they are
Who to contact
Blood type
Allergies
Medical conditions
Medications
Whether they have health insurance
It takes hospitals, on average, over 6 hours to find this information when a John or Jane Doe arrives at the hospital!  As a result, hospitals waste time when they could be providing treatment.
I'm a HUGE proponent of wearing and/or carrying identification on your person while running.  I typically wear RoadID; however, one reason I like ShoeWallet more is that you can carry other things besides ID… like cash!  I can't tell you how many times I've been on a run and wished I had a $1 or two to buy a drink or gummi bears.
Each ShoeWallet comes with a FREE ID card!  So, if you're interested in buying yourself or a loved one a ShoeWallet for the holidays (cute stocking stuffer or a fun and unique ID tag for presents!), you can get 25% by entering the following coupon code:  healthytippingpointgift.  Score!  Plus, free shipping when you buy two or more.
Some questions:
Would I look ridiculous with a dachshund in a jogging stroller?
Do you pick up race packets ahead of time?
Do you carry ID when exercising outside?
How awesome is it that there is a FREE beer garden following the Half Marathon?  Yea, you heard me right! 🙂