Good morning.  I guess I felt very lazy today, because I had breakfast in a tub: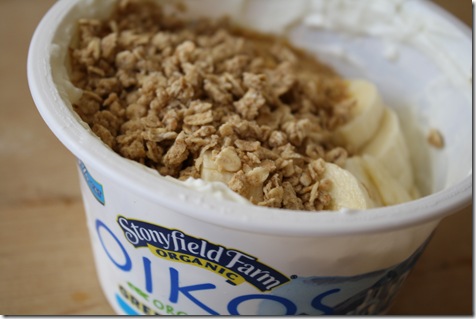 My granola mess contained:
Plain Greek yogurt
1/2 cup granola
1 tablespoon flax
A banana
I LOVE using the last yogurt in the tub.  It makes clean-up a snap!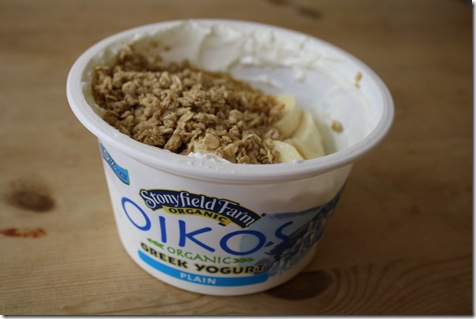 Nom, nom, nom.  This granola is from Harvest Granola (the plain flavor) and it's so delicious.  It almost tastes like raw sugar cookie dough?!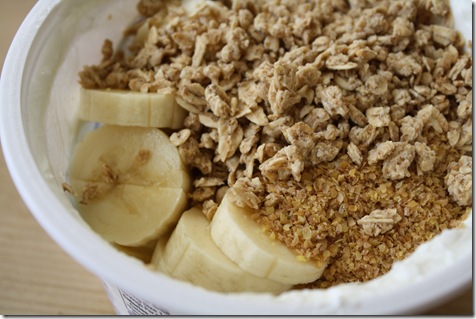 The Holistic Doctor Is In! Product Giveaway
As you know, my Husband runs a holistic supplement website called The Holistic Doctor Is In!.  The other day he told me he wanted to run a fun giveaway for the website, and I said, "OF COURSE!"
All of the products listed below are endorsed and used by my father-in-law, Dr. Cushing, at our family's naturopathic clinic.  Two lucky winners will get to select their choice of the following products. 
Max Stress B (2oz) liquid Vegan B-complex:  The entire complex of Super Food B vitamins are present in Max Stress B Nano-Plex, naturally combined with powerful, synergistic co-factors and transporters. It is a truly 100% natural, whole-nutrient vitamin B complex supplement, delivering safe, proven support for energy, anti-stress, brain, heart, mood and immune health.   Great for vegetarians!
Bone & Joint Complex Quantum:  Advanced support for healthy bone and joint function, including healthy cartilage and connective tissue.  Comprehensive, synergistic complex that supports joint and connective tissue growth, rejuvenation, and alkalinization.  Ideal for people with troublesome knees and joints.
Clear SteviaTM (Liquid 2oz):  NuNaturals has developed this easy to use liquid that allows the most accurate measurement of Stevia Extract. Plus, Stevia is now a FDA approved sweetener!
Resveratrol:  Resveratrol is a compound often associated with the health benefits of red wine, because of its powerful antioxidant and cardioprotectant properties. It promotes cardiovascular health through its antioxidant action and its ability to modulate platelet aggregation and arachidonic acid metabolism. Pure Encapsulations Resveratrol is derived from one of the richest known sources, Polygonum cuspidatum, an herb utilized as a nutritional agent for centuries.
Catalyn (Whole food Multi-Vitamin):  Catalyn is a multiple vitamin, mineral, and trace mineral concentrate. Catalyn is the antithesis of the "mega-dose" approach to nutritional supplementation. This multi-vitamin is a food-based package of nutrients in the most potent and bioavailable form, the natural state – not the chemically produced state.
Quantum-Rx Daily Multi:  A world-class formula that provides living vitamins, minerals, amino acids, fatty acids, enzymes and chlorophyll from a premier selection of grade 10 herbs, phytonutrient complexes and highly ionized, one-of-a-kind coral minerals.  
Wanna win one of these products? (Take note: the Max Stress B complex is part of my magical hangover cure mix!)  All you have to do is leave a comment describing an alternative medicine technique or treatment you've tried or want to try.  Maybe you want to try acupuncture, holistic supplements, meditation, or massage therapy? Or maybe you'd love an appointment with a Naturopathic Doctor?  I'll randomly select two winners.
Side note:  I have a good alternative medicine story about my Achilles tendon that I'll share later! 🙂
You have until tomorrow morning to enter. Ready, set, go!