WOW – if you need something to smile about, simply read the responses to my Stonyfield Farms "What Makes You Happy?" giveaway.  Amazing!
I finally got down to business this evening (why, oh why do I wait until 4 PM to start being productive) and was especially excited when my night class got canceled.  More time for the book!
My calf feels pretty good.  No activity on it, but I think I'm going to be set for the races this weekend.  Trust me, I really, really want to run both races,  However, even if I cannot do the Half and 10K, it will be fine.  I know this because Morgan sent me a sweet Operation Beautiful-style note this morning! 🙂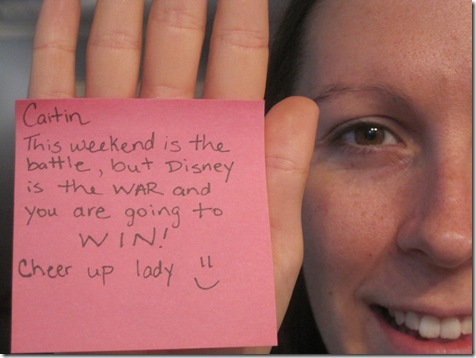 I know she is right – the Disney Marathon is the WAR, and these races following up to it are just "for fun." Well, it's all for fun, but the marathon is what "counts" in my eyes the most.   Morgan's sweet note totally made my morning, and she helped me keep it all in perspective!
I tackled some majorly amazing snacks this afternoon, including 1/2 a cantaloupe: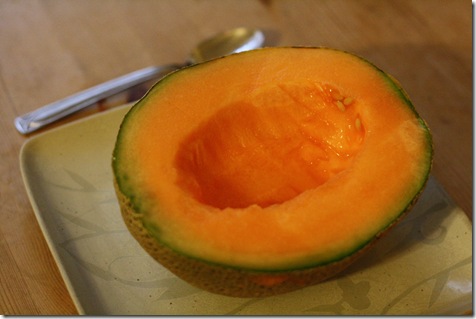 Yogurt, raspberries, and granola: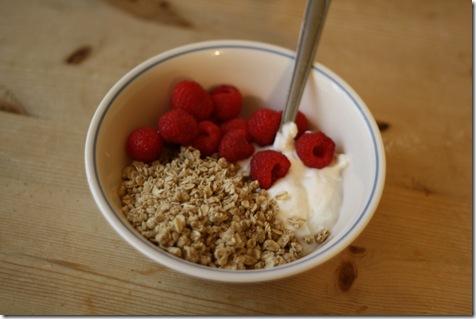 Dinner was excellent.  I made it on the fly because I was in work mode!  I stuffed a Flat Out Wrap with Israeli Cous Cous: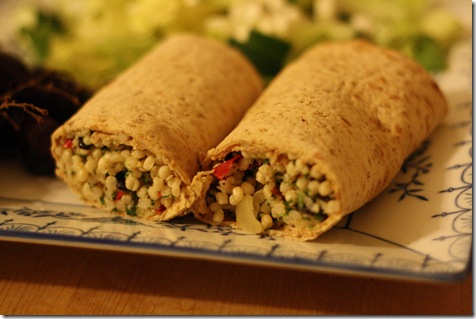 Grapes:
Salad:
You know what I love?  The sound of a quiet house, Maggie snoring gently, rain pitter-pattering against the window, and my keyboard click-click-clicking.  Life is good, blogworld.  Life is good.
Good night!