Good morning!  🙂 It is quite the rainy day here in Central Florida.  It was hard to drag myself out of bed, but I knew I had this waiting for me: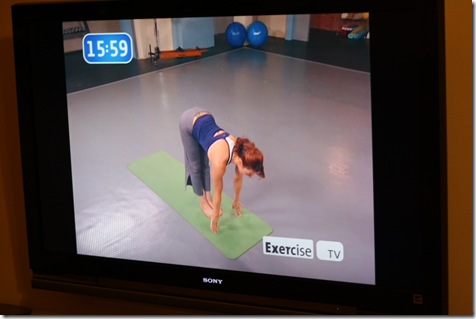 Yoga Sculpt with Maura Barclay is by far the best yoga program on Exercise TV.  All the other yoga programs are very relaxing and do not work up a good sweat.  Yoga Sculpt is WORKOUT yoga, and I was positively dripping by the end!
So many Chaturanga sequences!  I thought my arms were going to give out on me. 
Also, Maura Barclay is an awesome exercise role model.  She's fit and strong.  I admired her arm muscles throughout the entire workout (probably all of those Chaturangas!) and she runs a self-defense website.  Awesome!
Don't mess with Maura!  Boo-yah!
After my lovely 30-minute sweat session, I showered and made breakfast: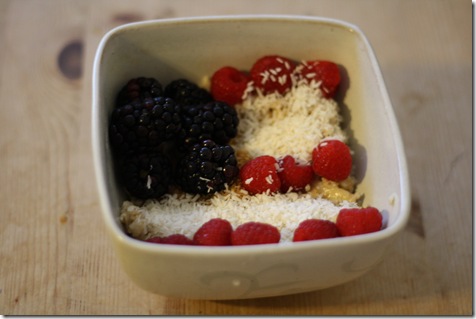 Happy Veterans' Day!  🙂  I am so grateful for all our of servicemen (and women!) and the families and friends that support them.  THANK YOU for doing what very few people are brave enough to do!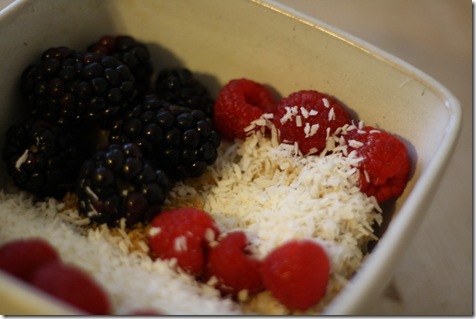 My Patriotic Oatmeal contained:
1/2 cup oatmeal
1/2 cup milk
1/2 cup water
1/2 banana
Toppings:  blackberries, raspberries, and unsweet coconut flag (with flax underneath)
There was actually oatmeal under the flag.  😉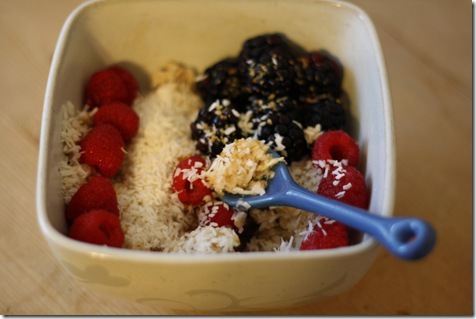 Have a FABULOUS day!
PS – My calf feels GOOD!  Half Marathon and 10K, I'm coming to getcha this weekend!
PPS – New Puppy Pictures!