One of my favorite workouts?  Yoga.
One of my favorite snacks?  Stonyfield Farm Oikos Yogurt.
One of my favorite party themes?  Toga, toga, toga!
All at once?!  Yes, please!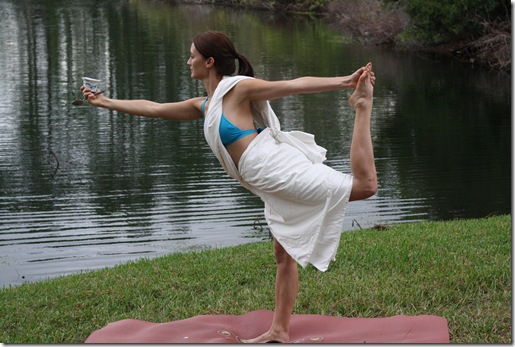 Lately, I've been feeling so stressed out.  The pressure of writing the Operation Beautiful book in such a short time frame is wearing on me – I want it to be the best possible book it can be!  Whenever I get stuck on a sentence or can't figure out how to flesh out a concept, I roll out my yoga mat and do some downward facing dogs.  It is so relaxing and refreshing!
Although I don't normally do my workouts in a sheet with a spoon + Oikos in hand…. 🙂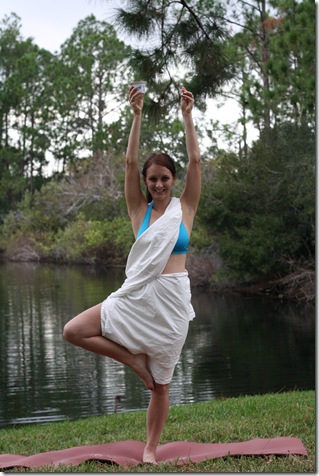 Stonyfield Farm is hosting a contest, in which one lucky winner will receive an all-expense trip to Kripalu Center for Yoga & Health in Lenox, Massachusetts.  A weekend of relaxation and pampering with Husband!? Sign me up!
This contest is open to all bloggers.  To enter, you can do one of three things!
Share a brief story about why you need to relax and say "Ohm."
Share a recipe you create or tip using Oikos yogurt – it can be as simple as a holiday dip or dessert or breakfast idea.
Post a photo of you doing yoga in a toga (Oikos is Greek yogurt after all!).
All entries (your post is your entry) must include a link to the Oikos Facebook fan page and be emailed to oikos@360publicrelations.com by November 30, 2009.
I had fun putting together my entry!  The Husband served as my expert photographer, and the neighborhood children looked on in amazement as I tried to hold the Natarajasana pose.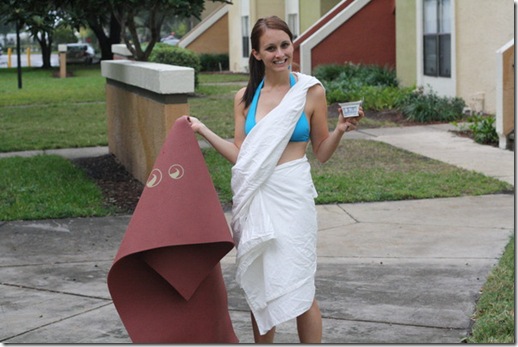 Additionally…. because Stonyfield is AWESOME, they offered to host a SECOND contest on Healthy Tipping Point!
Want to win this SPA PRIZE PACK (open to readers + bloggers)?  It's filled with  4 coupons for free containers of Oikos organic Greek yogurt, a reusable Oikos tote bag,  and the "Take- 5" Anti-Stress spa kit, which includes a loofah massage sponge, Anti-Stress massage soap, a body brush, Anti-Stress massage lotion and a soothing gel eye mask!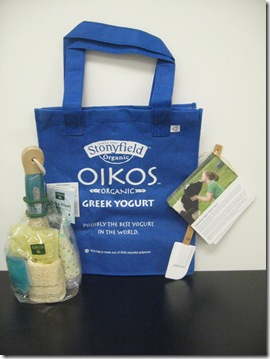 Simply leave a comment describing one thing that makes you HAPPY, and I'll select a winner at lunch tomorrow! NaMOOste!  🙂