Hey, James – get off my yoga mat!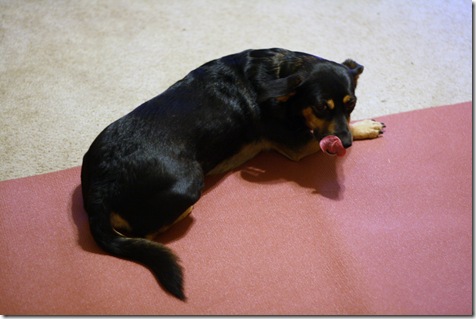 The ultimate downward dog.  🙂
I did 30 minutes of Yoga Sculpt this morning.  I have huge bruises down my thigh from the tumble off my bike yesterday, and I'm not sure if it's my injuries or just the fact that it was early… I was just so shaky!  I couldn't hold any of the position well.  My abs were working overtime.  🙂
After yoga, I made breakfast: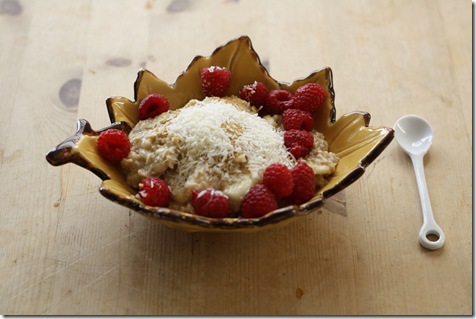 Mmmm.  Banana oatmeal!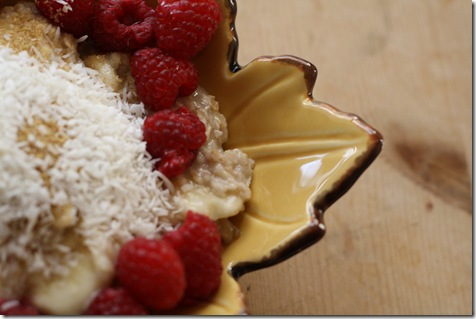 My oatmeal contained:
1/2 cup oatmeal
1/2 cup water
1/2 cup rice milk
1 sliced banana
Toppings: unsweet coconut, flax, and raspberries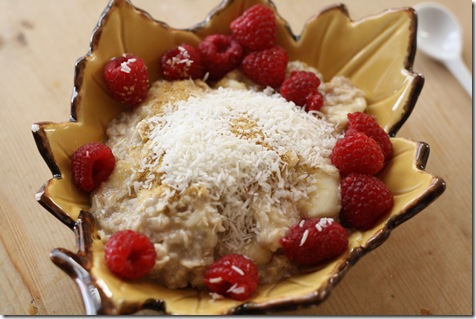 It's our last tailgate of the season. 🙁 So sad – football season went by so quickly!  We're actually playing University of South Florida today and going to Tampa instead of Miami to tailgate.  I hate being the away team! 
It's "chilly" out there – I better bundle up!
November 28, 2009 Tailgate Menu
Appetizer:  Chips and salsa (I'm going to try to exercise self-control this time!
Entree:  Grilled zucchini and squash sandwiches with cheese on Arnold Sandwich Thins  (This was my favorite entrees of all the tailgates, so I'm making it again).
Side Dish: Vegetarian baked beans
Nom, nom, nom!  Have a great day.  Oh, and I really need to build myself mentally up for my 20 mile training run I'm doing tomorrow – Ahh!