Our last tailgate was a great one!  :)  We won the last game of the regular season while away in Tampa.  It was great fun!
On the way down to Tampa, I drank an Eggnog Latte from Starbucks.  I heart seasonal flavors.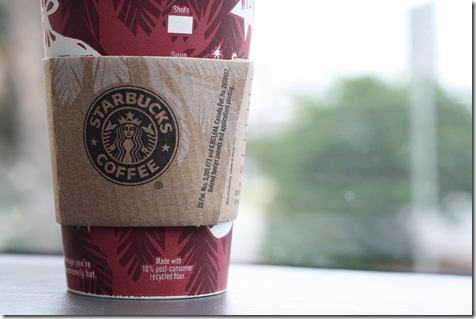 When we arrived in Tampa, we were pleasantly surprised to see a decent amount of Miami fans!  I actually liked the tailgate area, but there were no palm trees.  🙁
I started things off with chips and salsa and a beer: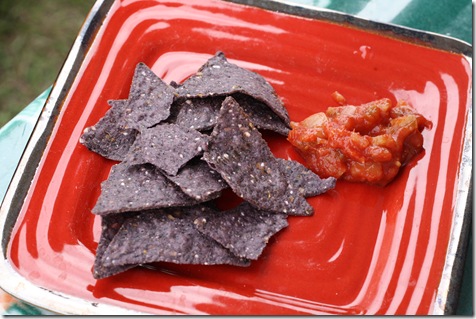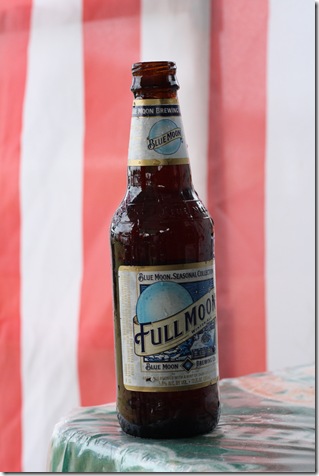 We got there around 11 AM for a 3:30 game, so we had loads of time to kill.  We decided to play ladder golf.  When there are only two people, it ends up being quite a workout because you walk back and forth and back and forth between the ladders.  I actually worked up a sweat!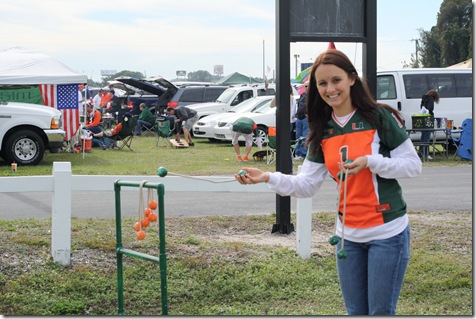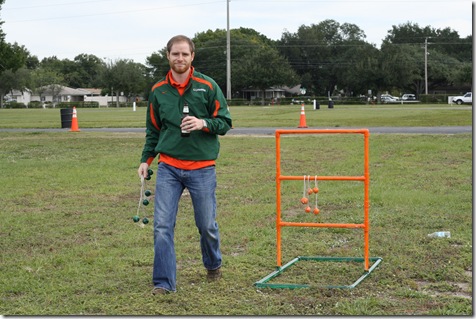 The Husband beat me three times in a row!  I also drank another Full Moon.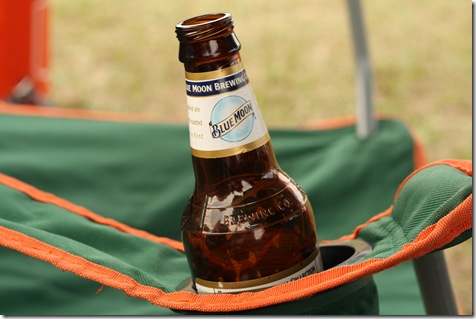 Then we got to grilling: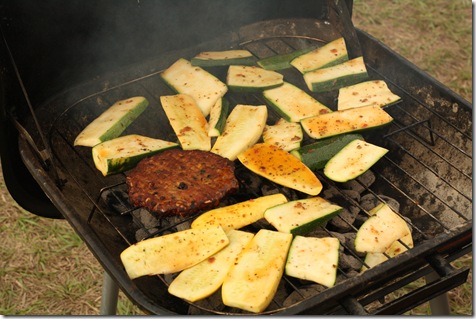 The very first tailgate, we made zucchini and squash sandwiches with Arnold Thins, sprouts, cheese, and mustard.  We marinate the veggies in Italian salad dressings for a few hours before cooking.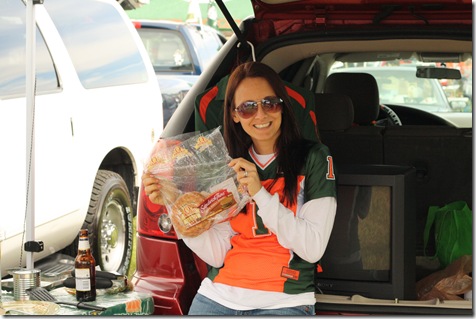 Nom, nom, nom!  So delicious.  The Husband had also veggie burger with his.  I just ate more chips.  🙂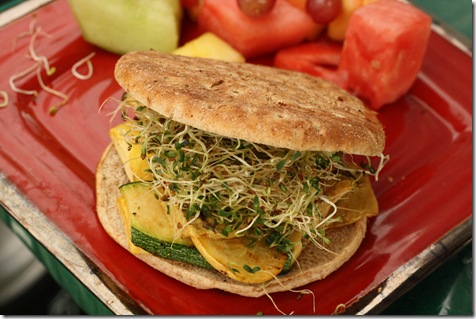 Plus fruit salad: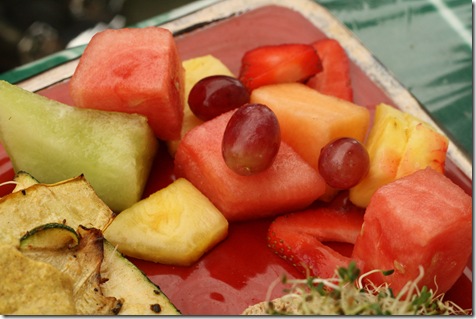 And a Yuengling, which was one beer too many!  😉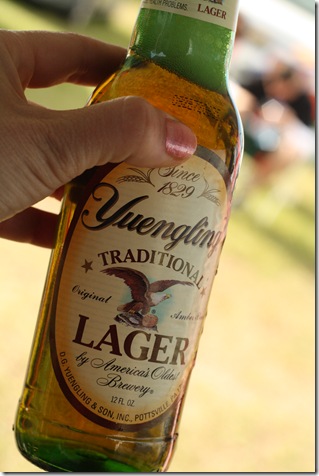 Five Healthy Tailgates in a row have taught the Husband and I that it's really not that hard to have a good, healthy meal on the road.  It really doesn't take any longer for us to prepare our "healthy" BBQs than it did to prepare hot dogs and turkey burgers. 
Plus, everything for two people (not including drinks) fit in one little cooler.  So easy!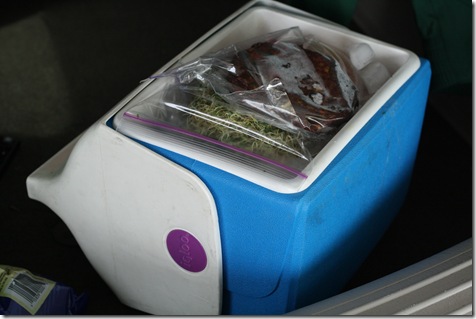 The game itself was AWESOME!  It was fun to be the away team, and USF and Miami are an in-state rivalry.   The final score was 31-10 – whoop whoop!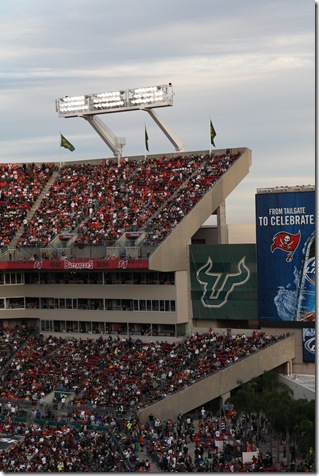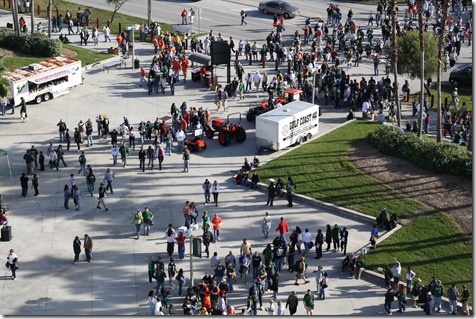 GO CANES!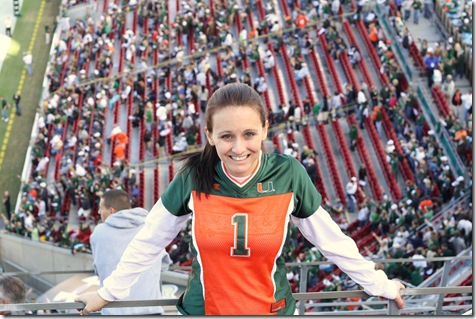 My "dinner" wasn't the perfect meal, but it was delicious (and ummm slightly nutritious).  Not too bad for stadium food.  In addition to a few other servings of corn chips, I snuck a Clementine and Kashi Go Lean! Crunchy bar into the stadium.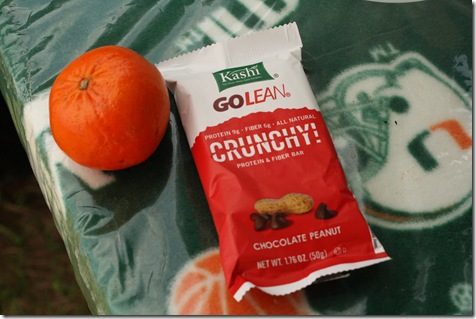 And the Husband and I split this tub of popcorn.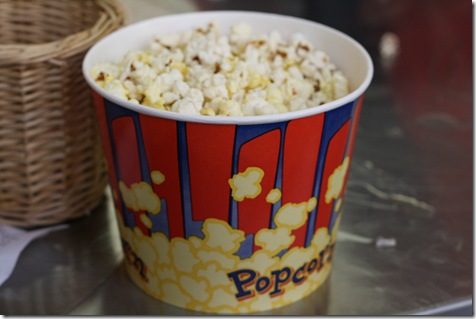 It was an awesome game.  I'm glad the Husband and I decided to buy season tickets this year – I know it made him happy, and I actually discovered that watching football was fun.  Though, mostly, I just loved cooking on the grill.  🙂
Have a great night.
20 miles in the morning! Eck!