Side note:  I read today that only 70% of Americans wash their fruit before eating it.  Um, gross.  Not only is there dirt on fruit, but fruit is also covered in wax and pesticides.  Please wash your fruit!  🙂
My lunch was delicious (and washed):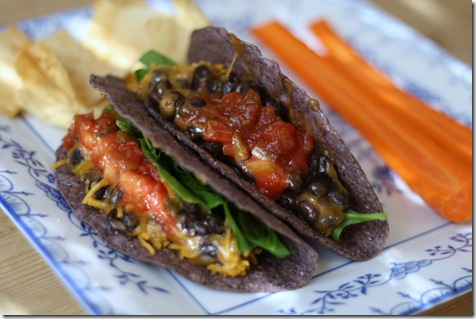 I had two organic blue corn tacos, which I stuffed with black beans, cheddar cheese, spinach, and salsa.  Yum!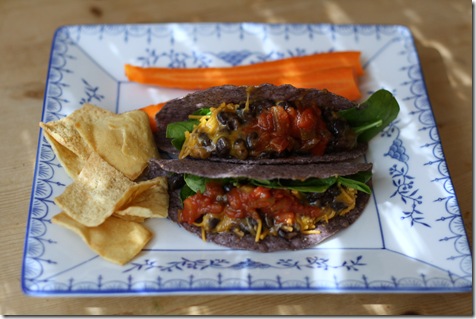 I also had a carrot: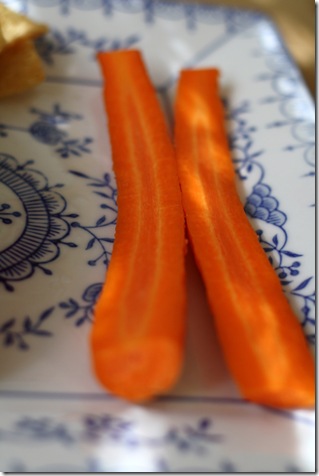 And a double serving of Stacy's Pita Chips. So addicting.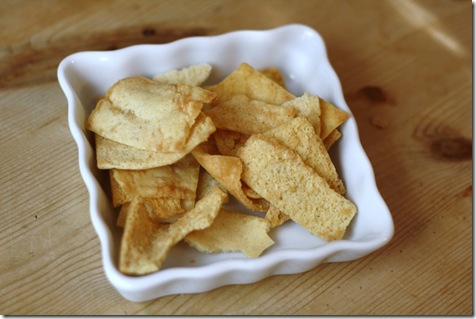 Necessary, Part III
This afternoon, I am going to the doctor for the Loop Electrosurgical Excision Procedure (LEEP), which is when the doctor cuts out a portion of my cervix.  I've written about my abnormal pap smear (this post) and my abnormal biopsy (this post) before.  Basically, these tests reveal pre-cancerous cells, which must be cut out.
If you've been reading the blog for a while, you know that my family is not one to rush to the doctor.  I probably won't even deliver my babies in the hospital!  So, after my gynecologist told me to have the LEEP procedure, I spoke to three holistic doctors about my options.  Two out of the three doctors said to go ahead and do it.   The third said that I should wait and get another biopsy done in 6 months; however, I'm not sure what my health insurance situation will be and don't want to put it off.  Also, hearing from so many other readers and bloggers who had the same procedure done made me feel more comfortable.
I'm obviously really nervous, but the Husband is coming with me.  I felt really bad after the biopsy and couldn't run for a few days, so I'm expecting this to be worse (they aren't knocking me out or anything). 
I am also really mad.  I'm trying to get over my madness because it's not productive.  Part of me feels like "Why me?"  I am mad because I am a very healthy person who eats right, exercises, has been screened for STDs, etc.  Realistically, I know that even the healthiest people get diseases (like my friend Megan who has leukemia for the second time).
I know some women feel shy talking about gynecological issues, but I feel like it's important to talk about it.  Being a healthy woman isn't just about eating vegetables and exercising – it's about engaging in safe sex, getting regular check-ups, and doing things like the LEEP to prevent cancer. 
I promise to stop talking about vajayjays tomorrow.  🙂
Do you get second opinions before medical procedures, or do you tend to trust your doctors?  I am very untrusting, obviously.