Previous Healthy Tailgate Recaps:
Another awesome tailgate; another awesome game!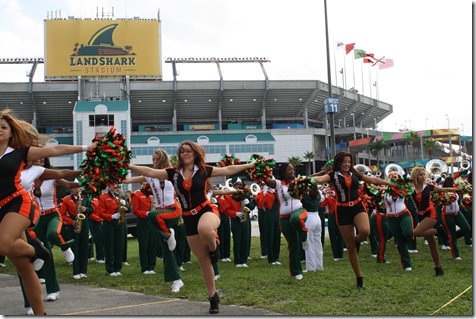 We beat Virginia in our homecoming game 52 to 17.  The weather was great, too – it wasn't unbearably hot and it was super windy!  My ridiculous orange hat came in handy.  🙂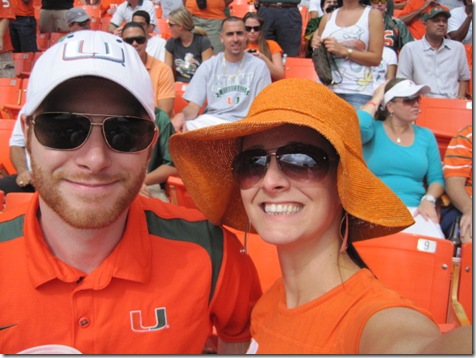 Our morning started off really early.  I woke up at 6:30 AM and stumbled to Lisette and Danny's kitchen to eat something light.  I just wanted something to hold me over until the tailgate.  I had Cheerio's! 🙂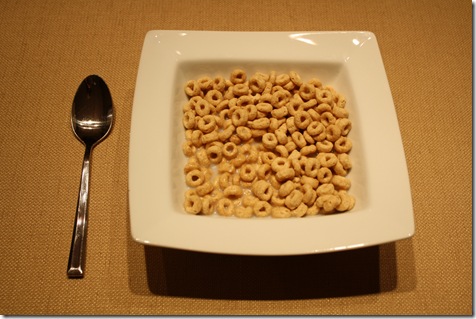 We drove to the stadium around 8:00 AM and started to set up our spread.  We bring SO MUCH stuff to the tailgate, including the tent, chairs, a rug, a trash can, a table, decorations, a cooler, a grill… Thank goodness we have a BIG CAR!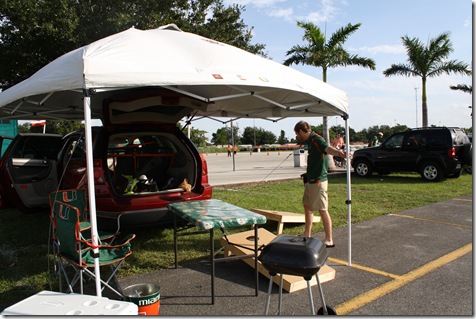 Well, I know this is suppose to be a Healthy Tailgate, but I must rename this particular tailgate a "Healthy-ish Tailgate."  🙂 
We got things started off right with a POM Wonderful mimosa.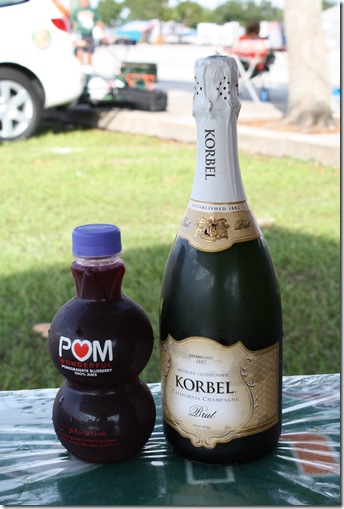 It was pretty delicious!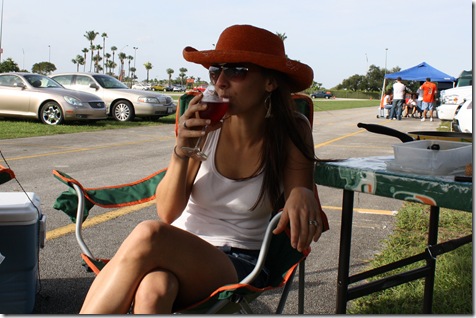 I had two.  🙂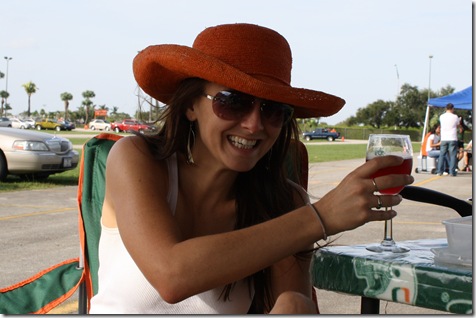 We wanted to wait a little bit to make the pizza, so we snacked on a bowl of fruit.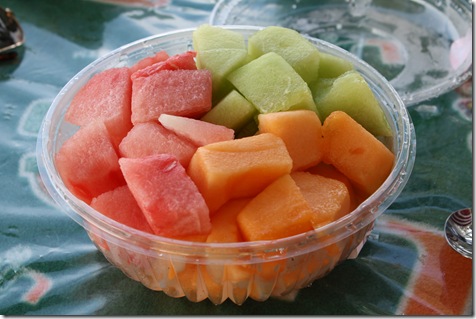 One of the things I like most about tailgating is how friendly everyone is!  We needed plastic cups, and a neighbor loaned some to us.  The other people next to use gave us some lighter fluid.  Gotta love that football spirit!
We just act tough in Miami…  We're actually quite sensitive.  😉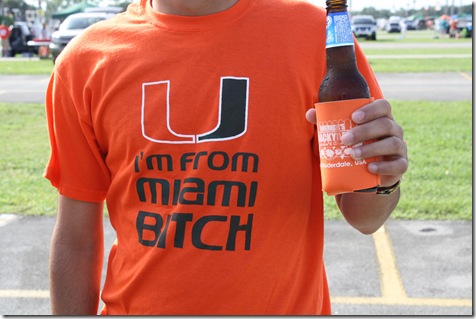 I decided to try to make a grilled pizza using Boboli crusts, which are pre-made and you can find them in almost every grocery store.  The idea of the Breakfast Pizza scared the Husband too much, so I made a regular pizza.  We bought these mini whole wheat pizza crusts.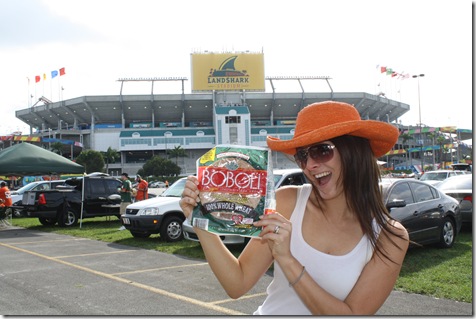 Instead of traditional pizza sauce, we used this Sun Dried Tomato Pesto.  It was DIVINE.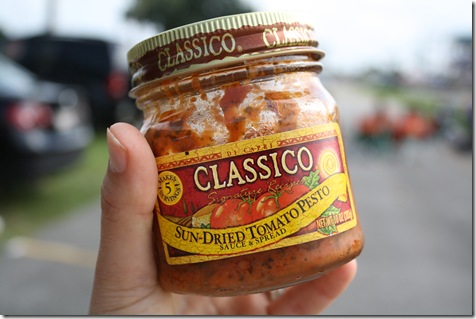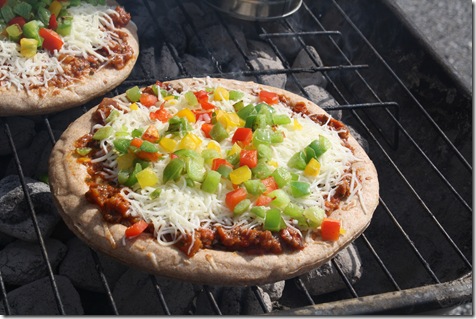 We quickly realized that the pizzas had to go on tin foil or the bottoms would burn.  They turned out EXCELLENT!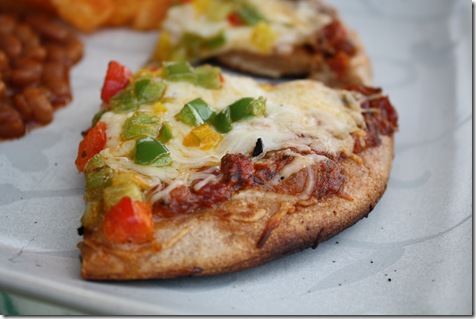 With baked beans and chips (this is the "healthy-ish" part!):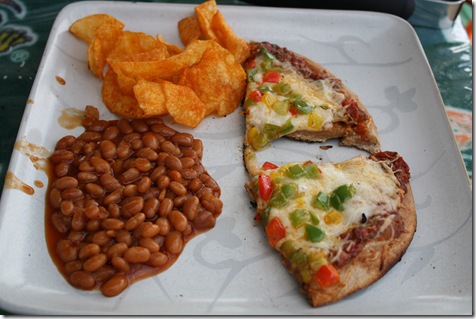 Lisette and Danny ended up meeting us at the game.  We played some Cornhole.  I think this is a Northerner game because no one else at the tailgate ever recognizes it.  It's SO fun though!  Have you played?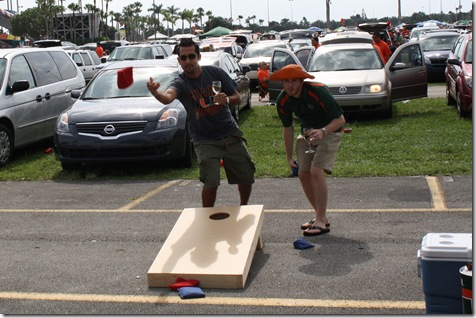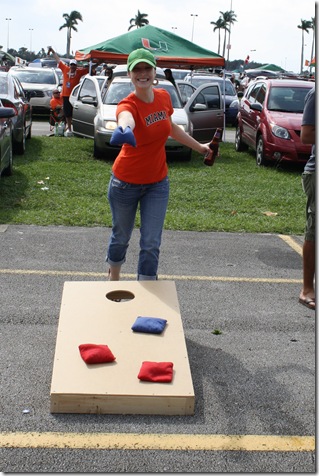 While playing, I drank a beer: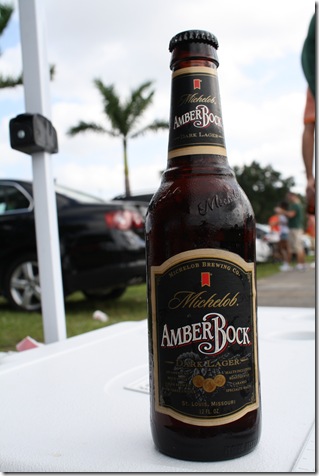 Before we walked into the game, I climbed on top on our car so I could photograph the entire scene.  For the foreigners who don't really understand what tailgating is, Americans FULLY embrace grilling, drinking, playing games, and blasting music in the parking lot before a football game.  We usually arrive 3 – 4 hours early just to hang out.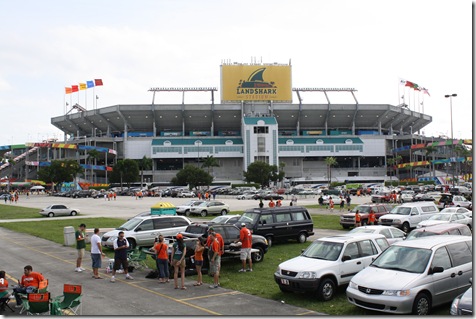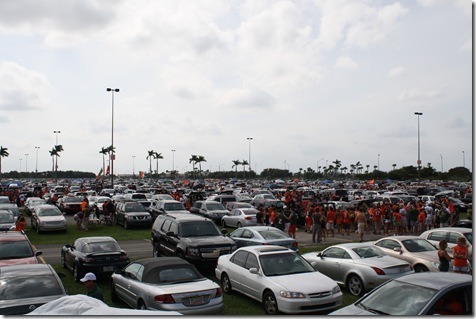 It's pretty awesome!  :)  A very unique and American experience!
I snuck a Clif bar into the stadium: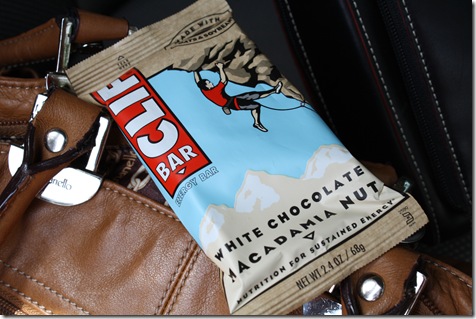 Never had the White Chocolate Macadamia Nut flavor, and it was AMAZING.  Must stock up!
And the Husband and I split this bland veggie burger.  Do you know how hard it was for me to find a veggie burger in the stadium?!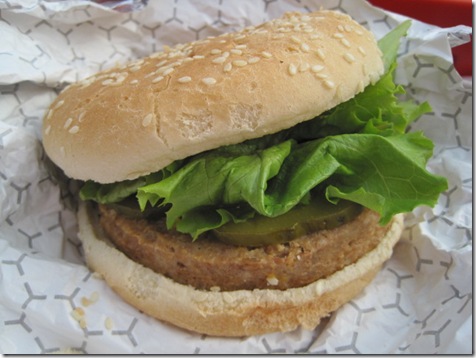 As mentioned, the game itself was awesome.  We had a blast watching our team kick butt!  :) 
Oh and guess what I found at a bar in the stadium?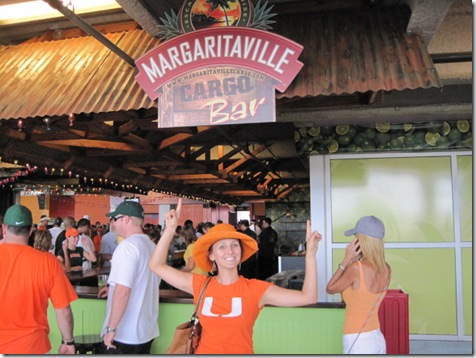 That's right… an INDOOR ROOF (my favorite)! :)  I'm telling you, it's a weird obsession.
And then we drove 3.5 hours back to Orlando.  I was the designated driver.  The Husband was pretty intoxicated after drinking a $16 margarita (I kid you not!) during the game.  I fueled up with a latte: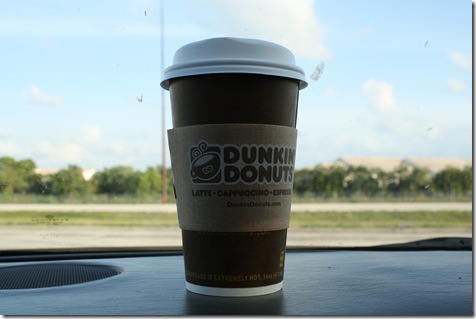 I'm going to have leftover Thai food (basil tofu) and brown rice for dinner.  I have grand plans to relax and watch TV.  Tomorrow, I need to be really productive – running and working is on the agenda!
Hope you had a GREAT Saturday, too!