We won! We won!  :)  Actually, we crushed FAMU 48 to 16.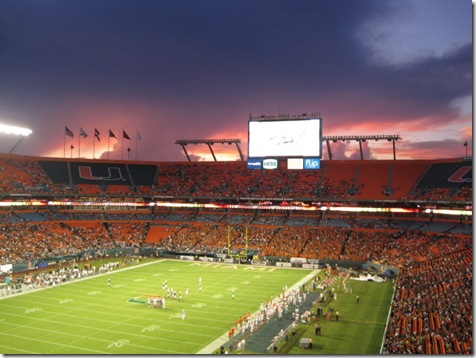 It was an excellent night for football!
The ride down to Miami was fun.  We listened to The Game's Documentary and did a fair share of rapping.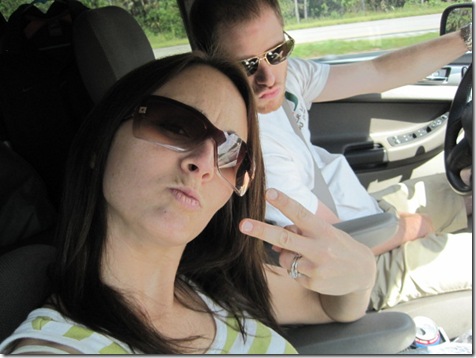 I also did some work on the laptop. 🙂
My light lunch consists of crackers and hummus: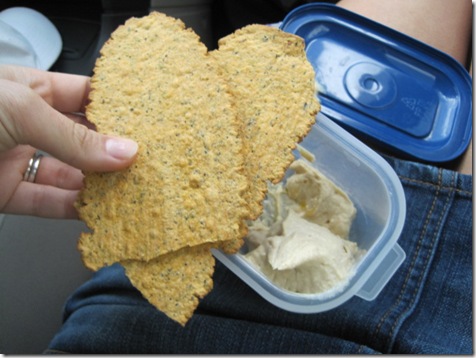 And grapes: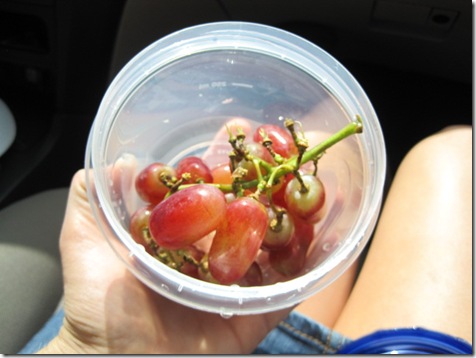 We arrived early and set up our tailgate in a prime location: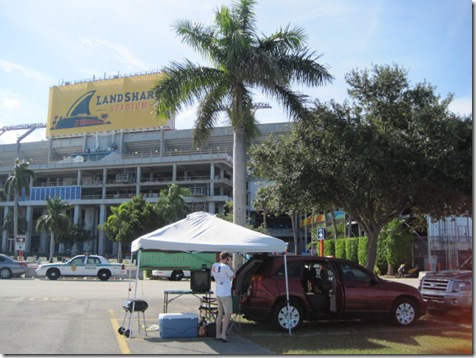 I surveyed the land… it wasn't anticipated to be a hard game (FAMU isn't ranked) so the fans didn't really come out.  One thing about Miami fans is that we're pretty fair-weather, unfortunately.  🙁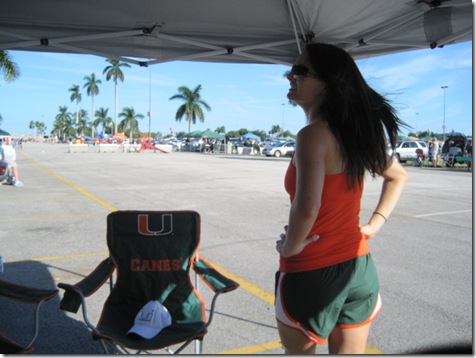 It did get busier!  We get there about four hours before the game and not everyone is as hardcore.  :) 
The Husband's old friends came to hang out, too!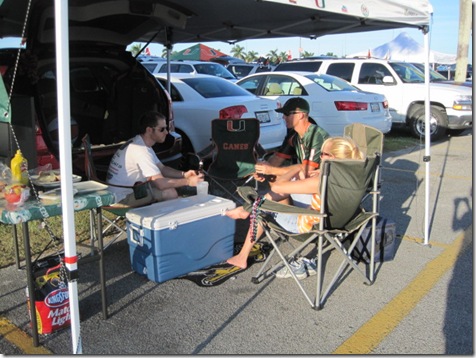 I had two Hoegaardens: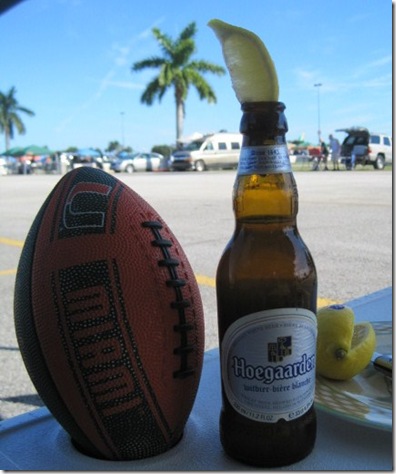 And we started with Pumpkin Dip, apple slices, and cinnamon Stacy's pita chips.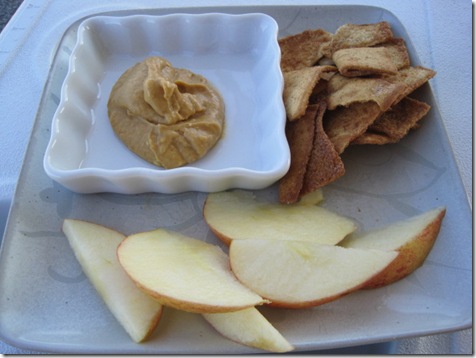 This Pumpkin Dip was SOOOO good.  If you like pumpkin, you will love this dip!  Very sweet and creamy.  It tasted delicious with apples.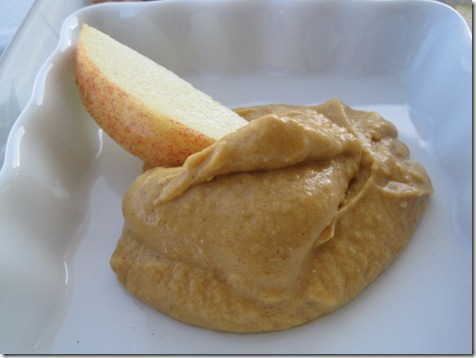 We also had some salsa and chips.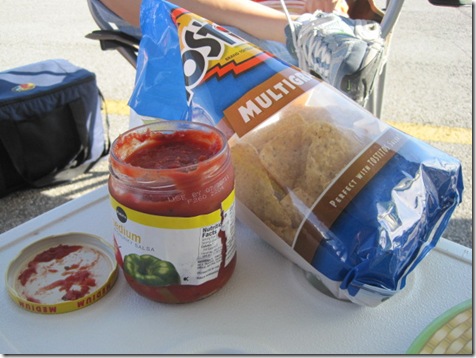 And then I got to GRILLIN! I am the grill mistress…. of vegetarian tailgates. 🙂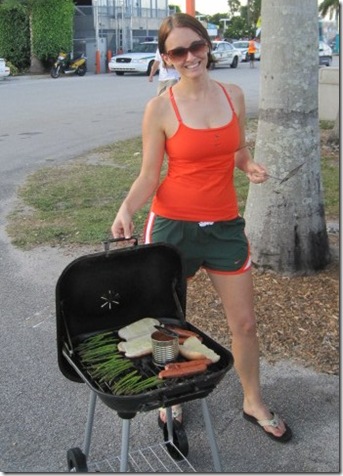 I cooked up asparagus (marinated in balsamic), Arnold Bread whole wheat hot dog buns with cheese, Bush vegetarian baked beans, and a veggie burger.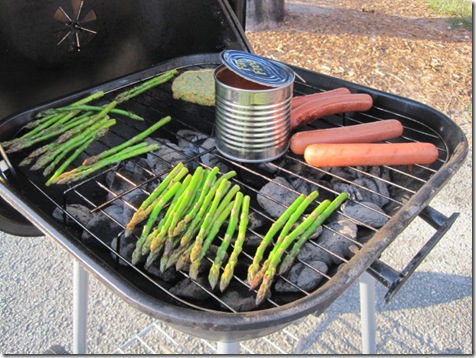 (The hot dogs were for our friends.)
Unfortunately, the Dr. P's veggie burger fell apart upon flipping (it was intended for the Husband)!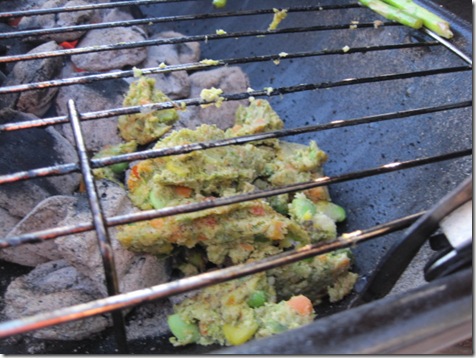 Here's my healthy tailgate entree: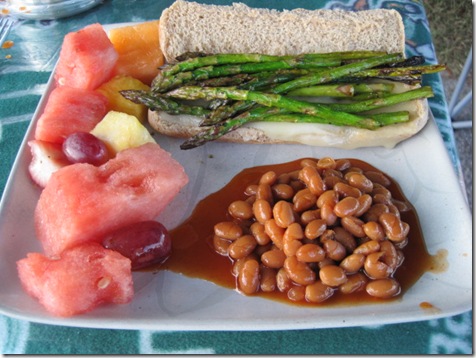 I had fruit salad, baked beans, and a grilled asparagus 'hot dog.' The sammie was SOOO tasty!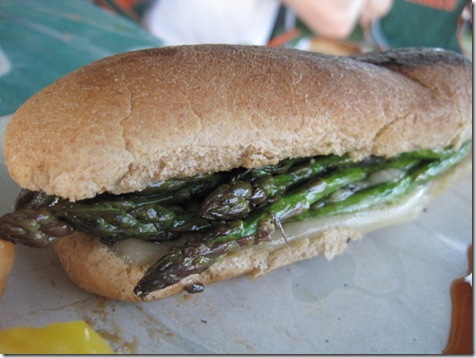 The game itself was pretty uneventful and not stressful.  I think we scored two touchdowns in the first 10 minutes (but don't quote me on that; I'm so tired!).  It was a relaxing game, which was a nice change of pace considering our first four games were so hard.
I did make it onto the jumbo screen!  That was very exciting.  🙂
The FAMU band was AMAZING.  They have 100 members of the marching band and they GET DOWN!  I made a video; I'll upload it tomorrow.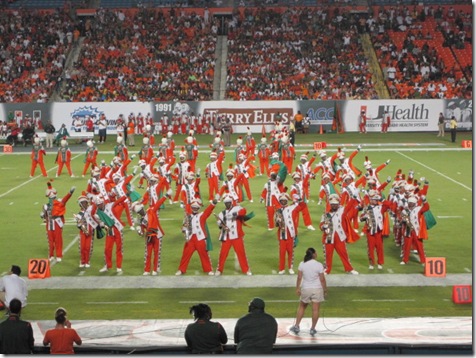 Soft serve ice cream in the 4th quarter (we split it):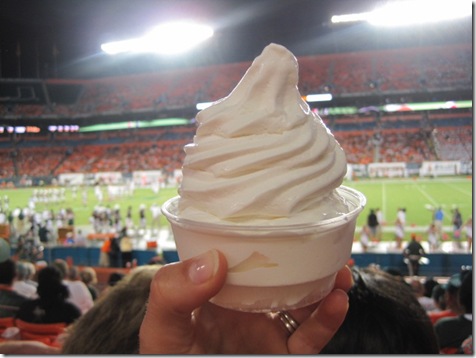 And…. then we drove back to Orlando!  I snacked on some more Stacy's chips while driving to keep myself occupied.  Three hours later, I'm home and exhausted.  It was a long but very fun tailgate.
Until next game!  :)  GO CANES!