Thanks for your feedback about entering a Half Ironman!  I took a break from work earlier today to research some training plans and realized that a Half Ironman requires WAY more effort than a marathon does (major duh on my part) – like working out twice a day 4 – 5 times a week.  I do feel like I could quickly work up to the bike + run distance, but that 1.2 mile swim…..
I'm not really sure I want to sign up for that rollercoaster ride.  :)  However, everyone who encouraged me to give it a shot really boosted my spirits!
Thinking about the triathlon relay I did this summer made me realize that I DO want to attempt another triathlon.  I had a lot of fun at the triathlon relay with Megan and Ryan (I ran, Megan biked, and Ryan swam – here's the race recap).   But… this was the closest I got to swimming:  🙂
Ryan did all the hard work:
I've always been the kind of person who is really motivated by failure, and I don't want my triathlon experiences to consist of 1) a solo disqualification on a swim and 2) the running leg of tri relay team.  I want to do the WHOLE THING by myself.
There's a race in March that I'm eyeing.  It's a Olympic distance, and I think I could handle that with proper training.  Maybe I'll Half Ironman next year.  :)  We'll see!
My afternoon was filled with work, work, and more work.  I snacked on pumpkin bread (a gift from Megan) with some dollaps of real buttah: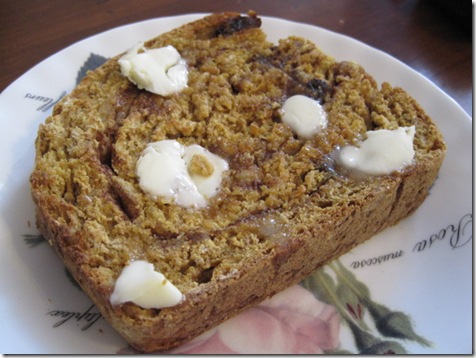 Greek yogurt and granola: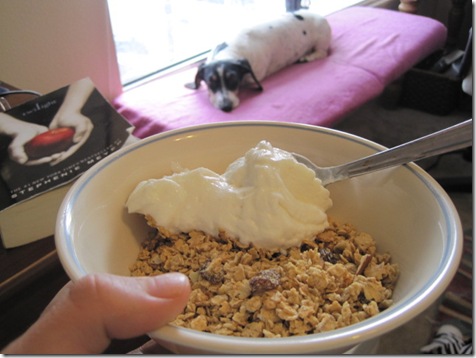 And dinner was cooked by the Husband.  He made me whole wheat Fettuccine Alfredo with kidney beans and green beans: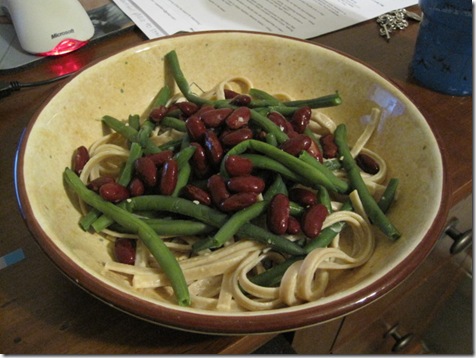 Obviously eaten at my desk.  🙂
I don't know why I'm thinking about a Half Ironman when I have so many exciting races in my future!
A 10K on November 15
A Half Marathon on December 5
A 5K on December 13
A MARATHON on January 10
On that note, I am doing a 17 mile training run tomorrow.  I'm going to snack on some grapes, set up my gear, and watch The Office.  Night, my lovelies!