In honor of this week's Blogger Secret Ingredient: Pancake Mix contest, I made Pumpkin Spice Pancakes for breakfast.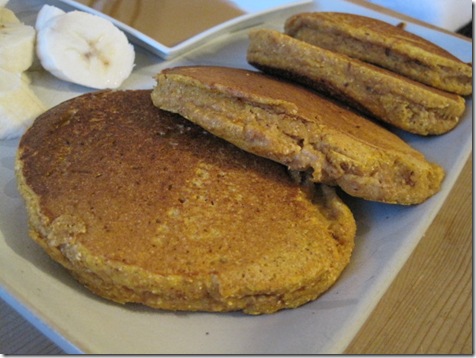 I don't have a detailed recipe to share, but basically, I made regular whole wheat pancakes and added about 1/4 cup of pumpkin puree and dashes of cinnamon. ground cloves, and nutmeg.
The result?  Soft, chewy, and "undercooked" pancakes.  The inside had the consistency of pumpkin pie!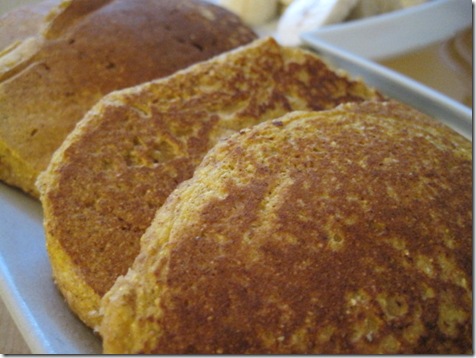 I ate two pancakes and a banana for a pre-run snack. I'll finish it off when I get back from my run.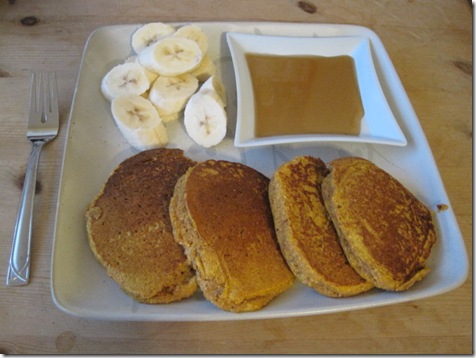 On that note, I must go!  I'm running 3.0 miles, looping back, snagging the Husband, and we'll do another 2.0 miles together. 
Like Tina, I just realized how crazy the next few weeks are:
October 17:  Wedding in Jacksonville, Florida
October 18:  Old Friend Reunion + Session with Photographer to Re-Do Wedding Pictures
October 19:  POM Wonderful Harvest Tour in Fresno, California
October 20: Day 2 of POM Wonderful
October 21: Day 3 of POM Wonderful
October 22: Anatomy Test
October 23: Mom Visits
October 24: Party for my Grandpa in Melbourne, Florida
October 26: Mom Leaves
October 29: Our Friend Joey Visits
October 30:  Brother-In-Law's 21st Birthday
October 31: Chapter 1 of Operation Beautiful Book Due
Yikes!  Lots of fun stuff, but busy nevertheless.  Should make for interesting blogging! 🙂
Remember: This week's Blogger Secret Ingredient contest is being hosted by ME!  I chose Pancake Mix as the BSI.  Check out this post for the rules, and I'll pick the winning recipe on Sunday.