Update your Google Reader!  www.healthytippingpoint.com/feed
I did not have the most pleasant run this morning.  Dry heaving on the side of the road was involved. 🙁 Lately, I've noticed a pattern of bad run – good run – bad run – good run, especially when I run two days in a row.  What gives?
This definitely reinforces the concept of fresh legs.  I don't like doing back-to-back runs at all.  I see training plans that call for 5 to 6 days of running, and I really don't understand how anyone can do that! I find it so physically challenging to do 4 days a week.  :( 
Normally, I run on Monday, Wednesday, Friday or Saturday, and Sunday.  Long runs are on Fridays and I do a max of 3.0 miles on Sunday.
In fact, I wouldn't dream of doing 4 runs a week if I wasn't marathon training. I miss biking and spinning.  But, I don't have the time/energy to work out for a 5th day, and I can't possibly get in the required mileage with 3 days of running and 1 day of cross.  Thoughts?  Do I just suck it up for the next 10 weeks until I'm done with the Marathon? Maybe it will get easier?
Anyway, I ended up doing 4.3 miles in 47 minutes (walking and dry heaving was obviously involved in that time!).  I was scheduled to do 5.0, but that was hells-to-the-no happening.  At least I did something, right?!  🙂
I came home and worked, and then I made a delicious lunch.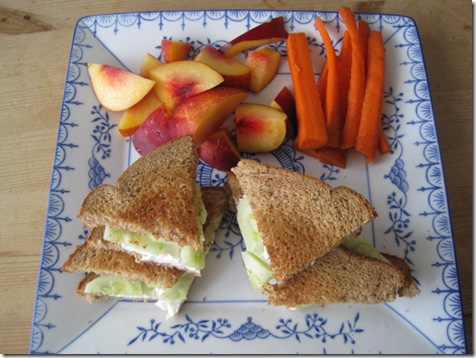 I am getting so excited for our trip to England in December! I thought British-inspired sammies would be an appropriate meal.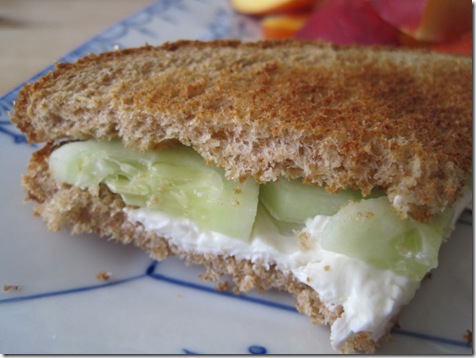 Cucumber and cream cheese!  I just need a little pot of tea now.
Plus, carrots and a nectarine: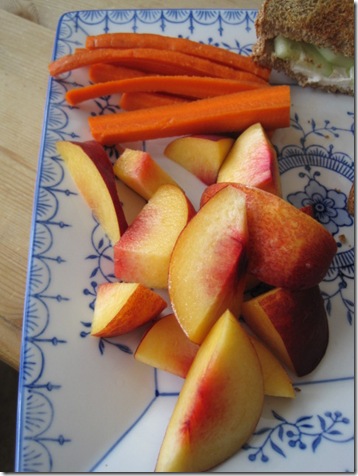 How many days a week do you work out?  I used to pull 5 – 6 times a week, but now that I've gotten older (haha), that seems too hard and unnecessary.  I like to stay active on rest days, but I can't do an intense workout too frequently.