The sun rises on Week 8 of Marathon Training: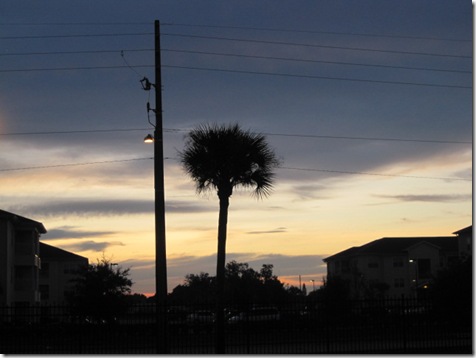 I've run 150.12 miles in the last 49 days, a feat which I seriously doubted I would ever be able to do after I was injured last April.  All in all, training has been quite successful.  Although the first two races of the season were less than stellar (like the 15K), my weekly long-runs have been overwhelmingly awesome.  I think Friday's 14 miler really sealed the deal for me.  I ran it fast, but it was 'easy,' and I had no knee pain after.  🙂
In the last year, I've been so focused on what long-distances do to my body in a negative way (i.e. knee pain).  I've rarely stopped to appreciate the positive effects of running on my body.  But last night, I was brushing my teeth when I noticed my body looked strong and lean.  I realized that little things like carrying heavy groceries up the stairs are becoming easier, too.  :)  I haven't lost or gained any weight, but I'll bet my body fat percentage has dropped and my cardiovascular fitness has increased.  Three cheers for running!
It's with open arms that I enter Week 8 of training.   I can't wait for January 10! 🙂
Breakfast was divine: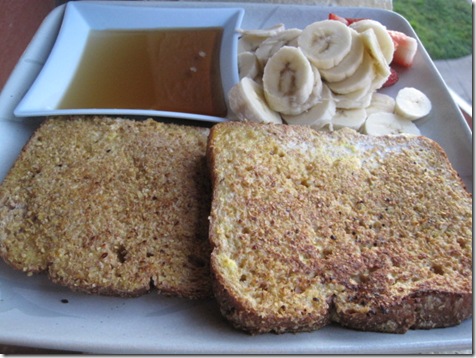 I made Flax French Toast again.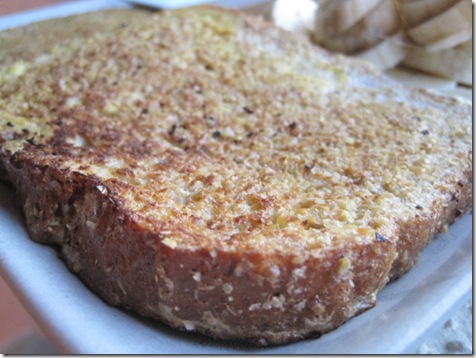 Plus, strawberries and bananas.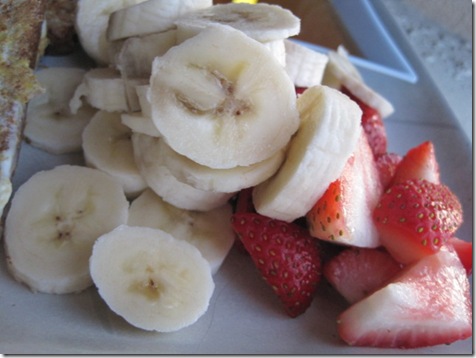 So much to do today… got to get cracking!
Come Back Soon!
I'll be announcing the BIGGEST contest in Healthy Tipping Point/Operation Beautiful history in just a few hours!  Not only will 125 women (and maybe a few men!) get the chance to be in the Operation Beautiful book, but I have over a DOZEN sweet prizes to give away!
Have a wonderful day!  🙂
Whether you're training or making improvements in your diet, how long do you feel it takes to see a difference in your body?   I think two months has always been right for me, but back when I started to get healthy, it took me about 1 year to lose 10 pounds.  Slow and steady wins the race!