We all survived the second night – and now it's our baby's second morning.  Well, the night and the morning kind of ran into one another, if you know what I mean.  However, all things considering, I'm feeling much, much better than I did yesterday – as does the Husband and Henry.
Yes – he has a name (finally).  His name is Henry Kristien Boyle.  He's already my favorite person in the entire world.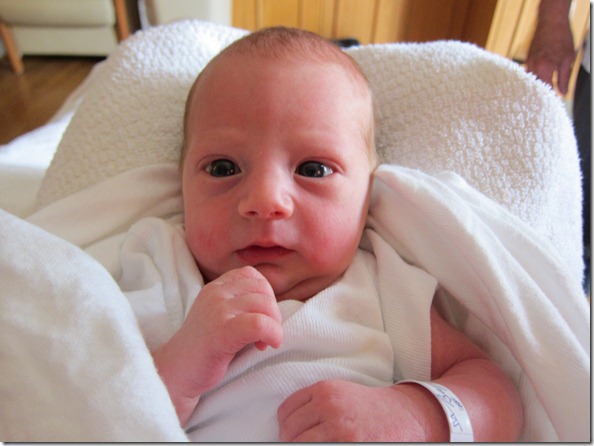 I thought it would be fun to share how our second day has gone so far, bit by bit.
At midnight, Henry headed to the nursery to get checked out.  The doctors run a whole bunch of standard tests to make sure the new babies are healthy, which thankfully Henry is.  While he was in the nursery, Kristien and I got to sleep – two hours of uninterrupted sleep felt amazing.  It's true – everyone says you can suddenly survive on much less sleep, and you really can after the baby is born.
Our hospital is fabulous (we delivered at Pineville, if anyone is local and curious). As you all know, I was really committed to the idea of a natural birth with minimal medication interventions (which I pretty much got – more details in the upcoming birth story), and Pineville is amazingly supportive of all types of mommas, no matter what they want to do.  They encourage things like skin-to-skin contact, rooming in with the baby (which means they don't automatically take babies to the nursery like they did a few decades back), and breastfeeding. 
Another cool thing about our hospital:  the rooms!  The delivery room is the same as the recovery room. The rooms have a Jacuzzi tub and a balcony, and Dads get to sleep in a murphy bed, not an uncomfortable chair.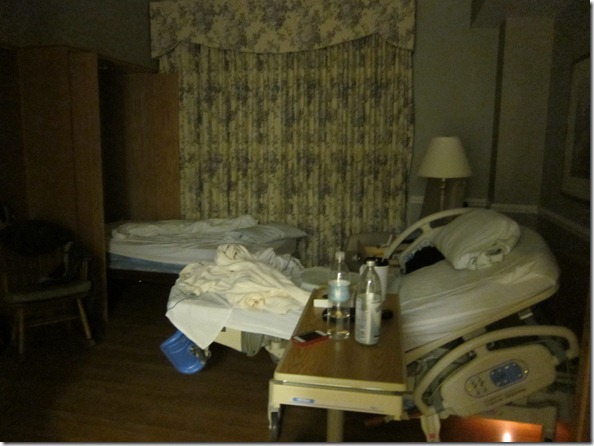 So – Henry came back after his tests, and I stayed up with him, feeding and playing with him while the Husband slept.  Then, I woke up Kristien and he took over.  Kristien – by the way – has been a dream dad (not that I ever expected anything less).  He was a great birth coach, too.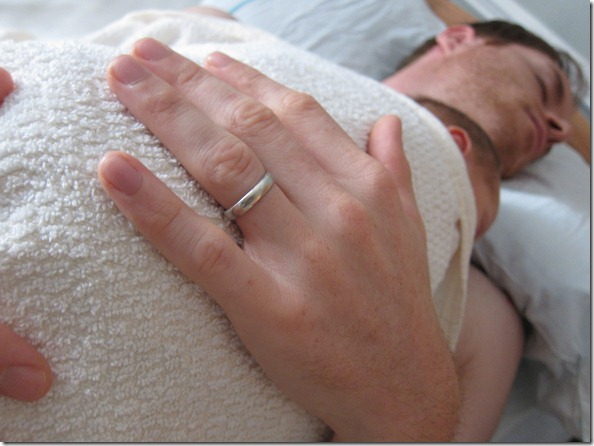 I slept for another three hours – A total of five!  Wahoo!  By then, I think it was around 7:00 AM.
The hospital will deliver food for me to the room, but not for family members, so the Husband got up and headed to the cafeteria to get his own breakfast.  It was time for Henry to eat, so I fed him again (he's doing really well so far – I've had a few consultations with lactation consultants in the hospital, and the feedback has been so helpful), and then I noticed he needed his diaper changed.  Oh man.  I was ALL BY MYSELF and had to change his diaper.  And I have NEVER changed a baby's diaper before.  I mentally got myself ready, gathered all my supplies, laid him in the bassinet, and he immediately freaked out.  I took off his diaper and realized it wasn't just pee – it was poop, too!  All I could do was laugh as I tried to clean him up and thought, "I can't believe I'm all alone! Trial by poopy diaper fire!"  Then, he sprayed pee in the air (boys do that) and soaked his pajamas.  So I had to change his diaper, clean him up, put on a new one, take off his pajamas, and put on new clothes.  I'm sure experienced parents are like, "Um, so what?" but like I said – completely new territory for me.  I was pretty proud of both of us for surviving the experience (this parenting thing is so hard that I'm really encouraging both myself and the Husband to celebrate every single small victory – we need to feel confident!).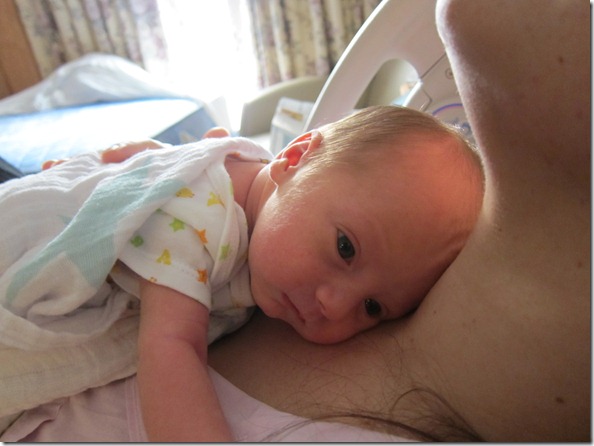 Afterwards, the Husband returned, and we laughed about my experience.  And then my breakfast got delivered, too.  This was my first really sturdy meal since his birth on Tuesday night.  It was so, so tasty.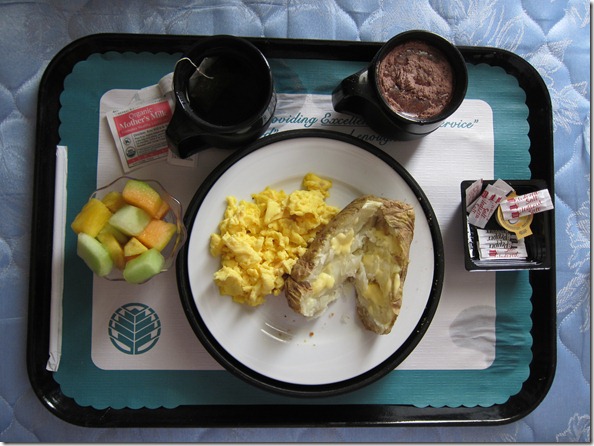 Baked potato, eggs, fruit, chocolate milk, and Mother's Milk tea.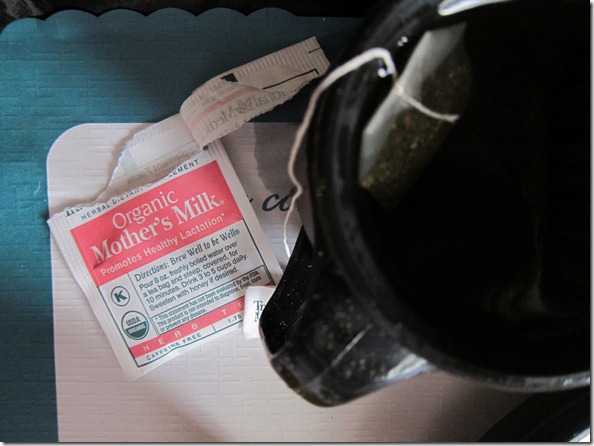 After getting food in me, I felt like a million bucks.  I really do feel on top of the world!  Sure, I'm exhausted and smelly and sweaty and sore, but at the same time… I feel soooo good.  Yay, crazy new momma hormones.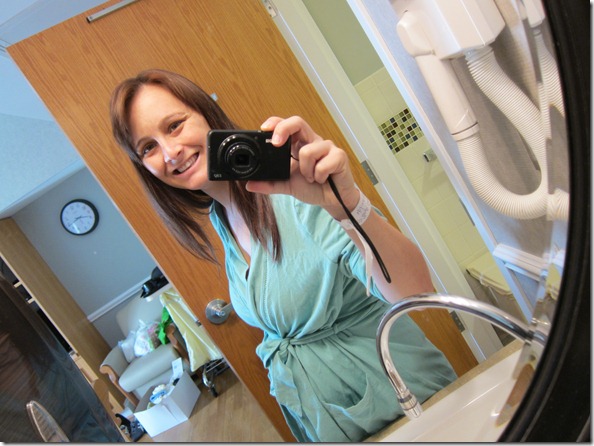 DadHTP came over a bit after that.  Our family has been really wonderful about visiting us in the hospital.  My dad is a crazy baby whisper and Henry really likes him.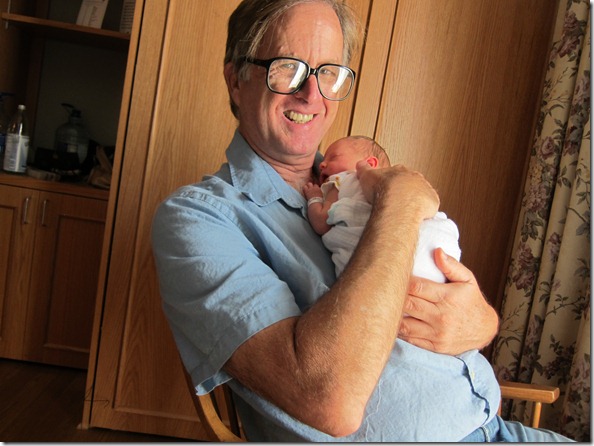 Kristien took this opportunity to take another nap – I was so happy he got some more shut eye.
While Dad was holding the baby, I filled out the birth certificate.  We really had trouble deciding on the name.  If Henry had been a girl, her name would've been Claire Joy, but we had multiple boy choices to debate over.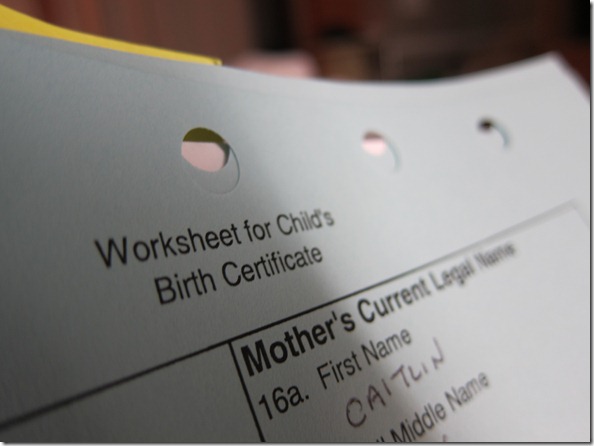 And then it was time for more baby feeding, and I got to take a shower.  Whew.  What a morning! 
We're pretty excited because the hospital is letting us check out soon.  We thought they would hold us until 7 PM tonight because I was Group B Strep positive (a very common bacterial infection that required antibiotics during delivery), but they are letting us leave a few hours sooner because Henry is doing so well.  I can't wait to introduce him to Maggie and James!  <3