In some ways, it's a normal morning over here.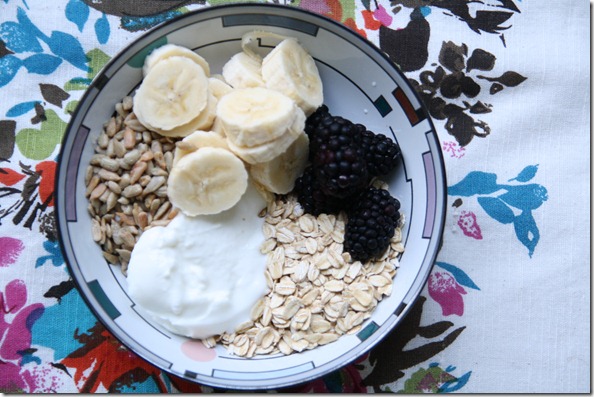 Yogurt mess:
Raw oatmeal
Greek yogurt
Blackberries
Banana
Salted sunflower seeds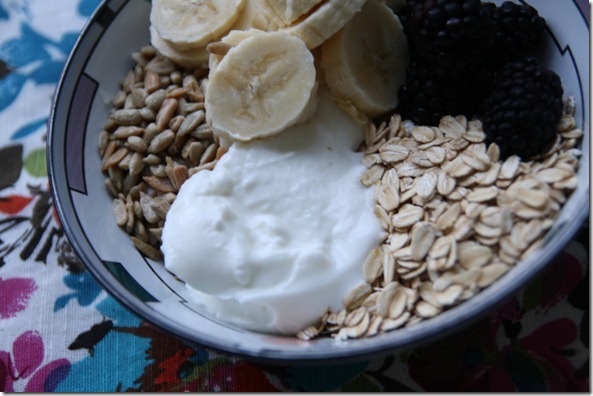 (And the biggest glass of water eeeeever.  I am so dehydrated.)
But in so many other ways, this morning is obviously very different.  We were released from the hospital yesterday afternoon so we experienced Henry's first night and morning in his new house.  It feels so good to be at home.  Yippee!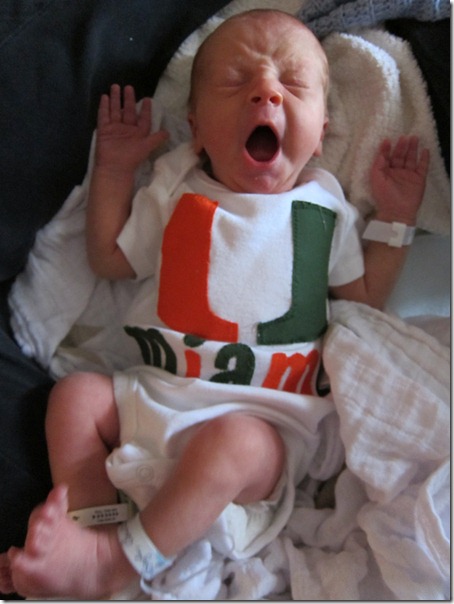 I'm better at sleeping during the day and staying up at night, so the Husband got a lot of sleep last night while I stayed up with Henry.  Trying to figure out what to do with him – like how to make him sleep safely –  is so challenging and nerve-wracking but really fun, too.  I keep looking at him and bursting into tears because I'm so happy.  Or because I'm so nervous!   I hear this is normal.

So… I know some of you are curious of how introducing our dogs to Henry went.  We did a lot of preparation during pregnancy to make sure the dogs wouldn't be completely shocked.  For example, we moved James out of the bed and onto the floor in a cozy cave (he was a bad sleeper).  We even used a fake baby doll to teach them not to jump up into our laps at certain times. 
Here's what we did when we brought Henry into the house for the first time:  My mom, who's been staying at our place and taking care of them, made sure they were a little tired right before we arrived by taking them on a long walk.  I came into the house first, carrying a blanket that Henry had slept in for two nights and let the dogs smell it.  James was very interested; Maggie did not care at all (no surprise).  Then, I distracted them with treats while the Husband walked in with Henry in his car seat.  We put Henry on the couch, and then the Husband played with and petted the dogs for about five minutes before anyone even acknowledged the car seat.
Soon enough, James realized that something was up!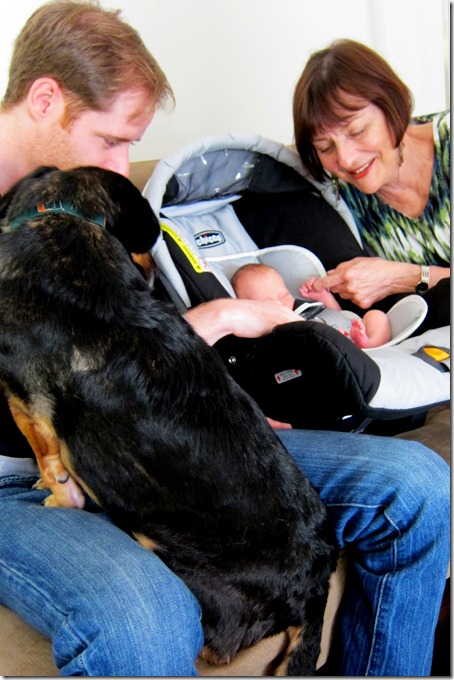 I don't want James licking Henry's face into perpetuity, but I didn't want to say, "NO!" while he sniffed him and licked his hands and feet for the first time – I was concerned I would make James afraid of Henry.  James gave Henry a huge once over (and then I washed Henry's hands and feet!) and decided Henry was okay by him.  I am thankful that all we have to worry about is licking; J + M would never be aggressive.  Anyway, James has been very curious and involved every since, following us around and staring at Henry when I fed him.  I think he thinks Henry is his new puppy…
Maggie, as I'm sure everyone predicted, does not give a flying leap about Henry.  She doesn't really even notice that he's there.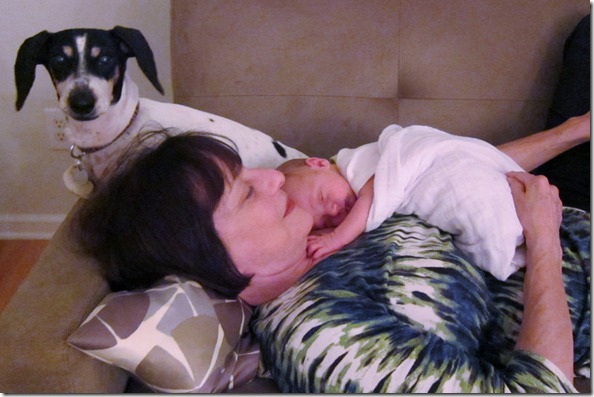 The lights are on, folks, but no one – no one – is home.