Tomorrow is the Open Water Challenge (800 meter lake swim and 5K run).  It's the precursor to my sprint triathlon next weekend (750 meter swim, 17 mile bik, 5K run), and I am very, very nervous.  This will be my third attempt to swim in an lake during a race, and so far, I am 2 for 2 in panic attacks.
Our little afternoon adventure did strip away some of my nerves – we went to a local triathlon store called Trysports, and it definitely got me in the mood to RACE!
The purpose of our visit:  drop off my bike for a tune-up.  I knew I needed my gears fixed and a new chain.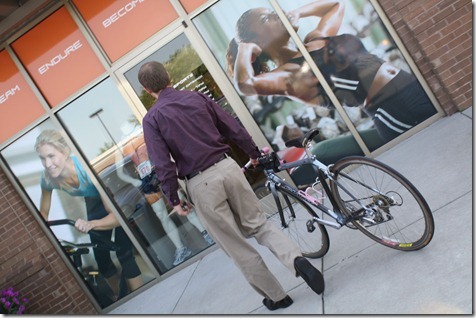 After dropping off my girl, I admired all the new and shiny bicycles.  I would love to drop $2,000 on a new bike, but it's just not going to happen – I'll stick with my good-enough used bike.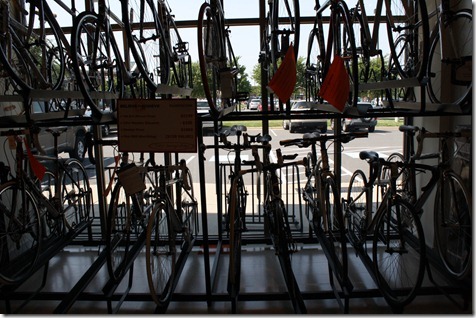 The other reason for our visit to Trysports was to purchase a trisuit.  A trisuit is basically an outfit that you can swim in, bike in, and run in.  Women's trisuits come in one-piece styles or two-piece styles.  I knew I wanted a one-piece because I didn't want to worry about my top riding up.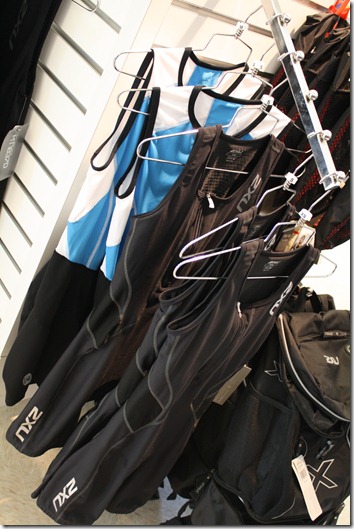 I ended buying the 2XU 2011 Women's Endurance (WT1778d).  I was most surprised by this suit's shelf bra.  I didn't think I could find a trisuit that I didn't need to wear a sports bra underneath (to control the pups), but it was really supportive.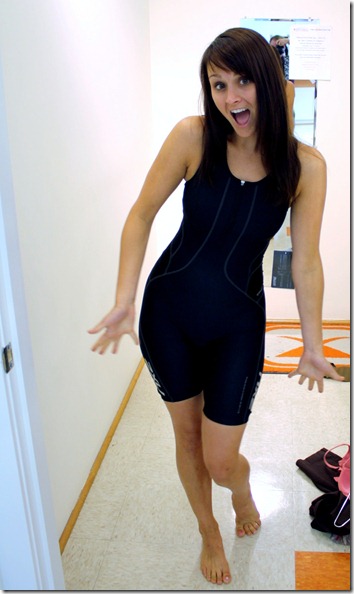 According to the manufacturer:
New quick drying and body cooling ICE X fabric, muscles are gently compressed to reduce fatigue, while the garment continues to breathe over long, hot endeavors.
Panels built from new 70D KINETIC SPEED fabric deliver advanced turbulent airflow technology for greater speed on the bike. Long course Italian made triathlon chamois provides support on the bike whilst remaining discreet for the run.
Other features include flatlock stitching, silicone leg grippers, rear essentials pocket and contoured paneling for unrivalled comfort and performance.
I have no idea if a trisuit will actually make me faster, but it will definitely make me feel more confident and comfortable!  Especially on the bike.  Yay, padding!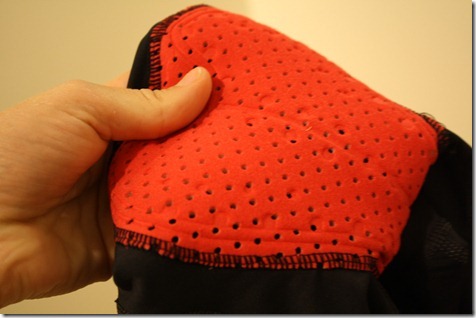 I was ready to checkout, but then I spotted Trysport's running shoe fitting area.  Figured I might as well get much-needed new shoes while I was there.  Trysport has really friendly employees who instruct customers to run on a treadmill (to videotape pronation – whether your foot collapses in during your stride), as well as another cool device to measure your arch.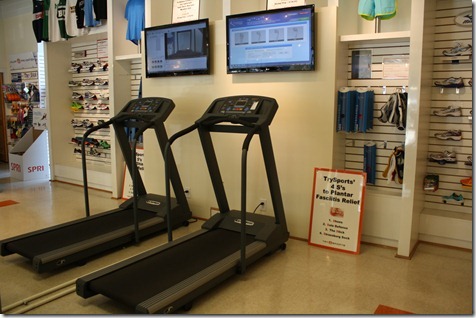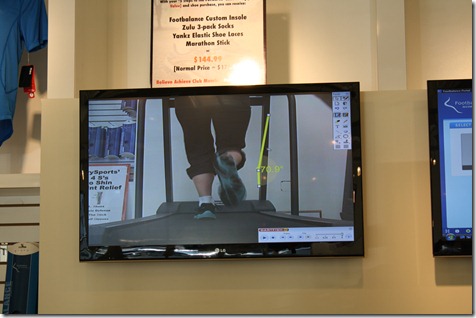 I might not have the ideal runner's body, but I do have beautiful arches!  Heh.  It's the small things.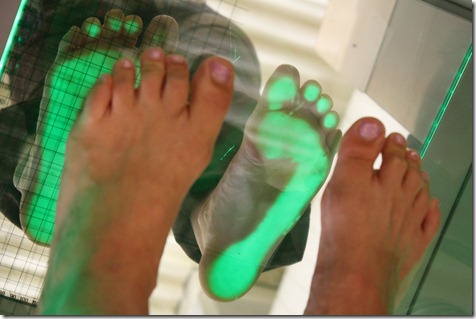 I ended up finding the PERFECT shoes but had to order them in because the right color wasn't in stock. 
Eats of the day!
A spinach salad with baked tofu: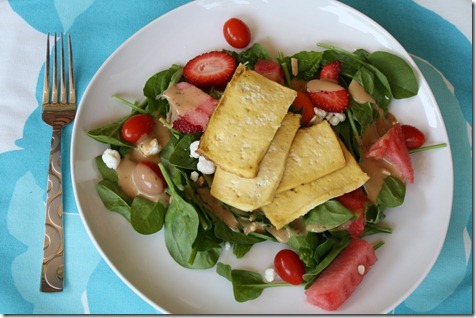 Quinoa with collard greens, chickpeas, and tomatoes (only now do I realize how similar lunch and dinner looked – my appetite was off due to nerves):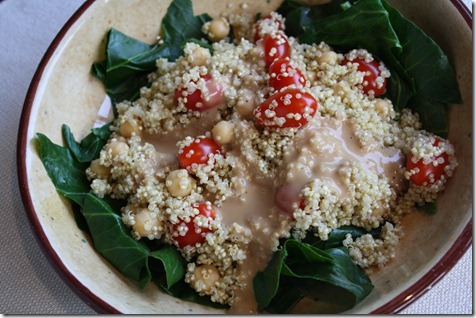 A big old glass of Chardonnay on the porch (which is totally NOT what I should be doing the night before a race)…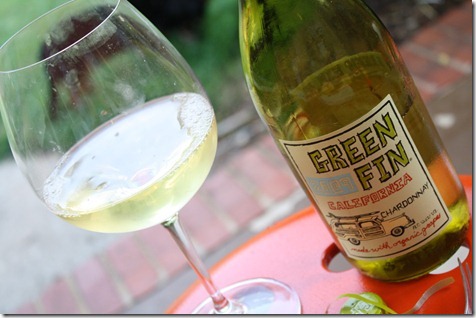 And now, I'm munching on a huge hunk of French bread and contemplating everything I need to bring to the race tomorrow.
My goals for tomorrow's swim:
Don't cry
Don't panic too hard (a little bit is okay)
Put my face in the water and actually do proper strokes
Don't cry
I don't care if I finish last out of the lake (I was dead last during my previous tri)… I just want to feel STRONG.
Ready, set, GO!