I think you've seen this lunch before: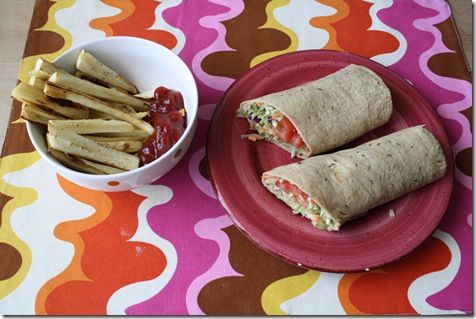 And oldie but goodie, what can I say?
Hummus, broc slaw, and tomato wrap: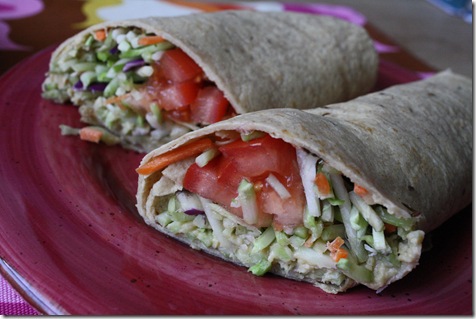 And parsnip fries with ketchup: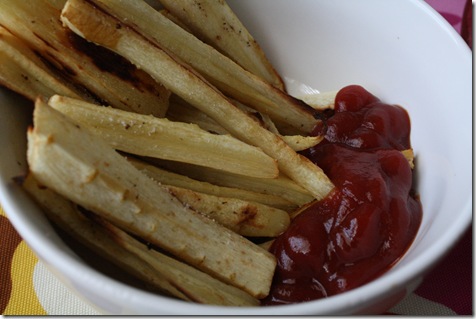 Regrets – Do You Have Them?
I talk a lot about letting go of guilt and moving past small hiccups, but regret is a totally different animal. 
To me, regret is about major life events or important relationships.  Not "I regret eating four cookies last night," but more "I regret dumping my boyfriend for another man."  Regret is over singular instances or long behavior patterns that, if done differently, could've changed the entire course of your life.
I got this e-mail from a reader:
Marieke wrote, "I know you always talk about "guilt" and how not to feel guilty about eating and exercise and how not to let negative energy bring you down. I am now wondering, do you have any ideas that might help people to get over "regret?" 
Short explanation: It has only been for a while that I found my personal "healthy tipping point" (recovering from a broken ankle and losing my mum to cancer recently). I lost 8 kilos (about 17.5 pounds) so far.  I have quite a long way to my goal, but I can feel my mind set shifting, which I feel is a good thing. It is a long, slow process, but I am refusing to give up. 
Anyway, I still feel I regret doing certain things in my life and NOT doing certain things earlier, if you know what I mean. For example, I regret running away and getting married without my family there (I wish I waited a bit longer saving money and thinking about it so I could have had them there). On another hand, I regret that I treated myself this way for a long time, always dieting, always an extreme all or nothing approach, which led me nowhere besides ending up overweight and unfit. I regret quitting college at 18 with no idea what I wanted to do, ending up without a great education and in an office job, which is fine but not what I really want.
I need to deal with the feeling of regret and I'm trying to stay positive.  It is hard though.  Do you or any of your readers have any advice?
This email really got my mind turning.  I took the dogs on a walk this morning and thought deeply about two things I regret and do not regret in my life:
I regret getting into a huge blow-out with my two former best friends in college.  I treated them poorly and was immature.  I only miss one girl's friendship now, but I still wish it had gone down differently.
I do not regret spending $4,000 trying to get into Physical Therapy graduate school last spring and summer.  It was a lot of money to 'waste' because I'm clearly not going down that path now, but I couldn't see the future and would've hated myself for not trying to pursue a dream.  I do really wish we had that money now, though!
I believe you can save yourself from the vicious cycle of guilt by identifying why you feel regretful, letting go of the regret, and making a conscious act to move forward.
If you regret eloping, you cannot go back in time and get re-married.  But you could have a sweet re-commitment ceremony on your anniversary, invite your closest family, and explain to them that you feel sad that you eloped and couldn't share the experience with them the first time around. 
If you regret fighting with a friend, you can reach out and make amends (as I did with one of my former friends) or you can just forgive yourself and move forward (as I did with the other).  If you regret your career path, IT IS NEVER TOO LATE TO CHANGE YOUR JOB.  Seriously.  It's never too late to make a change.  Maybe that change will take years, but people do it all the time.  Or maybe you can find a hobby or volunteer position that fulfills you in another way.
Regret is normal.  We are forced between two options (or three or four or five!) options everyday, and sometimes we make the wrong choice.   But holding onto the feelings of regret is not good for us.  I see regret as something we must absolve and forget about, or we'll waste away our lives. 
But it's up to us to channel that regret into something positive, into a deeper understanding of who we are.   We must learn from our regrets, to figure out why we hate our poor choices.  Or else we'll spend the rest of our days thinking "If Only…" and miss out on fabulous opportunities in the meantime.
What do you regret?  How did you absolve it?  Do you believe regret is a powerful motivator?  What advice can you give my lovely reader?