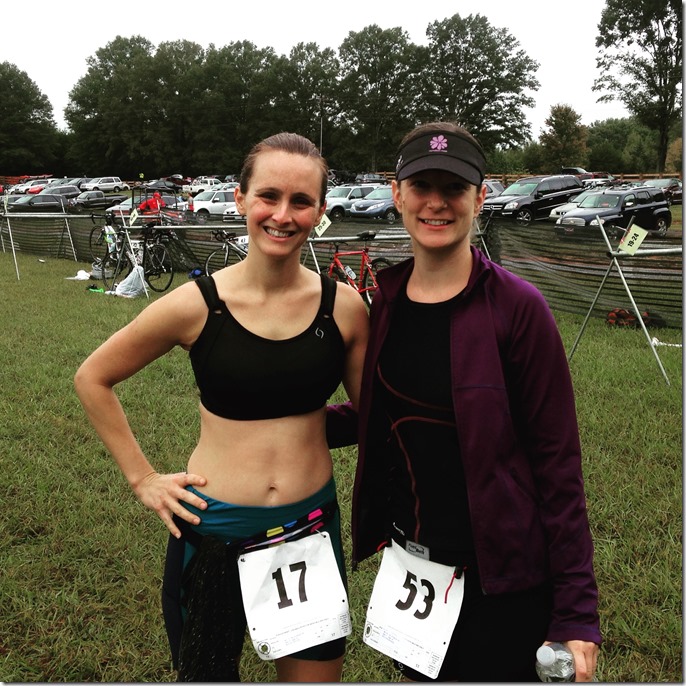 This race had long been Brandi's end-of-season race – mine was supposed to be Lake Logan International, which was about 7 weeks ago. Since then, I've been taking it easy. But I was motivated to sign up for the race when Brandi encouraged me – I figured I could take it easy and it would be a fun way to spend a Saturday morning. I was right!
First things first: Strip off the old race numbers from my helmet and bike – I haven't ridden at all since Lake Logan (side note – obviously, it's way better/safer/more fun to train for an event than just wing it…).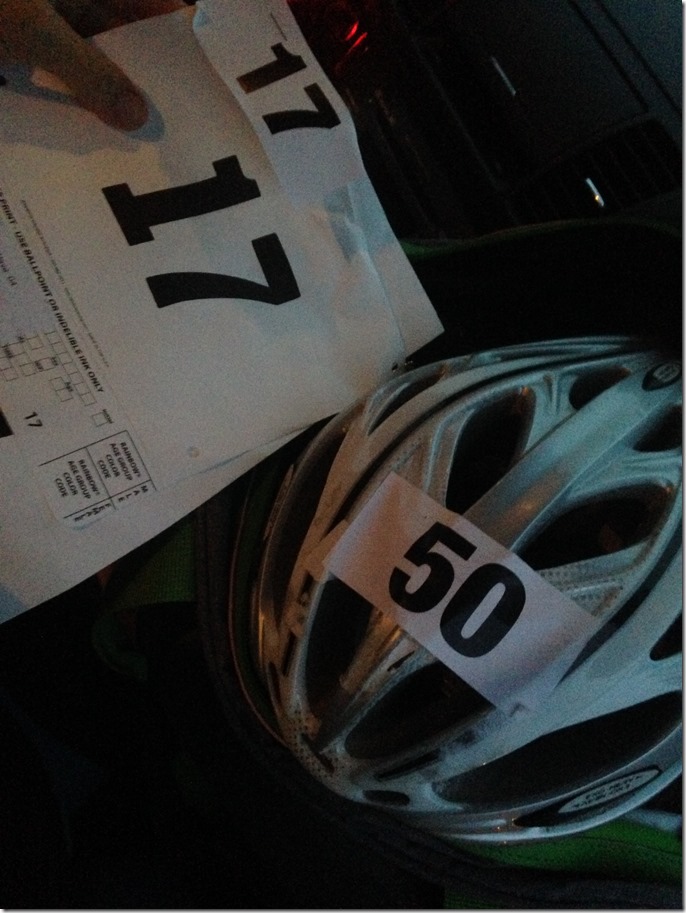 I knew going into registration that this race was going to be chilly and rainy, but I hoped that it wouldn't be too cold once I warmed up (and it actually felt hot and muggy by the time I hit the run, as evidenced by the sports-bra-finisher pic above). I don't think I've ever done a triathlon entirely in the race, so I hit up Instagram for some last minute advice and opted to keep all my transition stuff in plastic bags. Luckily, the rain was more of a constant drizzle than a downpour, so it wasn't too bad.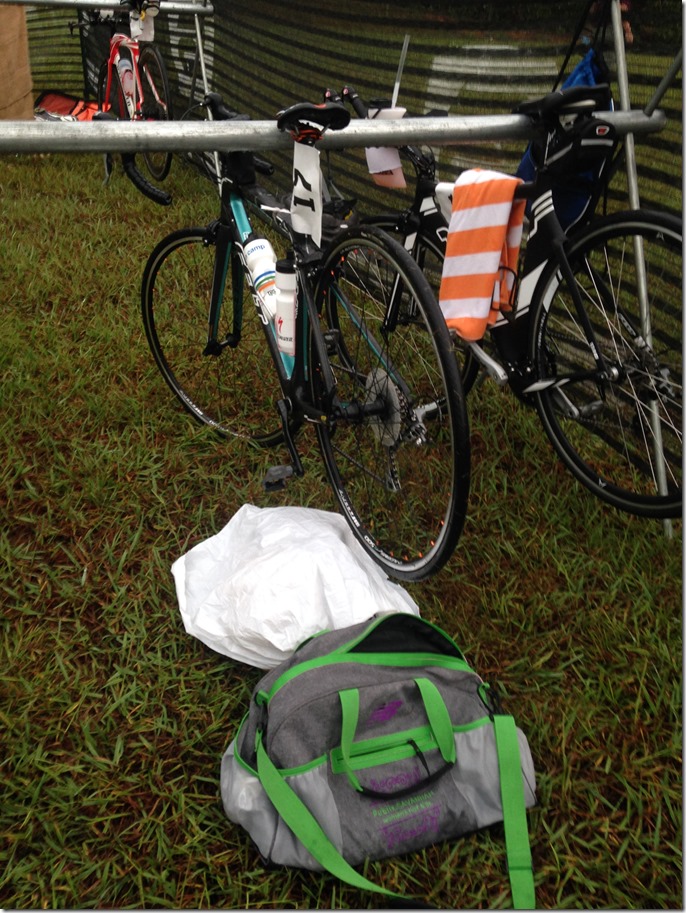 Transition was a Ghost Town – lots of last-minute drop outs due to the weather, I think.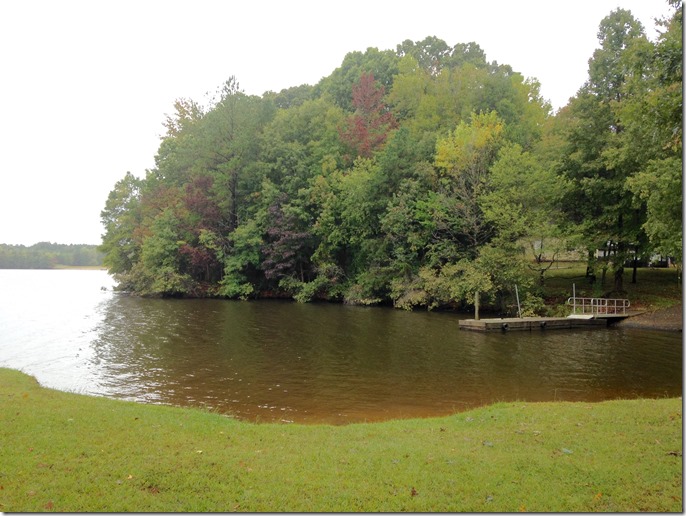 Race Recap:
Swim – 750 meters + a long run to transition in 19:02. Totally unprepared for the distance (haven't been in the water at all since Lake Logan) but after years of freaking out during the swim, I have learned that this leg of the race is at least 80% mental. The water was COLD, which made me swim a little too fast at the start. I flipped to my back a few times to catch my breath, and then I got weirdly dizzy, which was pretty disconcerting. I started to have all these unbidden thoughts of drowning – AHH! I was very happy when the swim was over.
T1 – I took my sweet time getting to transition – it was a long way up a hill. I walked the entire time (something I would never normally do). I saw Brandi leave T1 just as I was coming in. In transition, I sat on my butt to put on my shoes, redid my braid, etc. I took off my wet tri-top and put on a dry shirt. I even walked all the way across transition to give another racer a heads-up that wearing earbuds would disqualify her. In short, I was in no rush.
Bike – 14 miles that seemed to go on forever and ever. Actually took me 1:02:13. It was raining harder and my shirt got soaked immediately. Boo. The bike was a nice course, but as usual, I just want the bike leg to be OVER.
T2 – I hurried up a bit this time around. Grabbed a hat, my race belt, and changed my shoes. And I was off.
Run – The 5K was two rounds of an out-and-back route, so I passed Brandi twice. She told me to try to catch up, but I knew she was too far in front. I managed to not walk at all (!) and finished in a respectable 29:23.
Grand Total: 1:54:33. WAHOO – 6th in my age group (but out of 6, hah!).
I just looked through some of my old race recaps and my time was pretty decent, all things considered. I'm so glad I did that race. Especially when I got to hit up Chipotle afterwards!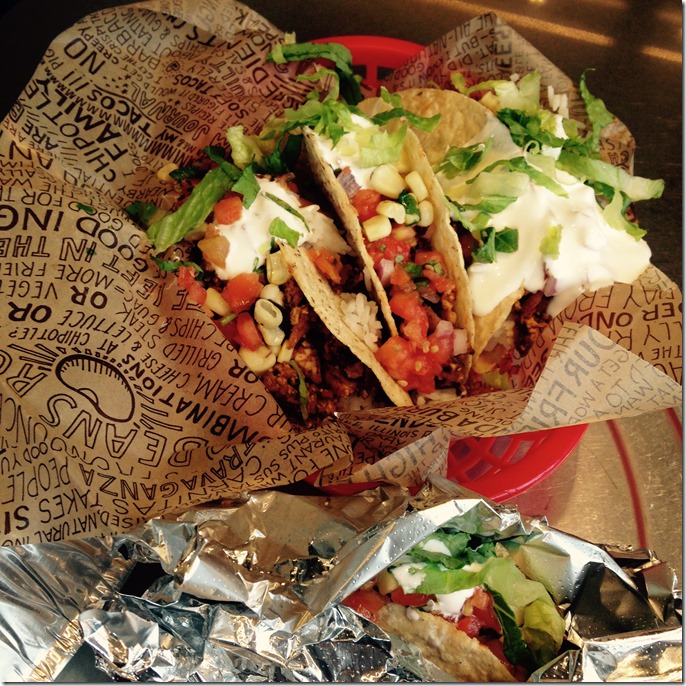 I feel more motivated than ever to get back into the swing of things, workout-wise. After all, the end of triathlon (sad face) means the beginning of winter running (happy face)!! Wahoo. I love running in the fall and winter – don't you??