5:10 AM – My first alarm goes off.
5:18 AM – My second alarm goes off and I get out of bed.
5:20 AM – I pump a bottle, eat a pre-run snack (banana with nut butter), and drink a coffee. I get dressed and leave for my long run.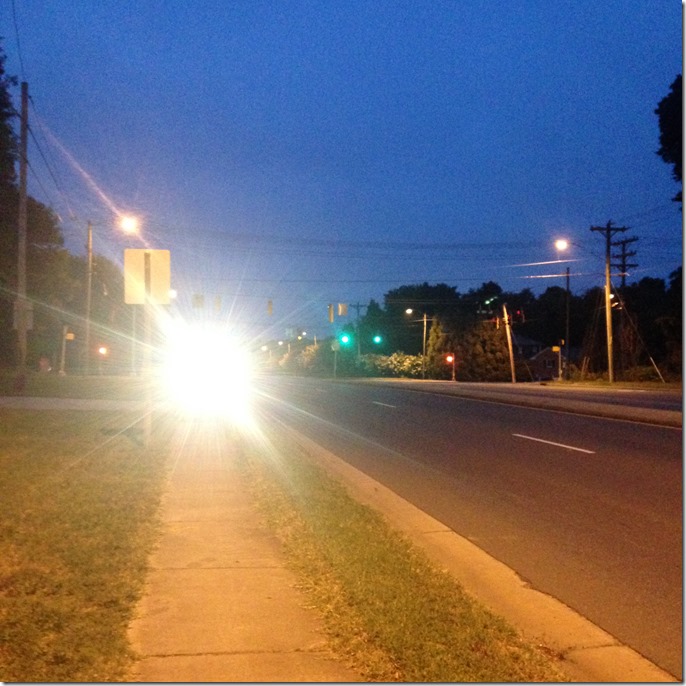 5:45 AM – I do what Training Buddy Brandi and I refer to as a "CAOD run," which stands for crack ass of dawn run. It's dark when I leave but quickly gets light out. I see a herd of deer crossing a street – pretty cool! I was pretty grumpy when I left, but by the time I am done, I am so thankful that I got my booty out of bed for a CAOD run! Always worth it.
6:45 AM – I come home and discover that everyone – the Husband, Claire, and Henry – is piled into the master bed and sleeping. Hah! But Henry wakes up when I open the door, so I let him watch an episode of Octonauts while I shower, pack his lunch for summer camp, do morning chores like feed the animals, and round-up a change of clothes for him after he goes swimming.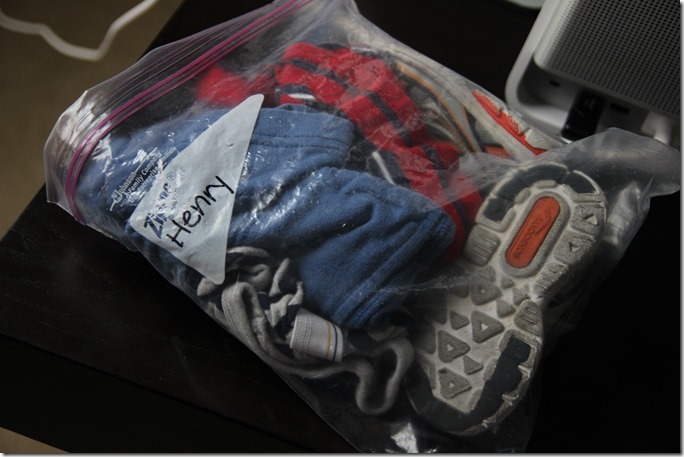 7:20 AM – I make Henry and myself breakfast. I have three eggs, potatoes with mustard, and strawberries. He has toast, watermelon, and eggs. We hang out and talk until…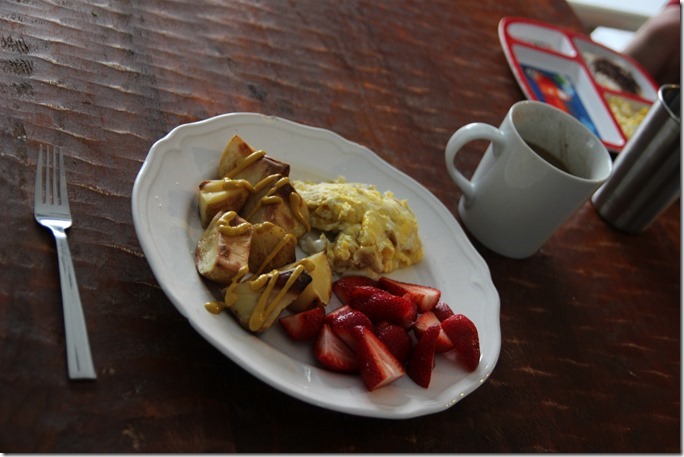 8:00 AM – Whoa! The Husband is going to be late if I don't wake him and Claire up. I hate to interrupt their cuddles, but it's time to go.
8:20 AM – After a diaper and outfit change, I plop Claire down in her high chair and she has breakfast (black beans and raspberries) while the Husband eats (and Henry has second breakfast). I pump a bottle while they eat.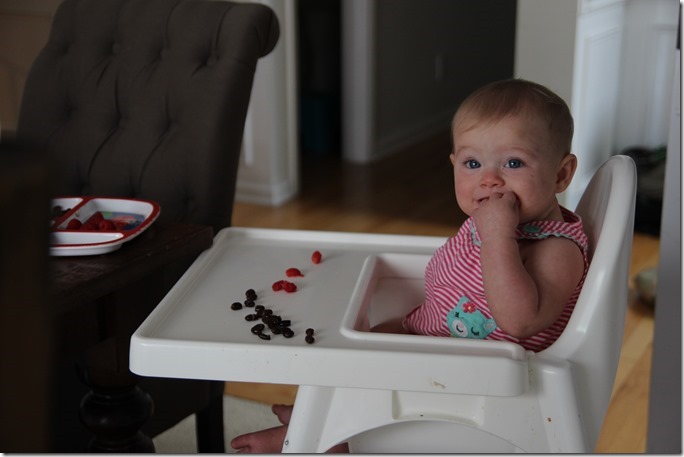 8:35 AM – The kids and I play with the Magnatiles and read a few books while the Husband cleans up the kitchen and gets ready for work. At 8:50, Claire's sitter arrives, and at 9:00, the Husband and Henry leave.
9:00 AM – I start doing some consulting work. I take breaks for snacks and lunch. And I also try to help by putting Claire down for a nap, but she refuses to sleep!
12:50 PM – I go pick up Henry from school. We drive back home, I say goodbye to the sitter, and I attempt to put Claire down for a nap. This time – she does. Thank goodness. While she naps, Henry and I sit on the couch and watch a funny cartoon movie about an eagle while eating pistachios and frozen cherries (which, by the way, are the most amazing snack).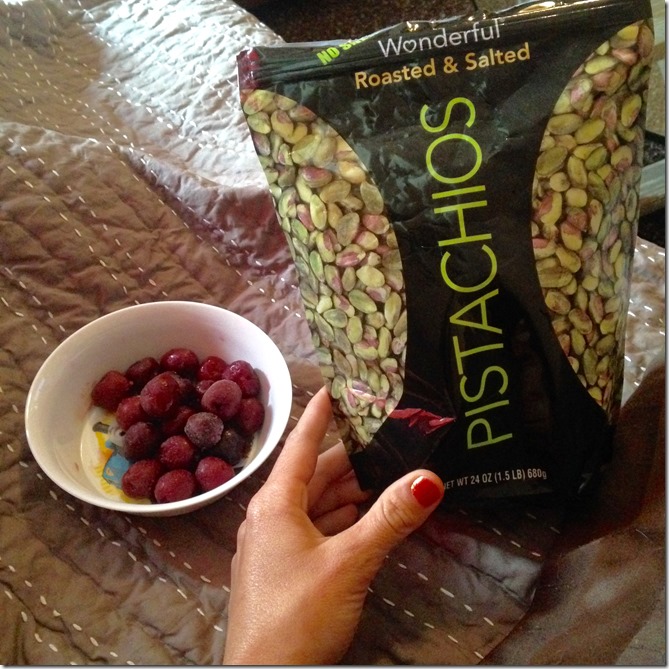 2:30 PM – Claire wakes up, Henry and I have more snacks, Claire has the boobies, and then we go shopping. We hit up ALDI…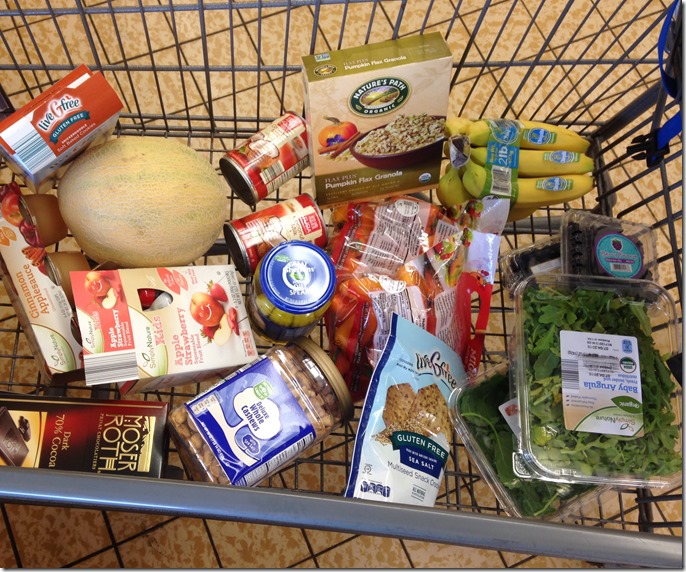 Check out all the food I got for $45. ALDI is my jam. Blueberries were 99 cents!
And by the local running store, Omega Sports, so I could buy a new sports bra. I asked on Instagram which Moving Comfort one was the best, and everyone really loved the Juno, so I got that! It was pretty awesome because one of the employees played ball with Henry while I tried on the bra. The kids would've eaten me alive in the dressing room if he hadn't helped! Hah. Great customer service!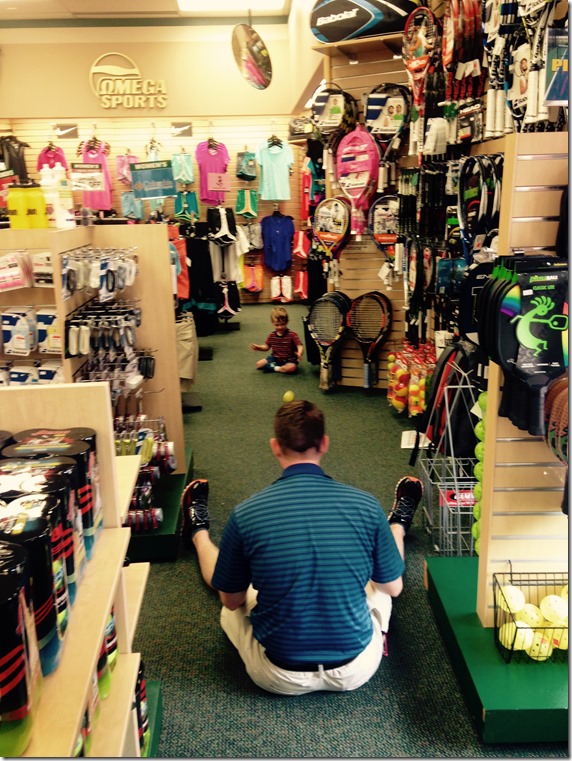 4:30 PM – We meet the Husband at a local park. Henry and Claire play while Kristien and I talk.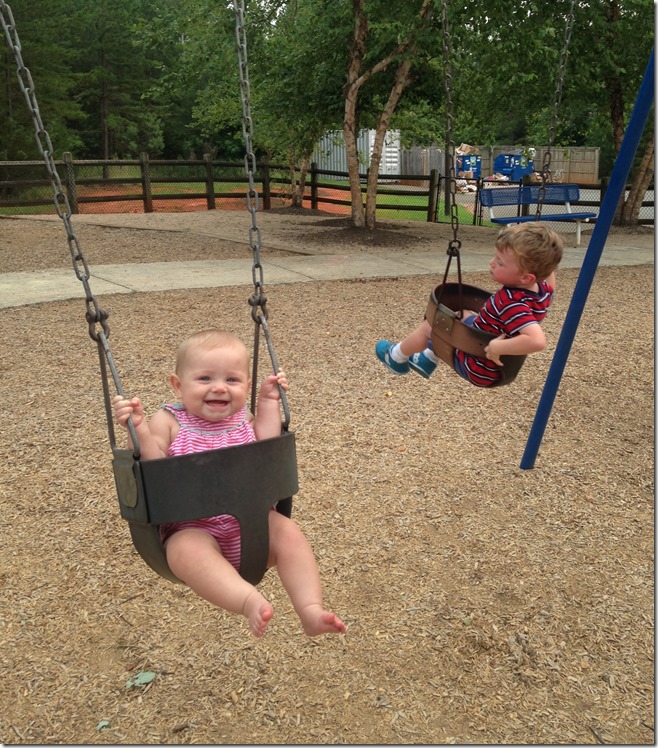 5:30 PM – We head home and I cook us dinner while Kristien and Henry kick a ball and Claire discovers the pots and pans cabinet.
6:00 PM – We sit down to an awesome meal… A bed of baby kale and arugula with peppers, carrots, cashews, and tofu, all stir-fried in coconut oil and spices. Plus a bunch of cucumber slices. And a baked sweet potato. YUM. However, I only get to eat half of it at first… Eating a meal with a baby and a toddler – even with another adult present – basically means you jump up every minute.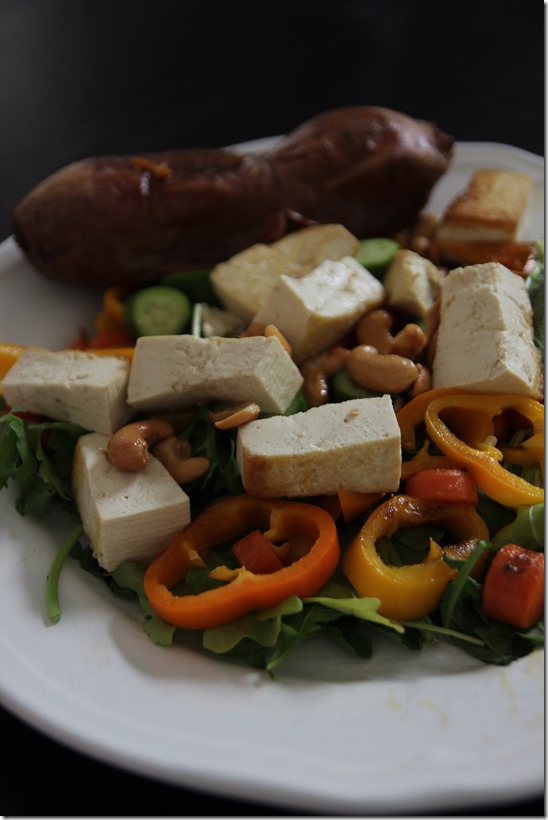 Wondering how to cook tofu? Here are some ways to make it amazing!
6:30 PM – Claire was getting fussy, so I went upstairs to put her down while the boys continued eating downstairs. I wash her down (she had sweet potatoes and blueberries for dinner) and do the bedtime routine. We're done by 6:45 – she was sleepy!
7:00 PM – Microwave my dinner plate and finish eating. Kiss Henry good night as the Husband takes him upstairs. Write some of this post and do other blog work.
7:45 PM – Sit on the couch, read my Book a Week, and relax. In bed at 9:30 PM, which is much better than I usually do. Entourage reruns always suck me in!