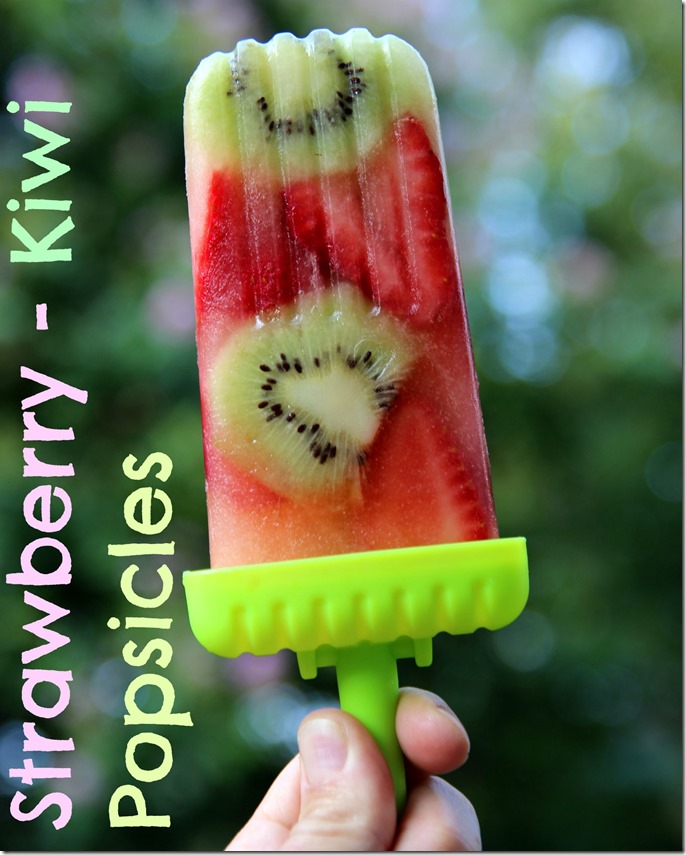 I've been bouncing around grocery stores lately, trying to figure out what combination of the four nearby (ALDI, Costco, Harris Teeter and Trader Joe's) that I regularly shop out has the best deals. I've been going a bit further to shop at a newer ALDI, and I'm always pleasantly surprised when I walk in. If you remember, when I first started working with ALDI, I had no idea the chain was so budget-friendly or nice . I actually traveled to the ALDI Test Kitchen and did a taste test challenge of the ALDI brand v. the leading national brand of foods like Greek yogurt, cheese, chips and more.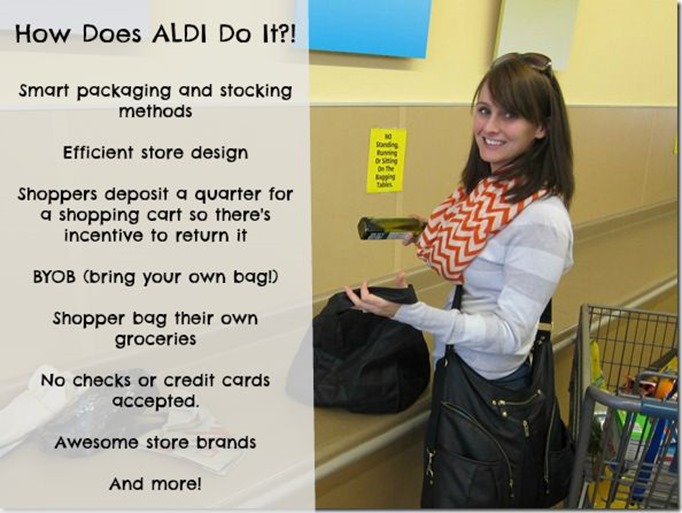 I definitely need a better grocery shopping system because I run to the store three times a week. Two trips to two different stores for a regular stock-up (to try to find the best deals on what we buy) and once for a "I forgot this" or "We run out of that" trip.
This is this weekend's ALDI haul. I stocked up on veggies, fruit, and snack stuff.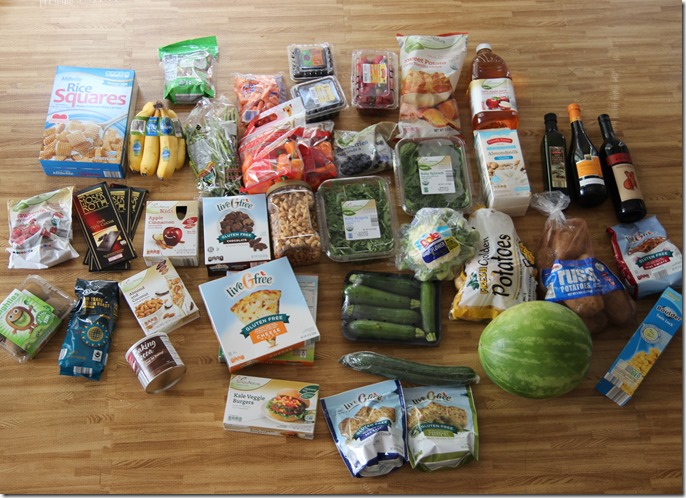 Then I took my receipt to Harris Teeter (which is our closest grocery store and the place I usually end up on those unscheduled run to the store for bananas or cheese). I spot-checked the price of some of the more common items that I bought at ALDI to the price at Harris Teeter. I instinctively knew HT would be more expensive, but I can't get over how much! I saved $15.35 by buying these 18 items at ALDI over Harris Teeter! Man. I need to do these receipt spot-checks more regularly.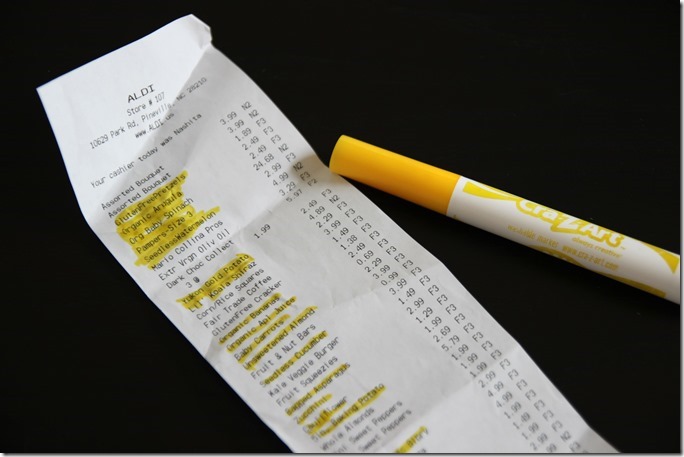 Gluten Free Pretzels – $1.89 at ALDI v. $3.49 at Harris Teeter
Organic Arugula – $2.49 v. $3.99
Organic Baby Spinach – $2.49 v. $3.99
Pampers Diapers – $24.68 v. $24.99
Bag of Yukon Gold Potatoes – $2.49 v. $4.99
Organic Apple Juice – $2.49 v. $3.29
Baby Carrots – $0.69 v. $1.69
Unsweetened Almond Milk – $2.29 v. $2.69
Seedless Cucumber – $0.99 v. $1.20
Bagged Asparagus – $2.99 v. $3.49
Cauliflower – $1.99 v. $3.49
5 Pound Bag of Baking Potatoes – $2.69 v. $4.99
Kiwi Box – $1.99 v. $3.00
Frozen Organic Blueberries – $2.99 v. $3.49
Frozen Organic Strawberries – $2.99 v. $2.49 <— Only item that was cheaper at Harris Teeter!
Strawberries – $1.69 v. $2.00
Blackberries – $1.79 v. $1.99
Blueberries – $1.79 v. $2.99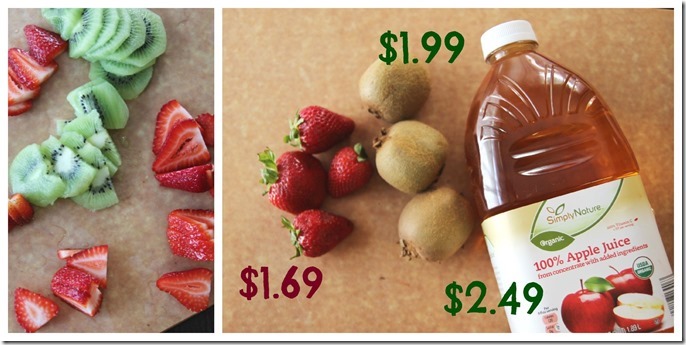 So, after stocking up on all that delicious produce, I wanted to make some fresh fruit Popsicles. Don't these strawberry-kiwi pops look yummy? They are so simple to make and fun to eat!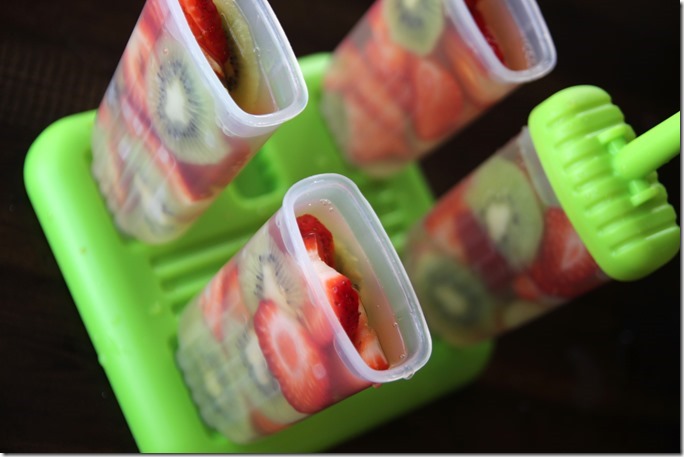 Strawberry-Kiwi Popsicles
Ingredients (makes 4 pops):
Two kiwis

6 medium-sized strawberries

Unsweetened apple juice
Directions:
Wash and peel kiwi and slice thinly.

Remove stems from strawberries. Wash and slice thinly.

Stuff kiwi slices and strawberries into popsicle molds.

Fill to the brim with apple juice and insert Popsicle stick.

Freeze for several hours before eating.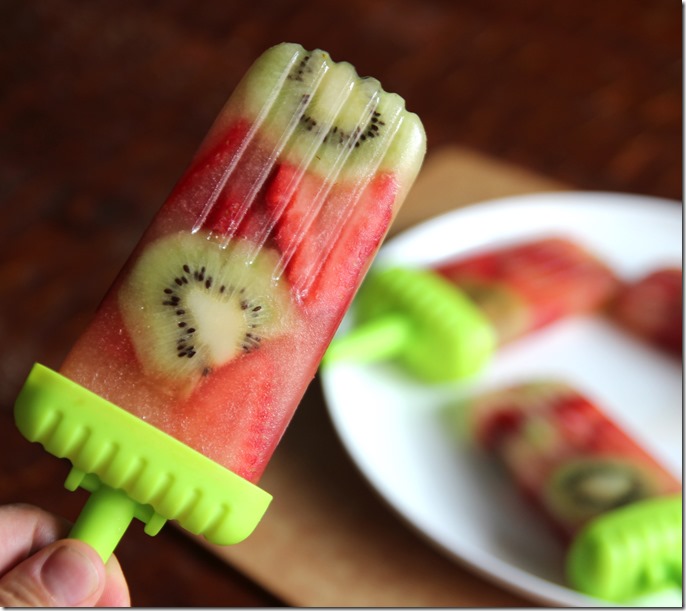 —> More healthy dessert recipes from Healthy Tipping Point. <—
Want to try ALDI for yourself? Enter the giveaway below for a chance to win $50 in gift cards to ALDI. You can use the store locator to see if one is near you.
GOOD LUCK!
This post is sponsored by ALDI. Thanks, as always, for reading sponsored content. I appreciate it a lot.