A big THANK YOU to everyone who participated in Ironman April. It was so fun to see everyone's completed training plans (<—hey, you could always do Ironman May if you are just now seeing this!).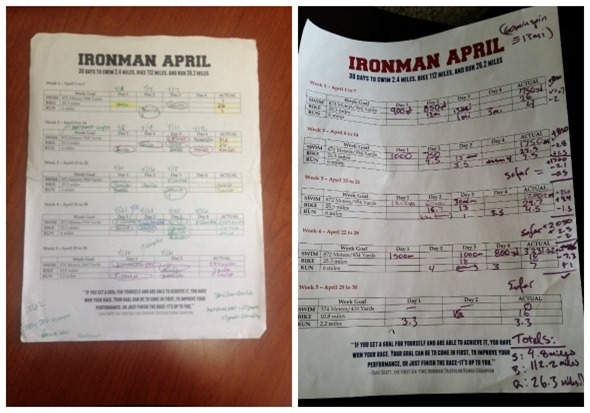 The winners were Jessica, Andrea, and Charlotte, and they all get a pair of Balega socks.
Per the usual, my weekend was filled with a lot of training. On Friday, I did a really, really hard boot camp class, and on Sunday, I did a nice bike/swim combo. My first triathlon of the season is in two weeks, and I'm getting so excited.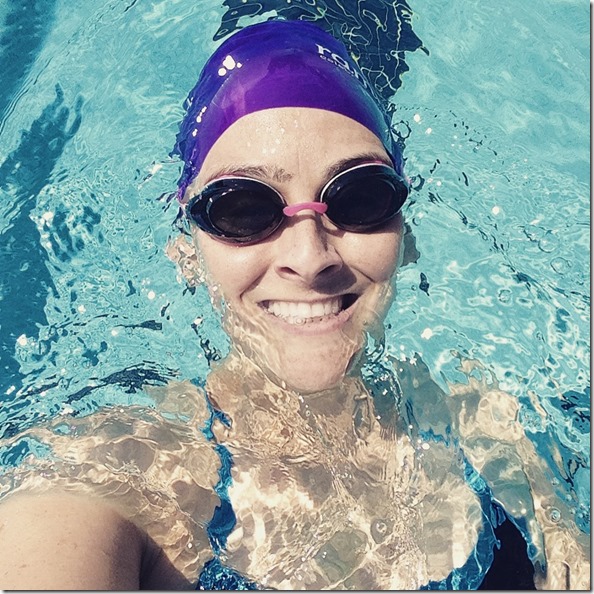 But the BEST PART of the weekend was doing the Girls on the Run 5K with Henry! We joined my tri training buddy Brandi and her two kiddos for the race. Henry has been spectating a lot of races recently and really understands the concept of the starting line, finish line, bib numbers, and medal now. He was pumped when I told him we were waking up early to do a race.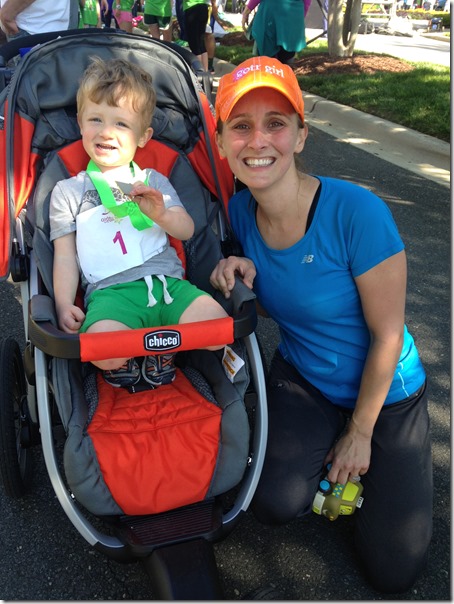 Since it was 5K, I brought the jogging stroller (and Brandi brought her double stroller!). I knew that Henry would want to run a lot, but he obviously can't run that far… yet. Give him a few years! Hah.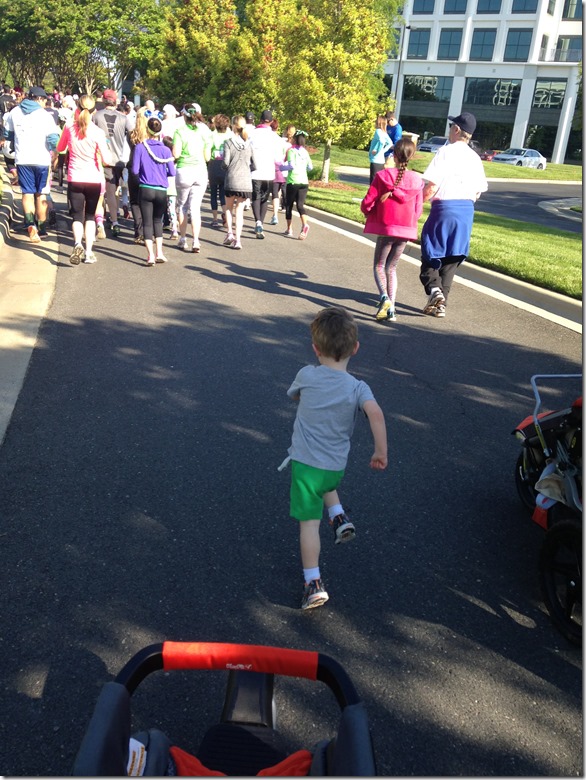 I interviewed Henry about the race – here's what he had to say:
Caitlin: Who ran the race?
Henry: ME! And you. And Sam and Abigail and Brandi.
Caitlin: Who won?
Henry: ME!
Caitlin: You won the entire race?
Henry: YES! I'm fast like a tiger. NO – like a cheetah!
Caitlin: You are. Was it a long race?
Henry: Yeah. You pushed the stroller.
Caitlin: What happened at the water station?
Henry: I dunno.
Caitlin: You don't remember?
Henry: OH! Abigail and me picked up the water and dumped it ALL OVER YOUR HEAD. HAHAHAHAHA!
Caitlin: Did your feet hurt after all that running?
Henry: I got a boo-boo on my knee. Wahhhhhhhh. But then we went to tacos and I FELT ALL BETTER. Yayyyyy.
Caitlin: Yeah, tacos make everything better. So do you want to do another race?
Henry: YEAH! Now?? Let's go! 3 – 2 – 1 GO [and then he runs away].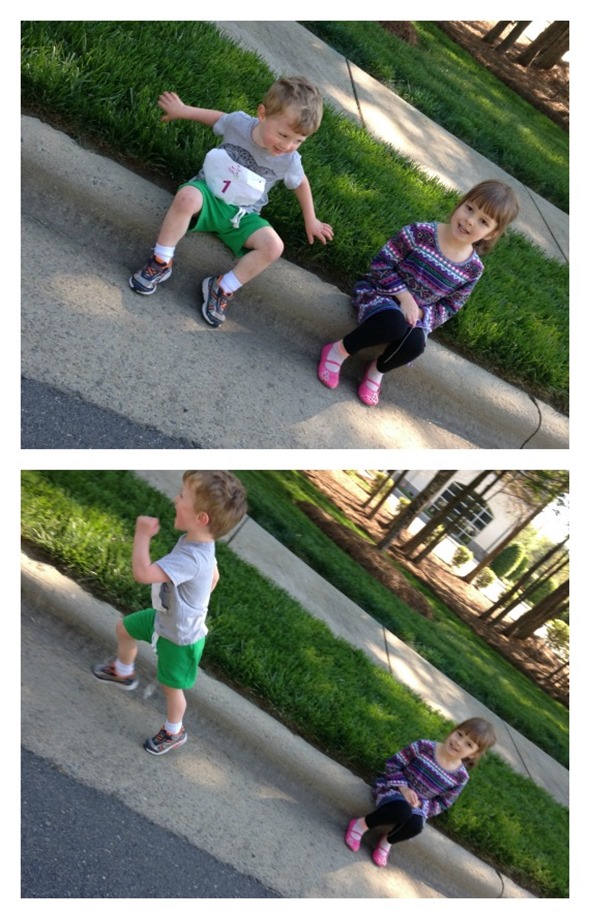 Needless to say, it was a blast and everyone had a lot of fun (there were actually NO MELTDOWNS on the course <— toddler miracle).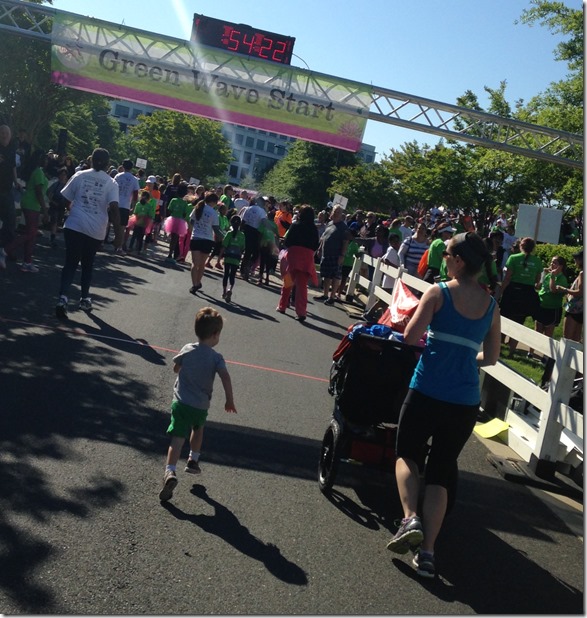 It took about 53 minutes to finish the race with all the stroller hop ins and outs. The kids probably ran 0.75 mile, which I was pretty impressed with. Future triathletes in training!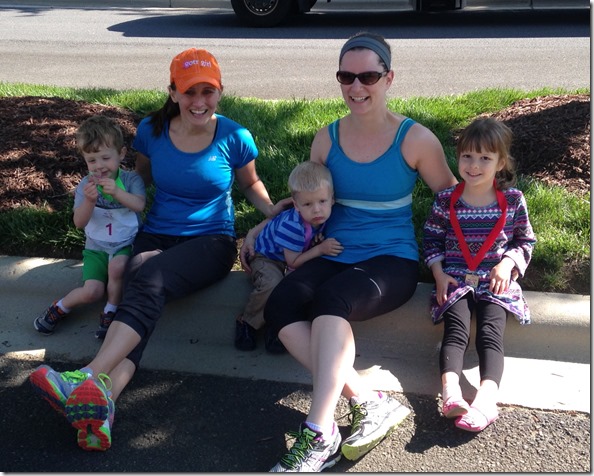 Did you run a race this weekend?